Morvélo clothing brand on the rise
Sophie Hurcom gets the lowdown on the Brighton based brand Morvélo, who have been growing fast since they started in 2009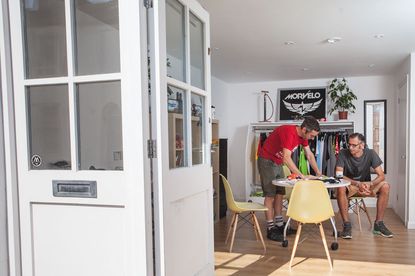 Get The Leadout Newsletter
The latest race content, interviews, features, reviews and expert buying guides, direct to your inbox!
Thank you for signing up to The Pick. You will receive a verification email shortly.
There was a problem. Please refresh the page and try again.
Brightly coloured with bold patterns, Morvélo cycle clothing doesn't shy away from making a statement.
The Brighton-based company is the creation of Oli Pepper and David Marcar, who both previously worked as graphic designers before setting up the business. In 2009 and with £500, the pair made and sold some T-shirts, which proved popular, so they decided to create a cycling kit — something they could both wear out riding and sell to friends and family. That sold well, too, and orders were made by a number of shops.
Gradually, word of mouth spread and Morvélo grew, to the point where, two years ago, Marcar and Pepper left their design consultancy to focus on it full-time.
Although Morvélo focuses on cycling, Pepper and Marcar's backgrounds are in extreme sports; Pepper used to ride BMX while Marcar skateboarded. This influence can be detected in their clothes, which are as suited to those competing in winter sports as to those riding on two wheels on the road.
The inspiration behind their designs comes from inside cycling and, outside, from music, film and art. "We try to pick on things in cycling culture that we really like, then we find influence through pop culture stuff, whether it's music or other designers and blend them together," said Pepper. "A lot of it is probably based on 1980s pop culture."
But have they ever been worried their designs were too bold for cyclists?
"You can still, we like to think, have tasteful kit that can still be bold and brash and not necessarily too serious," said Pepper. "A lot of our jerseys have matching bibshorts and caps. One of our friends said we create outfits, rather than jerseys and shorts."
All-encompassing
Morvélo's tagline is 'Ride Everything' and they describe their products as for every type of cycling. They sell both road and mtb jerseys for men and women, bibshorts, as well as caps, bags, T-shirts and accessories.
"That's largely led, again, from our own experience in cycling," said Pepper. "[We were] starting off in BMX in the Eighties, then getting into mountain biking in the Nineties, then doing downhilling, dirt biking in the Nineties, 2000s, then friends have said you should try road biking, so we'd try road biking," he said. "I think if you enjoy cycling, the chances are you'll enjoy all sorts of cycling."
One of Morvélo's biggest challenges is ensuring its clothing is practical, as well as looks good, and for that it uses a Test Team — a network of cyclists in the UK and around the world who try out their products. "It started off as being friends, or friends of friends, and then it's all been word of mouth," said Pepper. "The type of people we look to are experienced cyclists, who then can accurately feed back on the products."
Collaboration like this is something Morvélo has embraced across the business. Its most recent partnership was with London-based artist Death Spray Custom, who designed the official Tour de France team bikes for Cannondale this year.
They transformed one of the artist's monochrome lightning bolt prints into a limited-edition clothing range released earlier this summer, which sold out almost straight away.
Morvélo has also partnered with a number of cycling events such as Brighton Big Dog mountain bike race, CityCross — a city cyclo-cross race and festival, and the Spin Up in a Brewery cycling festival with Dark Star.
The company is entirely self-financed and its growth has been "organic" said Pepper. "We wanted Morvélo to be a company that was active in the cycling world, and people feel if they buy Morvélo products they are supporting something more grass-roots that is involved in the cycle industry, that isn't just taking from it but giving something back."
Thank you for reading 20 articles this month* Join now for unlimited access
Enjoy your first month for just £1 / $1 / €1
*Read 5 free articles per month without a subscription
Join now for unlimited access
Try first month for just £1 / $1 / €1