New app crowd sources information for cyclists
Cycle Hackney app allows users to report potholes and report problem areas for cyclists, as well as sharing photos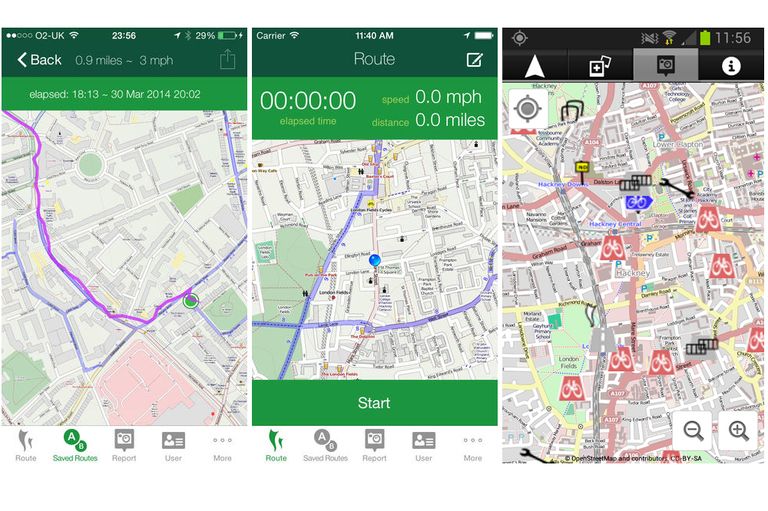 A new cycling app, launched in London on Friday, will use cyclists to 'crowd source' information on bike journeys, giving users the option of reporting potholes and lack of cycle parking, and uploading photos from their journeys.
Data from the Cycle Hackney app, the first of its kind in the UK, will be used by Hackney Council to see which routes cyclists in the borough are using and where problem areas are. Its developers say other councils could use the app as a cost-effective way to develop better infrastructure.
Developer and director of Cyclescape, Martin Lucas-Smith, said: "We come from a campaigning background and we recognise that two of the main barriers to cycling in the UK are finding where good direct routes are, and secondly the infrastructure.
"Hackney Council wanted to capture where people were cycling in terms of actual day to day journeys, so not the Strava contingent, but where ordinary people are, and find the cut-throughs [cyclists are using]. They also wanted people to be able to report where there are problems."
"They can start to improve things and build up a sort of heat map of where ordinary cycling's taking place," said Lucas-Smith.
The app, available for iPhone and Android smart phones, is switched on at the start of a journey, and stops automatically at the end, asking users simple questions about their journey afterwards. It asks users their age range and cycling confidence level but doesn't take any identifiable data.
Lucas-Smith said: "It can pinpoint those areas where there's a lot of scope to improve infrastructure.
"I think it will be a very interesting experiment, and see what data we get and how it's promoted and what people want to add to it.
"I think the public are hungry to solve these [infrastructure] problems, and there is this new model of crowd sourcing that has emerged over the last 5-10 years. Where you used to have a council person surveying every street, at a very high cost, it's actually a very cheap and efficient way, you just go to this website, download the app, click where there's a problem and say what you want done. People motivated by these problems, they've now got a route to do that."
He added his not-for-profit company, Cyclescape, which also produces the Cyclestreets programme, with its journey planner and photo uploading functions for campaigners, hopes to produce the app for other UK councils, too. Lucas-Smith is also chair of the Cambridge Cycling Campaign.