Olympic medallist Jelle van Gorkom in coma after suffering serious injuries in BMX training crash
Dutch rider in a coma for the second time in his career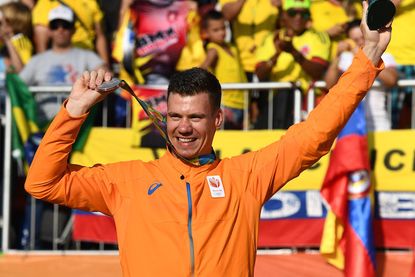 (Image credit: David Ramos/Getty Images)
Jelle van Gorkom, who won a silver medal in the BMX event at the 2016 Olympics in Rio de Jaineiro, is in a coma following a serious crash while training in the Netherlands.
Van Gorkom crashed at the beginning of a training session at the Dutch National Sports Centre in Papendal near Arnheim, falling at the bottom of the starting ramp.
The 27-year-old was taken to hospital in an ambulance, where the Royal Dutch Cycling Union (KNWU) said that he was diagnosed with "broken ribs, a fracture in the face, a tear in the skull and damage to the liver, spleen and kidneys."
>>> World champion Caroline Buchanan shares shocking images of her injuries following car crash
In a statement issued through the KNWU, national BMX coach Bas de Bever said his thoughts and the thoughts of everyone at the organisation were with Van Gorkom, and appealed for this friends and family to be given "peace and privacy".
Those sentiments were echoed by Jochem Schellens, director of the National Sports Centre: "It is a terrible accident and at the moment we are mainly with our thoughts at Jelle van Gorkom, his girlfriend and his family and we wish them all the strength in the coming period."
Van Gorkom took the silver medal in the men's BMX at the 2016 Olympic Games, finishing second behind Connor Fields of the USA in the final.
>>> Here are the Olympic cycling events you think should be scrapped - and the ones you'd like to see
That result came four years after Van Gorkem was forced to miss much of the build-up the 2012 Olympic Games in London, competing in the Games less than four months after coming out of a coma following another heavy crash during a race in California.
Van Gorkom's accident comes a little over a week after another high-profile BMX rider, Australia's Caroline Buchanan, suffered a broken sternum, broken nose, collapsed lungs in a car accident, sharing graphic photos of her injuries on social media.
Thank you for reading 20 articles this month* Join now for unlimited access
Enjoy your first month for just £1 / $1 / €1
*Read 5 free articles per month without a subscription
Join now for unlimited access
Try first month for just £1 / $1 / €1