Here are the Olympic cycling events you think should be scrapped – and ones you'd like to see
Cycling Weekly readers nominate the Olympic cycling events they would like to see removed, and the ones they'd like to see added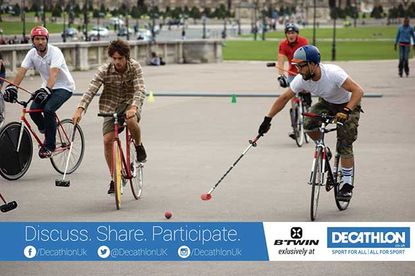 (Image credit: Alamy Stock Photo)
When the Olympic Games are mention there are often comments made about the selection of cycling events on offer.
So we thought we'd ask Cycling Weekly readers which of the cycling disciplines they would like to see removed, and which would they like to see introduced.
Here we present a selection of answers, in association with B'Twin.
Which Olympic cycling event do you think should be scrapped, and which do you think should be added? Tell us in the comments section below.
Get rid of the team sprint, and replace with any form of individual event. Team events are a soft medal option for the richest nations.
Pat Hall
The MAMILs-bigger-than-eight-stone time trial sponsored by Chris Hoy. Like boxing, there would be weight categories going up to heavyweight (to be defined) but with the rule that Lycra (ideally skinsuits) must be worn.
James Foley
The individual time trial is the purest form of cycling. No team tactics, just an athlete against the clock. That stays. If one had to be removed it would, for me, be the BMX, simply because for many the X-Games is a far bigger prize. I'd be happy with keeping summer events the same but cyclo-cross needs to be in the Winter Olympics. Oh and put Iron-distance triathlon in and take the ITU-style rubbish out.
Jon Burrage
Downhill mountain biking should be in there. I'd remove the men's and women's team pursuit. In my opinion, team sports shouldn't be in the Olympics.
Chris Mitchell
Get cyclo-cross in the Winter Olympics. Get the kilo in there as well. They don't need to remove any cycling events, let's get rid of speed walking (it's not a sport). Shooting and anything that has a bigger showcase outside of the Olympics (tennis, football etc) can also go.
Keith McRae
In: Bicycle polo. Out: Any disciplines that require obscenely expensive bicycles and gear. Let's bring cycling back to the masses, brothers and sisters!
Patrick McGarry
Lose the BMX, either to another competition or to Winter Games (hmm, BMX on snow!) and replace with a 100-mile individual time trial. None of this poncing about over 35km, proper man-and-machine against the clock for a decent distance. They are all decent athletes too so chuck in a few hills — a SpoCo ton, if you like!
John Deeley
>>> Which person has had the most influence on your cycling life?
Individual pursuit back in, as it's the blue riband event of track cycling! Get rid of the omnium. It was madness removing the IP and kilo events.
Marcus Christie
Longest wheelie, BMX racing with a mate on your stunt pegs, mate on the handlebars race, maybe get Red Bull to design some courses.
Jake Amos
Snow riding on cross-country ski-type course. Long distance to test endurance and combined uphill, downhill skills.
Jed Lane
Time trial out. It's like watching paint dry. Bring in four-cross. Anything but time trial!
Karl Walters
Thank you for reading 20 articles this month* Join now for unlimited access
Enjoy your first month for just £1 / $1 / €1
*Read 5 free articles per month without a subscription
Join now for unlimited access
Try first month for just £1 / $1 / €1