Which person has had the most influence on your cycling life?
We asked Cycling Weekly readers who has been the biggest influence on their cycling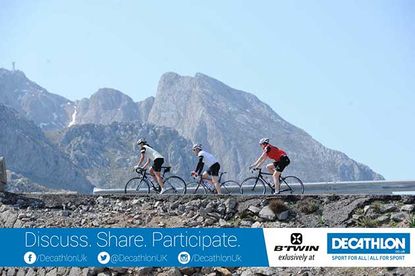 Most cyclists can say that there have been one or two key figures in their life that have nurtured and encouraged their cycling. Whether that was their first few wobbly metres ridden on a bike, or whether it was helping them to become a better racer or riding their first 100-miler.
We recently asked Cycling Weekly which person has had the most influence on their cycling life, and we present a selection of their answers here, in association with B'Twin.
Which person has had the most influence on your cycling life, and why? Let us know in the comment section below
Neil Appleby, for cultivating a true fraternity in the Birmingham cycling scene, encouraging me and bringing over a static trainer to help me rehabilitate from a substantial cancer surgery that saw me unable to even throw a leg over a bike for seven months.
Stephen Paterson
My father. As a kid I would love to ride with my dad, seeing how long I could keep on his wheel for. We made up intermediate and final sprints using the town signs and would come back home to mum, both claiming we had won.
Sam Laidlow
>>> Some of the terrifying things cyclists hide from on a ride
Way back in the 80s, my mate James Watson explained to me why high cadence was the best way to pedal. And do you know what? He was right.
Tim Meyrick
My wife, Louise. She is the one who encourages me and supports me. She even meets me halfway on a ride, if there are no cafes, with a flask of coffee and cake. Plus she generally puts up with this cycling nerd she helped to create!
Aidan Mulhall
The weather man.
Steven Spriggs
John Barclay, who's giving me the chance to race in Belgium. He's helped pretty much every British WorldTour pro.
Jacob Vaughan
My best mate Daz. I'd split up with my partner, was three stone overweight and drinking far too much. Daz gently but persistently nagged me to come out cycling. He never dropped me on a hill and encouraged me all the way. Nowadays I'm flying! I have two road bikes, I'm doing 100 milers, I attack any hill in front of me and spend most of my life in Lycra.
Tim Nicholls
Bradley Wiggins winning the Tour. I'd just finished seven solid weeks of chemo radiotherapy combination. I'd lost five and a half stone in seven weeks. Could not lift my head off a pillow. Brad changed that — I got out of bed, back on my bike in six months. Thank you, Sir Bradley Wiggins.
Michael White
John Biggins, inventor of the credit card.
Chris Cottrell
My husband, Colin. He puts up with my fear of getting out of the door and then slows his pace to get me round, encouraging me all the way. He is a real one-off! My best friend... my hero.
Linda McPherson
Lance Armstrong. Could be seen as controversial, I know, but in an era of performance enhancement by the many not the few he still lit up many a race and made Le Tour exciting — captured my imagination!
Paul Mathias
Me, because while it may be fashionable to blame everything on everyone else, you're actually responsible for your own life.
Thomas Willingham
Thank you for reading 20 articles this month* Join now for unlimited access
Enjoy your first month for just £1 / $1 / €1
*Read 5 free articles per month without a subscription
Join now for unlimited access
Try first month for just £1 / $1 / €1