World champion Caroline Buchanan shares shocking images of her injuries following car crash
Warning: article contains images that some readers may find disturbing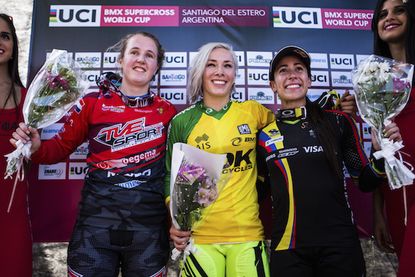 (Image credit: LatinContent/Stringer/Getty Images)
Multiple mountain bike and BMX world champion Caroline Buchanan has shared shocking images of her injuries on social media after being injured in a car crash in her native Australia.
Buchanan, who has five four-cross and three BMX World Championships to her name, posted the images on Instagram on Tuesday, showing her in a hospital bed with a bloodied face, a neck brace, and scars on her chest following the accident on Saturday afternoon.
>>> Seven bold predictions for the 2018 race season
"I wouldn't say 2017 ended quite as planned," Buchanan, who is expected to make a full recovery from her injuries, wrote on Instagram on Tuesday. "It's been a rough couple of days in ICU [intensive care unit] after a vehicle roll.
"I just moved to a private room and everything is moving in a positive recovery direction. Injuries are... Broken sternum, broken nose, collapsed lungs."
Buchanan also posted a video on Wednesday showing doctors removing the cord which they had been using to drain her lungs.
http://www.instagram.com/p/BdcUSsaFD3F/
http://www.instagram.com/p/BdeUpVzFq0A/
Buchanan's injuries were not cycling related, with a Cycling Australia statement saying that the 27-year-old had been injured when a vehicle, which her and a friend were driving off-road on private property near Canberra, overturned.
The statement also said that Buchanan was expected to make a full recovery from her injuries, and would keep fans updated on her progress through social media.
>>> New organisation formed to represent women professional cyclists
Buchanan has found consistent success in both BMX and four-cross over the last few years, taking her most recent World Championship victory in August when she won her fourth four-cross world title at Val di Sole in Italy, successfully defending her title from 2016.
She also has three BMX rainbow jerseys to her name, most recently winning the time trial world title in 2016. However Buchanan has been unable to repeat the success on the Olympic stage, finishing fifth at London 2012, and crashing out in the final of the event in Rio de Janeiro in 2016.
Thank you for reading 20 articles this month* Join now for unlimited access
Enjoy your first month for just £1 / $1 / €1
*Read 5 free articles per month without a subscription
Join now for unlimited access
Try first month for just £1 / $1 / €1