One rider seems particularly excited about Lidl's sponsorship of Etixx-Quick Step
Tony Martin recalls his love of Lidl from his childhood days as his team, Etixx-Quick Step, announce a partnership with the supermarket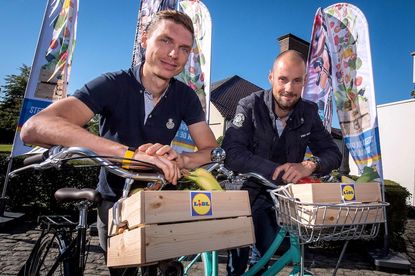 (Image credit: TDW)
When a cycling team announces a new sponsor one of the first things they do is send out a press release with some exceptionally bland quotes from riders and staff about how excited they are to be partnered with a steel manufacturer/concrete producer/carpet fitter.
Their positive, but slightly hollow, words will probably net them a free sun blind for their house or a year's supply of olive oil, depending on the firm that's ploughing money into their sport.
When budget supermarket brand Lidl joined forces with Etixx-Quick Step this week, though, Tony Martin seemed genuinely excited by the prospect of having an official fresh food supplier from his home nation.
"As a German rider I am proud of this partnership with a German company," Martin said. "It will be a pleasant, new experience for me. I have a lot of personal experience with Lidl. I shopped there a lot as a child with my parents, and I shop there currently.
"Having them as a partner is special. The last years have not been so easy in cycling. A world brand like Lidl as a partner in cycling is a really good sign for the sport, and also for German cycling that a German brand has entered the fold."
Such genuine words are hard to find in such formulaic announcements, but Martin dispensed with the usual hyperbole about being "super excited" and "looking forward to working with [insert sponsor here]" and used his personal experiences of buying groceries and growing up as a cyclist in Germany.
Tom Boonen, on the other hand, stuck to the tried and tested quotes book: "Tony and I are both excited about this announcement today, that Lidl is now one of the partners of Etixx-Quick Step.
"It's great news for the team and I am thrilled about it. It's a big company joining the cycling world, so it's not just important for our team, but also the sport in general."
Job done, Tom. Sit back and wait for that shipment of cucumbers to arrive.
Thank you for reading 20 articles this month* Join now for unlimited access
Enjoy your first month for just £1 / $1 / €1
*Read 5 free articles per month without a subscription
Join now for unlimited access
Try first month for just £1 / $1 / €1