OPTIMISM OVER IMPROVED OLYMPIC LEGACY VELOPARK BUT DOUBTS REMAIN OVER MTB CIRCUIT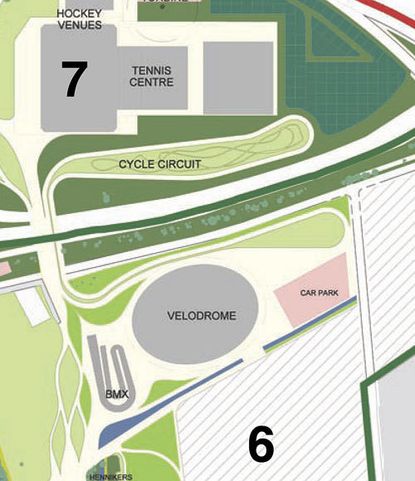 Although the 2012 Olympic Games Legacy Velopark plan now stands to be much improved on the earlier offer, there is still not enough land being made available for off-road trials in the Olympic 2012 Legacy Velopark, insists Eastway Users Group chairman Michael Humphreys who today claims there is a ?factual inaccuracy? in British Cycling?s statement issued yesterday.
This indicated that new proposals to improve the Velopark, offered by the Olympic Delivery Authority (ODA) last week, are based on the allocation of more land to provide ?several kilometres? of off-road trails south of the A12. (See story this week?s Cycling Weekly, Thursday, November 8).
While Humphreys says he shares BC?s optimism that the ODA?s proposals for the Velopark are much improved upon their original plan which was rejected in June, he is concerned that the cycling stakeholder group continue to pressure the ODA to provide more land.
While the ODA have offered to route the one-mile road circuit to cross the River Lea, instead of crossing the polluted A12, question marks remain over just where off-road trails are to be placed.
Humphreys insists there is no room south of the A12 because that area of land is crammed with a 6000-seater velodrome, BMX track, Speedway and road circuit.
He says if the ODA provide off road trails north of the A12, the question then arises of how secure the circuit could be made from other Olympic Park users. This would also necessitate links across the highway to the main site.
?The message is very firmly that the MTB areas will be a patchwork, and is definitely to be viewed as unsatisfactory until such time as the ODA can satisfy us on links and security,? says Humphreys.
The former Eastway Cycle Circuit, now demolished on the Olympic site, occupied 24 hectares (not 20, as reported in CW this week). However, the Velopark offered by the ODA occupies only seven hectares, into which is shoehorned an indoor velodrome, BMX track, road circuit and next to useless off-road facility of only 950 metres, instead of five or six kilometres.
British Cycling has rejected these plans.
Current negotiations are seeking to enlarge the site to about 12 hectares, which is still half the size of the original!
Thank you for reading 20 articles this month* Join now for unlimited access
Enjoy your first month for just £1 / $1 / €1
*Read 5 free articles per month without a subscription
Join now for unlimited access
Try first month for just £1 / $1 / €1