Paul Smith: A lifelong love of cycling
A childhood crash may have dashed fashion designer Paul Smith's pro cycling hopes, but we discover it never quelled his passion for all things bike. All photographs courtesy of Paul Smith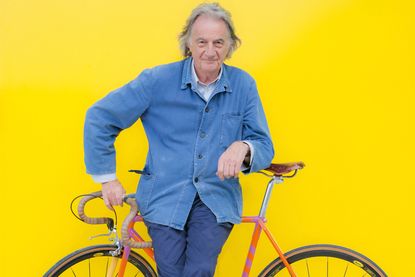 Get The Leadout Newsletter
The latest race content, interviews, features, reviews and expert buying guides, direct to your inbox!
Thank you for signing up to The Pick. You will receive a verification email shortly.
There was a problem. Please refresh the page and try again.
If there is the faintest of doubt that Paul Smith's lifelong love for cycling is dimming as he enters his eighth decade, it is dispelled instantly.
"Cav's just been in with a bike for me!" he exclaims, the puppyish enthusiasm for a new bike more befitting an excited teenager than the distinguished head of a worldwide fashion empire.
"He's just built it up for me down here in the garage — Mark Cavendish has just made me a bike," Smith continues, and the breathless delight is contagious. "He's also turned up with four new jerseys for me," he gushes.
The objects of desire will be added to Smith's collection — which is probably one of the finest and most inspired collections of bikes, clothing, memorabilia and magazines in the world.
It spans most of Smith's 70 years — he began collecting as a 10-year-old when he'd save pocket money to buy what, at the time, were exotic and difficult to obtain foreign magazines documenting the sport with which he is obsessed.
And he has continued to collect all his life, scouring street markets in Italy and France and sourcing interesting cycling objects as he travels the world overseeing the 300 shops that have made the Paul Smith name a respected global fashion brand.
His success in the fashion business has let him acquire just about anything cycling-related he wants to own. And his genuine and infectious passion also means he's a magnet for gift-giving.
Coy collector
From the most famous pro cyclists in the world to ordinary members of the public, Smith is the delighted recipient of all manner of cycling paraphernalia, from bikes to clothing and beyond.
"I'm not really a collector," laughs Smith. "But I do have a large quantity of the same thing."
For many years, Smith's collection grew and grew unseen in a basement room at his Covent Garden headquarters.
"It's a room that always astonishes people visiting it for the first time and some of my colleagues claim it resembles the inside of my head," says Smith.
It was carefully stored, but to say it was randomly organised would be an understatement. "It wasn't catalogued. It was box-o-logued," says Smith, chuckling.
His friendship with sports journalist Richard Williams led to a project that has had the happy outcome of allowing other fans of the sport to share in Smith's acquisitive spoils.
The pair decided that Williams would plunge into the huge collection and emerge with a book. The result is a thing of beauty and joy — Paul Smith's Cycling Scrapbook (Thames and Hudson, £29.95).
"The book is the first time it's ever been organised," says Smith of the enormous collection. "Richard spent hours in the basement going through it all and placing it into sections. It was a huge job. He was absolutely amazed when he saw it and in fact what's in the book is still only a fraction of the collection."
Nonetheless the large format book, with more than 500 illustrations, is a treasure trove, especially for those with even a passing interest in the aesthetics of the sport.
But it's much more than a routine survey of the changing look of cycling and cyclists over the decades. It's a deeply personal account of Smith's love for cycling, velo culture and his relationship with the sport.
Williams's organisational skills are married with a narrative from Smith and a set of rare personal photographs — among the most eye-catching of which is his smashed-up bike, the aftermath of a crash that put paid to Smith's early ambition to become a professional cyclist.
Smith had begun cycling after being given a racing bike for his 11th birthday. Membership of Beeston Road Club in his native Nottingham followed and Smith's adolescent dreams of racing as a pro were fired up by competing on the track, in crit races and time trials.
But more than that, the young boy's imagination was fuelled by club nights in a British Legion hut as the older members discussed the exploits of continental pros.
Smith admits to being captivated by the romance and exoticism of pro cycling in the late 1950s and 1960s. In those pre-internet days, following the sport was not as easy as clicking a mouse.
He found one newsagent in Nottingham which stocked L'Equipe and Miroir des Sports and set about building on his early schooling in the ways of professional cycling.
A career in fashion was nowhere in sight at this period in Smith's life but his interest in the aesthetics of cycling seemed to presage it. "I'm not going to pretend that the look of the sport wasn't an important factor," says Smith, "but this was also the time when I learned about the importance of looking further than appearances."
He recalls two fellow club members of his own age — one had immaculate kit and a great bike, the other looked scruffy and dishevelled and "wore black socks, which wasn't really done in those days". But the scruffy lad was a better rider. "He showed me that success in life isn't just about making sure you look great."
Smith's crash left him in hospital for months and killed his dream of riding as a pro. But as success in fashion followed, starting with his first shop in Nottingham, the fascination with cycling never left him. And the collection began to grow beyond his teenage hoard of foreign magazines and papers.
The designer is a frequent visitor to two street markets — and they have been the source of a large part of the collection. An annual market at Saint-Sulpice in Paris yields a good supply of French and Tour memorabilia and the Italian side of things is looked after with frequent visits to a monthly market in the town of Lucca and other Italian Meccas of cycling.
Smith supplemented the carefully acquired material in one big hit when he bought the collection belonging to cycling journalist (and long-time Cycling Weekly contributor) Roger St Pierre.
Spanning the years from 1959 to 1997, the collection of dozens of scrapbooks contains a wealth of printed material, from start sheets and press cuttings to St Pierre's own work.
>>> Icons of cycling: L'Auto, the newspaper that launched the Tour de France
And then there's the bikes. The book records Smith's outstanding collection of pro cyclists' bikes and other beautiful machines.
The chapter 'My Bikes' is jaw-dropping. From the immaculately restored Harry Hall that Smith bought once he'd recovered from the injuries caused by his accident, to the fruits of his various associations with manufacturers like Mercian and Rapha-Condor, to the envy-inducing stable of bikes given to him by his friends in the pro peloton, including, notably, Mark Cavendish's World Championship-winning bike and Sir Bradley's Pinarello Dogma 8, the collection is truly breathtaking.
>>> Pro Bike: Bradley Wiggins's Pinarello Dogma F8 from the Tour of Britain
Smith still rides, but knows his limits. "Rather embarrassingly, I wear ordinary clothes when I ride: cotton shorts, T-shirt and trainers. I don't wear Lycra. It just doesn't seem right, especially when I'm on one of Bradley's old bikes with his name on the frame.
"I was on one of Brad's bikes in Italy recently dressed like this and a rider came past. It was Mario Cipollini! I do know him and we sometimes have a coffee together. Anyway — he came past and said, 'Come on Paul — let's go.' I thought immediately — how am I going to get out of this?
"I just said, 'Ah Mario, I'm so sorry — I've got to meet my wife in 10 minutes.' Of course, it was a completely made up story — but at least I could get back to riding at a sensible speed. I like bumping into Mario and having an espresso, but it's a different matter on a straight road!"
>>> Mario Cipollini's response to criticism for not wearing a helmet is slightly x-rated
Bikes have changed in 50 years of course, but perhaps the biggest change in cycling's look is the jerseys, and the book documents that transformation with lavish pictures of Smith's outstanding collection of cycling clothing, with jerseys given their own chapter.
It runs the gamut of eras, from the relatively modern to the truly vintage. Leafing through the Faemas, the Merciers, the Moltenis, as well as the more obscure examples like Jollj Ceramica and De Clerck, it is striking just how much more stylish the older jerseys seem.
Simply the best
Smith is of the same mind. He believes two reasons explain it. One is the technical nature of modern fabrics. "It was wool, not Lycra, in the 50s and 60s. I think the modern fabrics have removed some style. I understand the technical needs now — but there's something about wool. It was just like wearing a nice polo shirt."
The other reason is the relentless commercialism of modern cycling. Jerseys crammed with logos on almost every available inch cannot be as stylish.
"The style was simpler when there was just one sponsor like Gitanes or St Raphaël. It's just the way it was — more pleasing to the eye."
Asked to name his favourite jersey in the collection, Smith doesn't hesitate. "It's Felice Gimondi's World Championship jersey, in wool, with the rainbow stripes. It's magnificent and simple. Absolutely beautiful."
Smith acquired it at a street market in the Italian coastal town of Forte di Marmi. But on a recent visit, even Smith, with his significant means, blanched at the prices.
"Last time I went they had gone right up and I just couldn't buy any. It's got to the point where the sellers think they're more valuable than they are."
Smith also dwells on the heroic personalities that dominated the sport, including the great British names of Tom Simpson, Beryl Burton and Reg Harris. Asked to name his all-time, favourite, most stylish rider, it's perhaps inevitable that the man is French.
>>> From Burton to Armitstead: Britain's road race world champions
"It's Jacques Anquetil. When I was 14 I looked at Jacques Anquetil and decided that here was a man who defined cycling cool, thanks to his good looks and that red and white St Raphaël jersey. I haven't changed my mind!"
Smith gives a mention, naturally, to Fausto Coppi and one of the most memorable images in the book is a shot of the legendary Italian, on a bike, but in civvies, holidaying on the isle of Elba in 1957. "Coppi gets everything — shirt, shorts, socks, shoes, sunglasses, haircut — exactly right."
Despite the loving chronicle of the past which the book represents, Smith still lives for cycling in the present. Our conversation is ended by a text.
"It's from my mate who works with French TV on a moto. He's just telling me that Steve Cummings looks like he might attack off the back of the bunch."
And there it is again — Smith's palpable excitement and joy. "I couldn't live without cycling — there'll always be room in my life for it," he says.
Dress right, ride better
The Lada of cycles
While Paul Smith's collection bikes, clothing and memorabilia is focused on pro cycling, it also contains oddities that are testament to his love of all things cycling, not just the professional branch.
"Of all the bikes I keep in the building, perhaps the most amazing is a Russian bike given to me by a lady I'd never met who arrived in the office on my birthday and announced that she'd bought a present for me," he says.
"It turned out to be a bike made in Moscow the year I was born. It's a Soviet-era bike — solid and heavy. As the slowest of the lot and weighing as much of the rest of them put together, it's a great conversation piece and it demonstrates that it takes all sorts of bikes to make the world of cycling."
Rivière's last ride
Paul Smith's book is not just about objects — it's also full of the human element, and no story is more gut-wrenching than that of Roger Rivière.
Illustrated with an arresting picture of the French golden boy in the moments after his crash on the descent of Mont Aigual in the 1960 Tour, Smith recounts the aftermath of Rivière's misjudgement on a corner: "They carried him back up to the road as gently as they could but when they got him to hospital they discovered he had broken his back in two places. Paralysed, Rivière never regained full movement of his limbs and lived the rest of his days in a wheelchair.
"The photographs of him lying crumpled on a hillside, face down on a bed of fallen leaves, are reminiscent of religious iconography."
Thank you for reading 20 articles this month* Join now for unlimited access
Enjoy your first month for just £1 / $1 / €1
*Read 5 free articles per month without a subscription
Join now for unlimited access
Try first month for just £1 / $1 / €1
Get The Leadout Newsletter
The latest race content, interviews, features, reviews and expert buying guides, direct to your inbox!