PINARELLO TEAM RIDE WITH MOTO GP STAR TOSELAND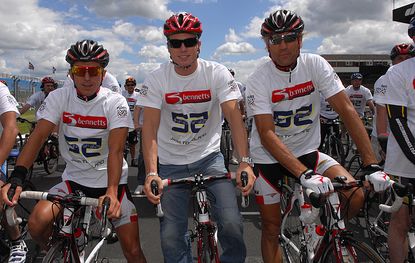 Malcolm Elliott and Russell Downing from Pinarello RT joined MotoGP star James Toseland at Donington Park this morning to help promote his charity ride in aid of 'Riders of Health'.
The charity helps African health workers to be able to ride and maintain motorcycles so that that are able to reach remote African villages to deliver a reliable and regular health care service.
Toseland's personal sponsor, Bennetts Insurance, teamed up with the charity to give 52 cyclists (52 is Toseland's race number) a chance to buy tickets to support the charity and take their place on the starting grid to ride alongside Toseland, Elliott and Downing over two laps of Donington's MotoGp circuit.
The circuit will this weekend (June 22) see the British round of the Moto GP championship.
Toseland, from Rotherham, used to go to school with Russell Downing and now uses cycling as an important part of his training regime, particularly over the winter months. He rides a Pinarello Prince given to him by his sponsor Bennetts and supplied by Phil Griffths of Yellow Ltd.
Downing, Toseland and Elliott before the ride
Thank you for reading 10 articles this month* Join now for unlimited access
Enjoy your first month for just £1 / $1 / €1
*Read 5 free articles per month without a subscription
Join now for unlimited access
Try first month for just £1 / $1 / €1