POOLEY: "MY TENTH PLACE WAS EARNED BY TEAM."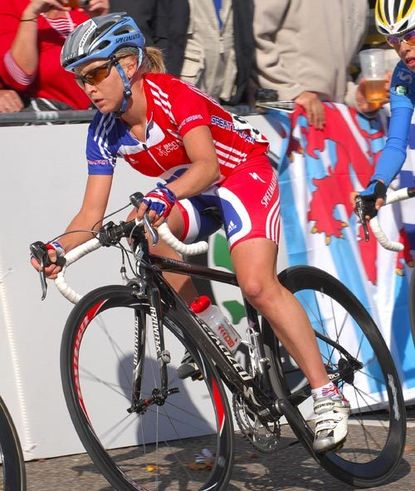 Tenth in the Women?s Road-Race in Stuttgart on Saturday was a result Emma Pooley says was directly due to strong support from the entire British team.
?They were awesome,? she stated to CW afterwards. ?We didn?t go in with too many plans, coming into the last lap Rachel [Heal] basically got me to the front.?
?I had been struggling with that because it was a big bunch to start with and such a technical course. One of the problems was getting to the front and staying there.?
?My tenth place was definitely earned by the team, especially Rachel.?
Pooley said that she did not cope too well with the pressure beforehand. ?Last night was fine, I was blocking it out and this morning I wasn?t feeling too great. I plugged myself into my mp3 player and tried to forget there was a bike race happening.?
Pooley said that she was not ?team leader as such, Rachel was directing everything, but there?s a lot I can work on. In some ways it?s good becase I can improve, in some ways I?m annoyed with myself for not doing what I was told.?
Alluding to the absence of Nicole Cooke, Pooley argued that ?without her here, I think we can be pretty pleased with getting a top ten.?
?The other nations then thought they could stomp all over us so I?m glad we stood up for ourselves. It was all team work, so we can be proud of ourselves.?
?I knew that if we got Emma to a good position at the bottom of the steep climb then it was going to be up to her.? Heal added.
?It was a case of shouting at her loudly enough to make sure she got my wheel and then drilling it to the top of the climb.?
?It was pretty much the same as I did for Nicole last year, a 3k pursuit type effort just absolutely everything, until I went kaboom, which I did in a big way. It always happens at the bottom of a very steep hill!?
?I could have walked up it quicker, but it?s job done then. It?s a satisfying feeling knowing you?re playing a part in the race. She said afterwards that she?s scared enough of me to that when I say ?get on my wheel Now!? she does it. ?
?I think it?s one of the hardest worlds courses that I?ve done. We did a recce of the course back in August and I said then that it was one of the hardest. It doesn?t really have anywhere to rest, you?re always going up or down.?
2007 ROAD WORLD CHAMPIONSHIPS NEWS
Bettini cleared to race by Stuttgart courts
McQuaid gives Bettini green light to race
Bettini in Worlds but Di Luca is out
Wiggins and Millar disappointed with TT ride
Bettini denies supplying drugs to Sinkewitz
Valverde can race at World Championships
Eddy Merckx not welcome at Worlds
Cooke out of Worlds, Brailsford names GB squad
British team get extra places for U23 Worlds
Boonen out of Worlds
Should Valverde ride the Worlds?
2007 ROAD WORLD CHAMPIONSHIPS COVERAGE
Cancellara retains World TT title
2007 Road World Championships preview
Elite Men Time Trial: full start list
Elite Women's Time Trial: Pooley takes eighth,
Under-23 Time Trial: Boom takes second world title in 2007
TV guide: World Champs on British Eurosport
TV guide: World Champs on BBC
2007 ROAD WORLD CHAMPIONSHIPS PHOTO GALLERIES
Click here to see a gallery of photos of the Elite Men's Time Trial
Elite Women's Time Trial World Championships
Men's Under-23 Time Trial World Championships
2006 WORLD CHAMPIONSHIPS
World Champs 2006: Cancellara nets gold in TT
World Champs 2006: Cooke blasts to bronze in Salzburg
EXTERNAL LINKS
Official 2007 Road World Championships website: www.radwm2007.com.
Union Cycliste Internationale: www.uci.ch.
Thank you for reading 20 articles this month* Join now for unlimited access
Enjoy your first month for just £1 / $1 / €1
*Read 5 free articles per month without a subscription
Join now for unlimited access
Try first month for just £1 / $1 / €1