Pooley wins Montreal World Cup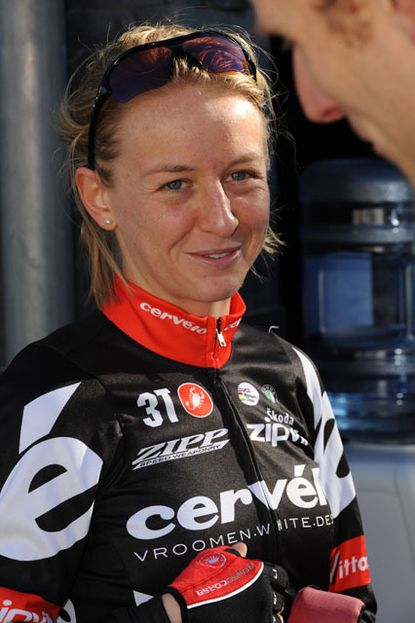 Britain's Emma Pooley won the Montreal round of the Union Cycliste International Women's World Cup on Saturday after spending the entire race out on her own.
The Cervelo Test Team rider made a lone attack on the first lap of the 10km circuit in the Canadian race, and managed to distance herself from her rivals on the tough course.
Pooley came home one minute and 14 seconds ahead of a small chase group headed by Emma Johansson (Sweden) to take an emphatic win. At one point during the race Pooley's advantage rose to over four minutes.
"I attacked after only 400 metres", Pooley said after the race.
"A win like this is only possible if you know that you have super strong team mates behind you. And our team did again an incredible job, with Regina [Bruins] and Carla [Ryan] in the group behind me. It gave me a lot of confidence."
"I believed in my victory only in the last corner with 200 metres to go. I felt so tired during the last lap, so you never know. But I made it and I am so happy."
It's Pooley's second big win of the season, having won the GP Costa Etrusca in March. The London-born 2008 Olympic time trial silver medallist also won the climbers jersey in the Tour de Berne. She has just completed the Tour de l'Aude stage race in France.
Pooley has won a round of the women's world cup before - last year she won the Trofeo Alfredo Binda in Italy and subsequently spent some time at the top of the overall series table.
Johanssen's second place in Montreal has put her back in the lead of the season-long world cup series. Former leader Marianne Vos (DSB Bank) did not contest the round. Pooley's win puts her at eighth in the table, with Nicole Cooke (Vision 1) at 11th. Cooke was another absentee from the Canadian round.
RESULTS
Montreal World Cup, 110.7km
1. Emma Pooley (GB) Cervelo in 3-09-09
2. Emma Johansson (Sweden) Swedish National Team at 1-14
3. Trixi Worrack (Germany) Equipe Nuernberger
4. Ruth Corsett (Australia) Australian National Team
5. Regina Bruins (Netherand) Cervelo
6. Catherine Cheatley (NZ) Colavita Sutter Homes
7. Tiffany Cromwell (Australia) Colavita Sutter Homes at 1-18
8. Erinne Willock (Canada) Webcor Builders at 1-21
9. Carla Ryan (Australia) Cervelo at 1-24
10. Amber Neben (Germany) Equipe Nuernberger at 1-25
Other
29. Leda Cox (GB) ESGL93-GSD Gestion at 9-11
RELATED LINKS
Emma Pooley: Rider Profile
Hausler wins Tour de l'Aude
Thank you for reading 5 articles this month* Join now for unlimited access
Enjoy your first month for just £1 / $1 / €1
*Read 5 free articles per month without a subscription
Join now for unlimited access
Try first month for just £1 / $1 / €1