Quick-Step riders' training camp interrupted after bears break into house and eat their food
Iljo Keisse, Maximiliano Richeze, and Fernando Gaviria were in for a big surprise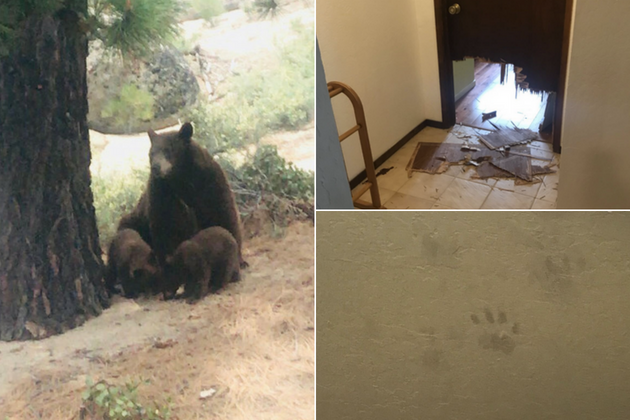 A group of Quick-Step Floors riders had a nasty surprise when they returned from a training ride during a camp in America, finding that a group of black bears had broken into their accommodation and eaten their food.
Iljo Keisse, Maximiliano Richeze, and Fernando Gaviria are midway through a training camp at Lake Tahoe in California and Nevada, but may not be so keen to get out and about on the rural roads in the coming days after the incident.
On Thursday the three riders were preparing for a training ride when they spotted four bears - a mother and three cubs - in the backyard of their accommodation in South Lake Tahoe.
After taking a few photos they left for their ride thinking nothing more of it. However when they returned a 120km lap of Lake Tahoe followed by an hour in the gym they were in for a big surprise.
>>> Watch: Australian cyclist stands absolutely no chance as he's taken out by kangaroo
As shown by photos posted by Keisse on Twitter, the bears had broken into the riders' accommodation, raiding their fridge a leaving dirty paw prints on the wall.
"So yesterday this bear family visited the Wolfpack, mom chilled a bit in the shadow and in the meantime her 3 cups where playing in our backyard... So cute!" Keisse wrote on Twitter.
"But then they got hungry and decided to let themselves in. We where out training luckily... They made a little mess and didn't leave a thank you note."
Not content with one raid on the riders' accommodation, the bears then returned the following overnight when Keisse wasn't quite so pleased to see them.
Astonishingly, this isn't the first time that Quick-Step riders have had run-ins with bears while training in California, with Matteo Trentin having a lucky escape in 2017 after he crashed into a bear while descending in the same area.
Trentin posted a photo of his broken helmet after the crash with the caption: 'Always wear a helmet fellas!! It can also happen that during training a bear cross your path when you are in a fast downhill. No space to brake so I crashed into with him!! He wasn't a fluffy teddy bear"