The reason why you never forget your first bike
Everyone remembers their first bike – probably more for the adventures they had on it, than the bike itself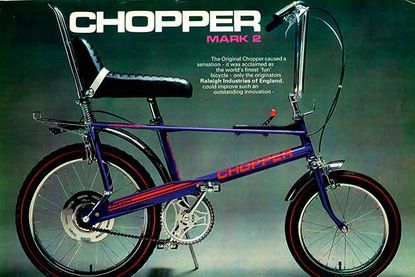 All cyclists will remember their first bike with a great fondness. It was usually nothing special in terms of its actually physical being - a bike represents more than being just a bike.
A bike is a gateway to adventure. An instrument of freedom. That's something that cycling can give you at any age, and no matter how long you have been doing it.
We recently asked Cycling Weekly readers to tell us about their first bike and the greatest adventure that they had on it. We received some absolutely cracking stories, and we are publishing a selection of them here, in association with B'Twin.
What was your first bike, and what was the greatest adventure that you ever had on it? Let us know in the comment box below.
My first proper bike was a five-gear Raleigh Olympus when I was 11 years old. I once cycled from Tooting, where I lived, to Three Bridges near Crawley and back, but I would get out of London nearly every weekend and enjoy the countryside. Now, 44 years later, I'm still cycling.
Mark Hancock
My Raleigh Budgie. I jumped it off a two-brick ramp off a kerb and the head tube snapped off... styled it out and hid it in the shed.
Jon White
Black Raleigh Record Ace 501 aero tubing. Went everywhere in the Peak District, I'd ride it now if it could handle modern gears and wheels. The ride I remember most was with my dad. His crank snapped about 15 miles from home, in the days before mobile phones. Luckily we found some packing rope in a hedgerow and used it to tow him home.
Piotr Kinjou Prow
An Elswick Hopper Lincoln Imp and I promptly rode off to my grandmother's, some 151 miles away, equipped with a few sandwiches and a bottle of water in my school satchel. This summer I bought a vintage bike — an Elswick Hopper Lincoln Imp. Nostalgia lives!
Steve Watt
Raleigh King Cobra. Biggest adventure: going down a massive hill aged nine, getting a speed wobble, skidding on the tarmac on my face, lodging my front tooth in the road and scaring the life out of my dad who was right behind me screaming, "Brakes, Jess, brakes!"
Jess Anderson
http://www.youtube.com/watch?v=KhtGMMRbgY0
Gold-coloured folding bicycle from Woolworths. Not sure it was an adventurer but my most abiding memory was ending up in a ditch after swerving from a close pass by a bus and two lads from the bus seeing it happen and coming to rescue me and walking me home. That was nearly 40 years ago and we are still friends.
Nadia Lewis
First bike I can remember was a red BMX rip-off called a Mustang. My most exciting adventure was trying to get the two miles home as a 10-year-old after I sheared off the front caliper, flipped over the handlebars, broke my collarbone and a rib and lost the skin off my back as I tried to pull a stoppie going downhill.
Michael McEwan
>>> The best way to inspire yourself to get out cycling if you can't be bothered
A 1996 Saracen Tufftrax in neon purple when I was 11 years old — my first adult-sized bike. I remember getting the ferry to the Isle of Wight and battling gale-force winds on the way back down to the Needles to catch the last ferry back. I was so cold I couldn't hold the hot chocolate in the cafe on the boat!
Matt Whiting
Raleigh Tomahawk. It's 1979 and the other kids may have had Grifters or Choppers but I still had a Raleigh! Thanks, Mum and Dad.
Tim Nicholls
BSA Javelin, bought it through mum's catalogue for £5 a month, paid from my three paper rounds! I used to cycle with mates to West Bay and back, about a 50-mile journey for fish and chips! Happy times.
Greg Parker
Thank you for reading 20 articles this month* Join now for unlimited access
Enjoy your first month for just £1 / $1 / €1
*Read 5 free articles per month without a subscription
Join now for unlimited access
Try first month for just £1 / $1 / €1