REGIONAL CYCLO-CROSS CHAMPS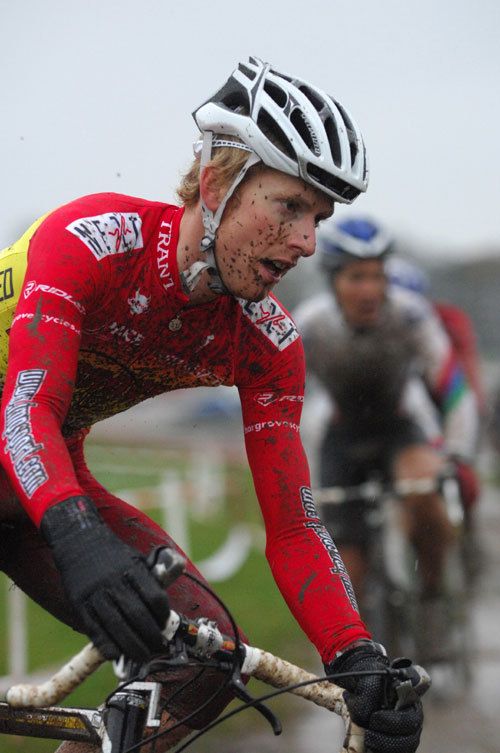 STUART Bowers (Hargroves Cycles-Trant) won the South of England Cyclo-Cross Championships in thrilling style, sprinting home just inches ahead of rival Will Bjergfelt (Kona UK) at Bicton Arena in Devon.
?I was a bit under par to be honest,? said Bowers, who was battling with a cold all week before. ?It started to get on my chest on Friday, so I wasn?t even sure I was going to ride.
?But I wanted to ride for my sponsor, and because I?m the defending champion. It was tough, but I?m glad I decided to ride. My chest was tight and I was struggling a lot with my breathing.?
Elsewhere, 2004 champion Jim Bryan (Ace Racing Team) won the Midlands Championships by almost a minute from last year?s victor Dan Booth.
In the South Eastern Championships at Hempton, Norfolk, Jamie Newall (Evans Cycles RT) took the honours by two and a half minutes from Darren Barclay (Arctic RT).
Fourth last year, Newall takes the title from 2006 winner Alex Atkins, who was a non-starter.
South of England Championship (Bicton Arena, Devon).-
1 Stuart Bowers (Hargroves Cycles-Trant) 1-01-00
2 Will Bjergfelt (Kona UK) same time
3 Adrian Lansley (Pedal On) at 45sec
Midlands Championship (Markeaton Park, Derby).-
1 Jim Bryan (Ace RT) 1-01-15
2 Danny Booth (Pedal Power RT) at 1-00
3 George Richardson (Kona UK) at 3-30
South East Championship (Hempton, Norfolk).-
1 Jamie Newall (Evans Cycles RT) 1-02-08
2 Darren Barclay (Arctic RT) at 2-30
3 Shaun Aldous (Interbike RT) at 3-05
Event Organisers! - call Snowdon Sports with your results on 0114 232 5555 or e-mail results@snowdons.co.uk