Ride with... South Western Road Club
A ride through some of Surrey's most verdant countryside with the colourful outfit from Cobham, in association with PowerBar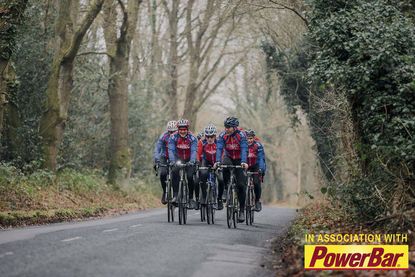 (Image credit: Daniel Gould)
Based: Cobham, Surrey
Members: 200
Formed: 1930
Meets: Cobham car park, Downside Bridge Road, the second, third and fourth Saturday of the month. St Michael's Church car park, Betchworth the first Saturday of the month.
Twitter: @SWRC_UK
Website: http://www.swrc.org.uk/
Cyclists. Thousands of 'em. Bridge Street car park in Cobham is officially under siege. South West Road Club, attired in their trademark red and blue fatigues, have swarmed in unprecedented club-run numbers. It's an impressive sight, but one that asks questions of the logistics of this ride — how can Surrey's skimpy little lanes cope with such an influx of sprockets and spokes and vibrantly clad individuals?
Amid a cacophonous clacking of cleats coupled with the click-click-click of umpteen freehubs, I search out my point man, David Jordan, SWRC's president, and query him regarding the high tally of riders he's proposing to put out on the road. Jordan goes on to tell me how he coordinates such heavily populated club runs.
"Over the weekends we will often have 70 or so of our 200-strong membership turn up to ride," he says. "We set off in groups of 10-12 for a range of different rides."
Indeed, SWRC's substantial membership figures are probably a result of their eclectic route selections, as Jordan confirms: "We offer a variety of long and short, fast, slow and hilly rides on any given weekend."
True to his word, the SWRC collective is whittled down into practical, pint-sized little pelotons, and we begin our foray, as is customary for clubs based in this area, into the wilds of rural Surrey and its famous hills — although Jordan states that sorties into the adjoining counties of Kent and Sussex also feature in the club's extensive ride catalogue.
>>> Find a cycling club near you
Audax ace
A few fleeting furlongs of smooth tarmac deposit us outside the M25 perimeter and into a musty winter woodland. And now traversing our first noteworthy ascent of the day, I cycle two-abreast with long-time SWRC member and Audax-rider extraordinaire Alan Parkinson. Parkinson is in the preliminary stages of planning an assault on arguably the most prestigious Audax in Britain, London-Edinburgh-London, which starts on July 31.
Similar to Paris-Brest-Paris, in that it's staged once every four years, Parkinson is already something of an L-E-L aficionado: "I rode it four years ago. Two days to Edinburgh with the wind behind and then three days back. I wasn't expecting great things but left thinking how fantastic it was. I guess that's why so many people like doing LEJOG, because the scenery changes so much."
Having pedalled through the picturesque settlements of Albury, Chilworth and Shalford which lie at the heart of the Surrey Hills, we begin a brisk north-westerly tack towards the tearooms at Seale. Our progress, however, is interrupted by one of our number falling foul of the dreaded puncture.
The incident has occurred at an interesting location. Across the road from where the mechanical has occurred is the local tandoori house; while just around the corner lurks possibly the most precipitous stretch of tarmac within a five-mile radius.
>>> Ride with…. Hawick Cycling Club
Interestingly, now that the puncture has been repaired, we appear to be eschewing the delights of Indian fare in favour of decimating our thighs up Farncombe Hill.
Only a third of a mile long, Farncombe Hill averages a forbidding 10 per cent gradient, and our group starts to fragment somewhat as we inch our way to the top. But now, just a short bimble away from the hallowed tearooms, club TT ace and brother of Alan, Colin Parkinson, hits the front and incrementally turns the screw tighter and tighter until we blaze blue and red through the villages of Shackleford and Cutmill, and eventually… and quite happily... reconvene with the rest of the club for elevenses.
History
The South West Road Club were formed in 1930 as a racing offshoot of the SW London CTC, who did not approve of competition.
Originally the SWRC were from West London but are now based in Cobham, Surrey. Riders have participated in events all over the UK and abroad and their red and blue jerseys can be seen all over Surrey, Sussex, Kent and beyond.
The club is associated with Evans Cycles, a partnership that goes back over 25 years. The May Flyer would probably be considered as the club's pièce de résistance and has gained huge popularity among the cycling fraternity in the South-East and indeed the entirety of Britain. The event features feed stops and a massage station, and SWRC donate a considerable sum of the profits to local charities.
Achievements
Founder member Syd Parkinson raced in the 1943 season as an inaugural member of the Veteran Time Trial Association. He held age standard records up into his eighties, always under the SWRC colours.
Graham Collins was the first rider inside the hour for 25 miles in 1954 and went on to be the Kenyan road race champion in the 60s. In 2006 he was awarded the UCI Sportive Golden Bike in his seventies.
John Bromley, Ray Ward, Tony Fantham and Steve Gowar were the star performers in the 60s 70s and the 80s. The latter combined with all three of the Parkinson brothers (Colin, Alan and Phil) to win multiple English Schools titles in the 70s and All London Track and Team Pursuit titles in the 80s.
After a near 20-year break, a resurgent Colin Parkinson has been a consistent performer in time trials and was a top 12 CTT BBAR in 2009 while picking up the UCI Masters European 20km points race in the same year. This year he finally broke Roger Hammond's longstanding club 10-mile record and now holds all the club TT records up to 12 hours.
In 2015 Colin and Andy combined to win the Redmon GP des Gentlemen, the local season-ending classic.
Current star riders include 'Supervet' Andy Hicks who shocks younger rivals on A group rides with his climbing prowess and has won many LVRC road races. He was their national champion in 2012 and the Percy Stallard season-long series winner the same year.
South Western RC club run
Ride highlights
1 Albury
Located in the heart of the hills, you will struggle to find a more quintessentially English settlement. It comes complete with cricket green, rural church and a decent village boozer.
2 Farncombe Hill
An ascent with National Hill-Climb Championships written all over its precipitous slopes. It matters not how you scale this spiteful length of asphalt — it always concludes with burning lungs.
3 Shackleford to Seale
A snakey streak of tarmac under some of Surrey's thickest canopy cover. The road twists and turns, rises and falls, until it eventually deposits bike and rider at the doors of Manor Farm Tea Room.
Favourite cafe
Tucked away in the village of Seale, a popular destination within the pedalling fraternity, the Manor Farm Tea Room is an atmospheric eatery purveying superb cycling sustenance. Manor Farm Tea Room, Wood Lane, Seale, Farnham GU10 1HR. 01252 783661.
Thank you for reading 20 articles this month* Join now for unlimited access
Enjoy your first month for just £1 / $1 / €1
*Read 5 free articles per month without a subscription
Join now for unlimited access
Try first month for just £1 / $1 / €1