Ride With... VC Colets
Steve Shrubsall braves the cold to ride with one of London's newest clubs, VC Colets, in association with PowerBar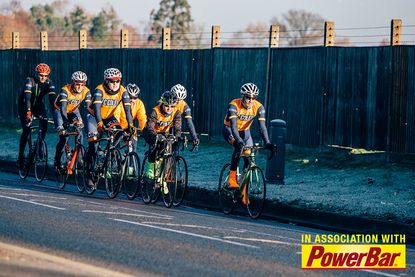 (Image credit: Chris Catchpole)
Based: Thames Ditton
Members: 50
Formed: 2012
Meets: Colets Fitness Club, Sunday morning social rides, midweek turbo sessions
Website: VC Colets
And so we blat, like hounds out of Hades, from a bourgeois corner of London's south-west straight down the A307 through Esher and Cobham. Our speed as we bisect the diminutive settlements of Horsley and Effingham is unrelenting — with a sonorous chorus of rasping, gasping, hawking and hacking permeating the air around us.
Our destination today is the Surrey Hills — a playground for many clubs based in and around the Big Smoke, and home to some of the most revered ascents in the South-East.
There is, of course, a reason for our haste this morning. This is, after all, a Sunday social outing — during which it is customary to reflect on the previous week and perhaps plan a better one. A few glorious hours where demons may be exorcised, laughs may bounce boisterously off the diaphragm, and last night's doner kebab and Kronenberg combo may be ousted, repelled, left out on the lanes of this leafy home county.
>>> Find a cycling club near you
It's freezing, you see. Literally. The temperature gauge on my trusty cycling computer reads minus two degrees. The fact that I'm wearing several dozen layers does little to mitigate the chill and it feels like at least half the digits in my right glove are ripe for amputation.
Yet, we buzz along and almost indiscernibly, a warmth begins to creep through me — there appears to be a method to VC Colets's madness.
Eventually we find ourselves ensconced among rural Surrey's keenest slopes and, starting the ascent of Green Dene, the pace and mood become decidedly more 'club-run' and less 'pedal for your life, lads'. This gives me a chance to get my breath back while getting the lowdown on this relatively new outfit from Thames Ditton.
A slippery slope
Chris Murray, quick of wit and bushy of beard, is also clued up on all things Colets: "I've been actively involved in the running of VC Colets since it was formed back in 2013 and it's great to be part of an up and coming club as it continues to grow."
Murray goes on to recall how Colets was formed: "In 2012 and then again in 2013, a group of members from Colets gym took part in the Capital to Coast charity bike ride, and it was on the back of the latter, in July 2013, that the cycling club was formed, using the name that had been used for both of the Capital to Coast events, 'Team Colets'."
The draggy slopes of Green Dene lead us to the top of Coombe Lane, which is descended with caution; we may have warmed up but the surrounding countryside still wears a delicate white veil, and precipitous slopes are tackled with care — going off-piste here would likely end in third-degree frost nip at best.
Heading into the little village of Shere now, talk turns to television: "Is anyone watching I'm a Celeb?" a voice sheepishly enquires from deep within the pack. It is a question met with a deathly silence. "How about Tour de Celeb?" This ignites a robust conversation and the shortcomings and strengths of each contestant are dissected as we continue up to the summit of Radnor Road — one of the Hills' lesser-known appointments.
Regrouping at the top, we are treated to Marcin Kulczycki's best Chris Froome impression, as he runs up the final furlongs of the slope in his cleats. Although he's on top form today (both on and off the bike), Kulczycki has been suffering with kidney stones since June and endured "epic" amounts of pain for the latter part of the year.
But cycling with Colets has played a large part in keeping his spirits buoyed: "Cycling keeps me going. It makes me stronger — mainly mentally — therefore I can handle some issues in life much better," says Kulczycki, who hails from a town just down the road from Michal Kwiatkowski's birthplace of Diazlyn.
>>> Best cycling sportives near London
Happily, he was operated on in late December and is back to full fitness on the bike.
Indeed, for a club whose socials are situated in the Surrey Hills, you need some semblance of form to be in with a chance of completing the loop. And with the beastly gradients of White Down to contend with during the finale of today's foray, coupled with the lingering sub-zero temperature, never has a hot drink back at HQ been more welcome.
History
Having ridden successive Capital to Coast charity rides in 2012 and 2013, members of Colets Gym in Thames Ditton had become smitten with the thrill of group riding and promptly set about establishing their own cycling club.
For the first month or so, attendance on weekly club rides was good, but winter thinned the ranks and it was left to just a keen few to keep the fire burning until the following spring when Colets picked up some more gym members. Later that year, a group of riders tackled their first sportive as a club in Bournemouth, swiftly followed by one in East Sussex.
Enthusiasm, attendance and camaraderie grew and grew and VC Colets rounded off the spring/summer season with their first ever annual dinner and awards.
Winter saw a slight tail off in attendance but rider numbers doubled year on year as more hardy riders turned up to embrace the cold weather.
As 2014 came to a close and 2015 dawned, a few significant changes to the club took place, namely the changing of the name to better reflect that they were a cycling club (as Colets also has a hugely successful squash team) and a redesign of the club kit courtesy of Neil and Paul from C3 products who supply the Sportful-branded club kit.
The newly titled VC Colets came of age in 2015 when they started to accept non-gym members which helped grow the club and widen its reach to other local cyclists. Club rides improved with an emphasis on good group riding skills.
The club had its first weekend in Wales and VC Colets started to appear in some of the Surrey League results tables thanks to co-founder Stefan Atanasov.
In 2016 it introduced an annual ride to Brighton and back and the membership soared to 50.
Achievements
VC Colets is relatively new to the club scene and has therefore yet to garner any racing achievements. However, this is very likely to change now that co-founder Stefan Atanasov has just secured his third category-licence and up and coming youngster Jacob Law-Sales has numerous time trials targeted for this season.
Many riders are more focused on distance riding and touring, with riders like Jacky Bernett — in her third season with the club — having taken on classic European climbs like the Stelvio and with the Tour of Cambridge and Tenerife's Volcano Tour in her sights.
VC Colets club run: Ride highlights
1 Green Dene
A draggy ascent that averages four per cent over 1.4-miles. As well as being the first climb that most riders from South-West London will encounter, it drops straight into the heart of the Surrey Hills.
2 Radnor Road
Just shy of two miles and maxing out at leg-breaking 20 per cent, this hill is a killer. The area is also popular with mountain bikers so look out for 'sick whips' and other such gnarly tricks in the near vicinity.
3 White Down
This beast of a climb is a local legend and requires every last watt of willpower. We suggest bowing your head against the tidal wave of gradient and not looking up until the task at hand has been put to bed.
Favourite cafe
Having a cafe within Colets Gym is very convenient, especially as it offers extensive breakfast and lunch options. CW isn't averse to a gulp of latte and can report that Colet's Gym's offering ticks all the right boxes, being hot, creamy and refreshing. Colets Fitness Club, Thames Ditton, Surrey, KT7 OPW
Thank you for reading 10 articles this month* Join now for unlimited access
Enjoy your first month for just £1 / $1 / €1
*Read 5 free articles per month without a subscription
Join now for unlimited access
Try first month for just £1 / $1 / €1