Russell Downing: back to the old school for 2015
The British rider is as keen as ever to race, and has gone back to getting the miles in this winter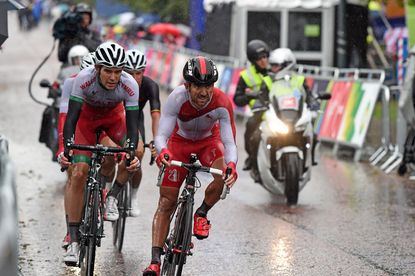 Russell Downing is going back to his old school methods this winter as he builds up to a 2015 season back in the international peloton with Cult Energy.
Downing, 36, signed a one-year deal with the Danish professional continental outfit after a season with British team NFTO where he won the Stockton Grand Prix and finished fourth at the Commonwealth Games road race.
"I've not been looking at the numbers, I've gone back to the old school this winter and just worked on getting the hours in the bank," Downing told Cycling Weekly.
"Last year was the first year I've not rode a stage race since 1995, and that was a bit in the back of my mind. I've looked at getting some kilometres on the clock again."
Downing explained that he hasn't been tempted by the retirement of his older brother Dean, who called time on his cycling career at the end of last season. Indeed, despite being the oldest rider in his new team, the Yorkshireman says he is as eager as he's ever been.
"Call it what you want, I am the elder statesman now," he said. "I've got quite a lot of knowledge and I'm looking forward to passing that down through the ranks, and I still know that on a good day I can get a result myself.
"We've got a good sprinter on the team - Michael Carbel - that I want to try and look after, and that will be one of my roles, looking after him and trying to deliver him to sprints."
While the team's pro-conti status means it is ineligible to compete in British domestic events like the Elite Road Series and Tour Series, Downing's aims for the season remain – subject to invitation - on these shores. Once he's started his season at the Challenge Majorca at the end of January, he will aim for rides at RideLondon, the Tour of Britain, and Tour de Yorkshire.
"The team is really ambitious and it's looking to branch out into the UK as a team, and Cult Energy as a product want to break the UK market as an energy drink supplier," Downing added.
Thank you for reading 20 articles this month* Join now for unlimited access
Enjoy your first month for just £1 / $1 / €1
*Read 5 free articles per month without a subscription
Join now for unlimited access
Try first month for just £1 / $1 / €1