Shane Sutton used the word 'bitches' to Jess Varnish, leaked document confirms
A leaked report from British Cycling obtained by the BBC shows that former British Cycling technical director Shane Sutton was cleared of eight of nine charges against him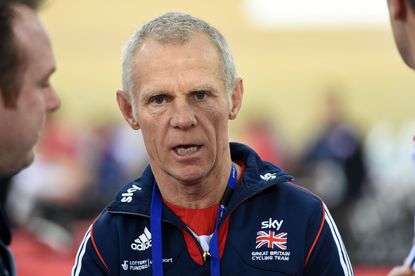 (Image credit: Andy Jones)
Former British Cycling technical director Shane Sutton was cleared of eight of the nine accusations made against him by former Great Britain track sprinter Jess Varnish, but was found to have used the word 'bitches'.
A leaked document obtained by the BBC summarises the findings of an internal BC investigation into the allegations made by Varnish against Sutton. Varnish accused Sutton of bullying and sexual discrimination.
In all, the BC investigation looked into nine separate allegations, but only upheld that Sutton had used the word 'bitches' to Varnish. Allegations that he used the word 'Sheilas' and the 'c-word' were not upheld.
>>> Shane Sutton on British Cycling: 'It's just a shame it has ended like this'
Also not upheld was the allegation that Sutton had told Varnish to 'move on and get on with having a baby', and that Sutton had allegedly said that women were 'difficult'.
The allegation that equipment was not distributed evenly and without discrimination between male and female GB cyclists was not upheld.
Varnish made the original accusations against Sutton after she was dropped from British Cycling's Olympic podium programme in April.
Sutton resigned from his post at BC in April, and is now reportedly on a shortlist for the Cycling Australia's high performance director position.
Although Sutton was cleared of eight accusations, the remaining upheld accusation meant that overall Varnish's complaint was upheld. However, Varnish told the BBC that she was now 'shocked and upset' at the contents of the newly leaked document, and has requested access to the full report through her lawyers.
>>> British Cycling investigation: 'Shane Sutton did use inappropriate and discriminatory language'
"Having provided substantial evidence to back up my complaints, to now learn that the majority were not upheld is heartbreaking," said Varnish. "I know what was said, and I know I've told the truth."
Sutton has always denied the allegations made against him.
Thank you for reading 5 articles this month* Join now for unlimited access
Enjoy your first month for just £1 / $1 / €1
*Read 5 free articles per month without a subscription
Join now for unlimited access
Try first month for just £1 / $1 / €1