Sir Bradley Wiggins's 10 mile time trial bike
This is the bike that Olympic, world and national time trial champion Sir Bradley Wiggins piloted to victory at the City RC 10-mile time trial on May 16. Photos by Andy Jones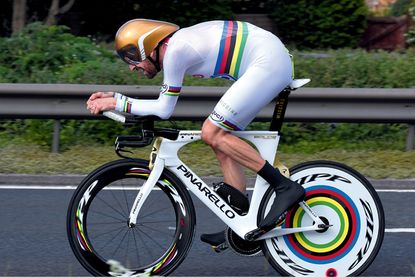 Having moved from Sky to his own, eponymous team in mid-April, Sir Bradley Wiggins is now riding a SRAM groupset and Zipp wheels.
This bike would not be allowed in an international event; the non-standard grippy material on the saddle and aero bottle (which actually improves the bike's aerodynamics) are both banned by the UCI but allowed by CTT regulations.
However, even the most extensive aerodynamic features could do nothing against the bruising headwind on the return leg, which stopped Wiggins from beating Alex Dowsett's competition record of 17-20.
Saddle
Wiggins's favoured Fizik Ares time trial saddle has been customised with a patch of what looks like a grippy rubber surface picked up from a hardware shop. It's there to keep him perched as far forward on the saddle as possible, making him more aerodynamic and maximising his pedalling efficiency.
Wheels
This is a Zipp wheelset just like the one used by Tony Martin in the Tour de France last season, featuring a disc rear and 808 front wheel with rainbow stripes. Wiggo's wheels (with Wiggo roundel stickers to cover the valves) arrived in the post the week before the event — just enough time to fit a pair of 23mm Veloflex Carbon tubular tyres.
Chainring
Having previously favoured Osymetric chainrings, Wiggins successfully switched to a round 58-tooth big ring ahead of the 2014 World Championships. Now he's riding SRAM's aerodynamic version (again, like the wheels, as ridden by Tony Martin) fitted to 170mm SRAM Red carbon cranks and an SRM power meter.
Handlebars
Having switched from electronic Shimano Dura-Ace Di2 to mechanical SRAM Red, Wiggins benefits from the extra few centimetres of reach afforded by the mechanical levers on the aero bars to get further over the bottom bracket. The cockpit set-up, however, remains the same as his previous bikes when riding for
Team Sky and Great Britain.
Chain-catcher
A SRAM chain-catcher stops the chain from slipping when shifting down to the 44-tooth inner chainring, an outcome made more likely due to the big drop down from a 58-tooth big ring. That said, on a flat dual carriageway course like the A63, it's unlikely that Wiggins shifted out of the big ring at all.
Pedals
These new aerodynamic Speedplay pedals are one-sided with a golf ball pattern that extends onto the underside of the footplates, looking to take advantage of the boundary layer effect of the dimples to reduce aerodynamic drag.
Wind tunnel tested, the Zero Aero pedals debuted at Eurobike in 2014 and will be available to buy later this year.
Helmet
Wiggins has swapped his usual Kask Bambino for a brand-new, custom gold UKSI helmet, as worn by athletes in the 2012 Olympics and by Wiggins himself at that year's Olympic time trial and again at the 2013 World Champs. It is likely he'll wear the same helmet for his attempt at the Hour record in 10 days' time.
Watch Bradley Wiggins's minute man at the City RC 10 mile time trial
Thank you for reading 10 articles this month* Join now for unlimited access
Enjoy your first month for just £1 / $1 / €1
*Read 5 free articles per month without a subscription
Join now for unlimited access
Try first month for just £1 / $1 / €1
Richard Abraham is an award-winning writer, based in New Zealand. He has reported from major sporting events including the Tour de France and Olympic Games, and is also a part-time travel guide who has delivered luxury cycle tours and events across Europe. In 2019 he was awarded Writer of the Year at the PPA Awards.