Sir Chris Hoy has 10th world title in his sights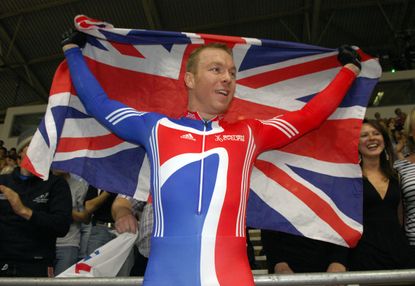 Get The Leadout Newsletter
The latest race content, interviews, features, reviews and expert buying guides, direct to your inbox!
Thank you for signing up to The Pick. You will receive a verification email shortly.
There was a problem. Please refresh the page and try again.
After missing last year's World Championships in Poland because of injury, Sir Chris Hoy returns in Copenhagen knowing he could become the first British rider to win 10 rainbow jerseys on the track.


For Hoy it means racing at the Ballerup velodrome for the first time since he crashed out of the Keirin during a World Cup there in February 2009. The hip injury he sustained forced him to miss the Worlds in Pruszkow.
In Copenhagen, Hoy will ride the team sprint on the first day of the competition (Wednesday, March 24), lining up with Jason Kenny and Ross Edgar in the Great Britain trio. Then he will ride the Keirin on Thursday and the individual sprint on Saturday.
And if he wins one of those three events, he will become the first British rider to win 10 world titles on the track. He's already the most successful British track rider in World Championship history but admits that winning number 10 would be a nice achievement.
With less than a week to go Cycling Weekly spoke to him about this year's World Championships, about Jason Queally's transformation into a team pursuiter and about why the British sprinters will be racing in Copenhagen with SRM power cranks on their bikes...
CHRIS HOY'S NINE WORLD TITLES
2002 Copenhagen - kilometre, team sprint
2004 Melbourne - kilometre
2005 Los Angeles - team sprint
2006 Bordeaux - kilometre
2007 Palma Majorca - kilometre, Keirin
2008 Manchester - sprint, Keirin
BRITAIN'S TOP GOLD MEDAL WINNERS
The British track riders with the most World Championship rainbow jerseys (pro and elite wins only, not amateur)
1. Sir Chris Hoy 9
2. Victoria Pendleton 7
3. Bradley Wiggins 6
4. Beryl Burton 5
5. Hugh Porter 4
5. Reg Harris 4
SIR CHRIS HOY INTERVIEW
Cycling Weekly: Having missed last year's Worlds you must be glad to be back in competition at the very top level. How does the Worlds differ to a World Cup, for example?
Chris Hoy: Absolutely, it's great to be back after missing a year. The chance to win a rainbow jersey is one of the biggest things you can do in cycling. It's always a big challenge and, unlike some of the World Cups, you know that everyone will be there, all trying to win.
I've kept saying that this is a stepping stone towards the 2012 Olympics so it's not all about winning next week in Copenhagen, but I'd like to win and be successful. Yes, it's a stepping stone to London, but when the whistle goes and you start racing you treat it like any other race and you give it everything.
It's a chance to remind my rivals I'm still here, but after missing last year I'm not on the perch at the moment. It's me who's the contender, so I'm quite looking forward to that.
It's also the first time on the Copenhagen track since that crash in the Keirin. Will you be looking to exorcise demons, or will you be trying to ignore it? How does that work?
You just treat it like every other negative thought you have. Negative things do pop into your head all the time, but you just displace those thoughts. You may have had a crash or a loss at a venue but you try to think about positive things. For example, Copenhagen is where I won my first ever world titles [the kilometre and the team sprint] so I'll think about that. It's also where I won the Keirin in 2008, which guaranteed my qualification for the Beijing Olympics and I beat [Mikel] Bourgain there in the sprint, and that was kind of my epiphany in the sprint, the moment that told me I could so something, so there are a lot of positives I can draw on instead of thinking about a crash.
In terms of the Olympic cycle and the build-up to London, how important are these World Championships and how should people judge the Great Britain riders? Should we be using Bordeaux 2006 as the benchmark, which was the same point in the last Olympic cycle, rather than Palma 07 or Manchester 08?
I think that's more like it. If you look at the results in Bordeaux and look at who was successful, I don't think anyone who won there went on to win an Olympic medal in Beijing.
We're always trying to win, but you can't be at your very best in every competition in a four-year cycle. As I said, it's all about being the best we can be in London, so as a team we'll be looking at the performances and the nitty-gritty, not just the results. For us at this stage, performance and other factors count more than medals. That's not saying we don't want to win. It would be very nice to be the top nation in Copenhagen but it's not a disaster if we're not.
For example, we're going to keep the SRM power cranks on the bikes for Copenhagen because we want to record the data and use that for the rest of our planning and preparation. It's not often you do that in competition so it's very useful to know exactly where we are at. Yes, it'll slow us down a bit because it makes the bikes heavier but it's all part of the planning for London.
What do you think of your former team sprint team-mate Jason Queally doing the team pursuit?
It is quite a turn-around. It's always been the dinner room chat or the café chat for the sprinters. The kilo riders have always discussed the idea of doing the team pursuit, wondering whether you could make that cross-over, but you've never wanted to risk it in case it didn't work and you're left in the middle doing nothing. But Jason has nothing to lose, if you like. He was training with the team pursuit guys while preparing to be a tandem pilot for the Paralympics and people were saying 'Hang on, he's giving guys a hard time on the track, maybe he could do it?'
If he makes the team for London 2012, there's a very good chance he can win a gold, which would be an absolutely incredible achievement. Obviously it's a very strong team and he's got to fight his way in there but why not?
Will you be able to watch him in Copenhagen?
Friday is my day off, so I will probably be at the hotel, but I'll be watching whether he rides or not. I don't know if he'll get a ride, it hasn't be decided yet.
Has your training and preparation been affected at all by the set-up of Team Sky? Have you noticed what's been going on around you at Manchester?
To be honest, I haven't noticed any difference in what I've been doing. There's been no disruption on the sprint side. There's been a buzz around the place and there's been more interest and exposure for us as a team. It's interesting to see guys I know from the track out there performing on the road and I'm certainly a lot more interested in the road side now they're out there doing it.
Have you been to the site of your velodrome yet? [the Sir Chris Hoy Velodrome is being built in Glasgow for the 2014 Commonwealth Games]
I've not been in the flesh yet. I've seen the plans and the drawings, but I'll get there in the summer.
Is it surreal that it's named after you before it's even built?
Very surreal. To actually see a building with my name on it is very strange indeed but so many surreal things have happened to me since Beijing, I suppose I should be used to it by now.
What's the plan after the Worlds? A break then the Commonwealth Games in India in October?
That's the plan at the moment. Have a little time out in the summer, then compete for Scotland, yes.
If you win a title in Copenhagen, it'll be your 10th world championship. How does that make you feel?
It doesn't make you approach it any differently. It's not the numbers and statistics that I am aiming at. All you think about when you're racing is the racing. People said in Beijing, after I'd won two golds and had one event to go: 'Do you realise if you win another you'll make British history?' I honestly didn't. That wasn't what was in my head. I just had another race that I wanted to win.
I was chatting to some of the younger guys the other day about the Worlds in 1996 and how different it was competing for Britain then. They almost can't believe what it was like for us. Even in 1999 [Berlin] when I won my first medal [silver in the team sprint] I thought 'Maybe that's as good as it's going to get'. To win 10 world titles would be amazing, but it's not extra motivation.
Whose performances will you take a particular interest in at Copenhagen?
Jason, of course, if he gets to ride. I would also say David Daniell in the kilo, because it's an event that's close to my heart. He's been close before and he's had a slightly different approach in terms of his training so it'll be interesting.
Another guy is Andy Tennant. He had an amazing ride in the team pursuit at the Manchester World Cup. He' s been a junior world champion, then he had a difficult year or two, but now he's got that place in the team and he's going really, really well.
RELATED LINKS
Who's riding which event for Great Britain at the Copenhagen Worlds
The Big Interview: Jason Queally
Thank you for reading 20 articles this month* Join now for unlimited access
Enjoy your first month for just £1 / $1 / €1
*Read 5 free articles per month without a subscription
Join now for unlimited access
Try first month for just £1 / $1 / €1
Get The Leadout Newsletter
The latest race content, interviews, features, reviews and expert buying guides, direct to your inbox!
Sports journalist Lionel Birnie has written professionally for Sunday Times, Procycling and of course Cycling Weekly. He is also an author, publisher, and co-founder of The Cycling Podcast. His first experience covering the Tour de France came in 1999, and he has presented The Cycling Podcast with Richard Moore and Daniel Friebe since 2013. He founded Peloton Publishing in 2010 and has ghostwritten and published the autobiography of Sean Kelly, as well as a number of other sports icons.