#SKYvOGE – behind the hashtag
Those who follow teams and riders on Twitter will probably have spotted the hashtag #SKYvOGE. Is it serious? How serious?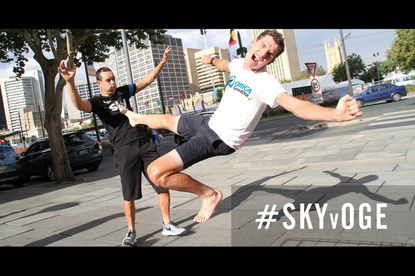 In the blue corner you have Team Sky, so often painted as robo-riders emerging from the Death Star team bus. In the 'green' corner you have those fair dinkum, happy-go-lucky Aussies from Orica-GreenEdge. That's the way many observers see the two teams.
Well, in an effort to inject a bit of humour and offer an insight into the off-the-bike life and character of the riders on both squads, we should prepare ourselves for some video-based high-jinks with plenty of Twitter banter and that hashtag. A series of five video challenges featuring the riders and staff will be released in the weeks leading up to the Giro d'Italia.
"The idea probably did come about over a couple of beers," laughed Nick Howes, the Team Sky social media and web chief. "I get on really well with Dan Jones at Orica, who was the man behind their back stage videos and we thought it would be a good laugh. Everyone knows we have a bit of reputation for being super-serious at Sky and I wanted to show that that's not really the way it is. We've got a big social media presence and Orica has a reputation for funny videos and it went from there."
But just because two social media networking types thought it was a good idea, there was the small matter of convincing the riders and senior management. "The thing is that the riders get on really well. A lot of them train together or know each other from previous teams. Obviously when they're racing, it's serious, but after the finish line, they can have a laugh. They're not robots, you know?"
So the riders were up for the #SKYvOGE challenge and once Sir Dave Brailsford had bought in, it was – literally – game on. The teams got together to record a series of challenges involving what can only be described as a five-round Championship series of blokes having a laugh. You may never look at those riders in the same light again. "We got the staff involved as well," added Howes "and we're thinking about getting the two bus drivers involved in some kind of parking challenge. Given Orica's history, we should be favourites for that!"
The first video of the #SKYvOGE challenge will be posted online on Monday. If you're on Twitter, you won't be able to miss it. Whether Bradley Wiggins will take part in future challenges isn't yet known...
http://youtu.be/ATIDaZ2FnEk
Thank you for reading 10 articles this month* Join now for unlimited access
Enjoy your first month for just £1 / $1 / €1
*Read 5 free articles per month without a subscription
Join now for unlimited access
Try first month for just £1 / $1 / €1