Small kids smashing the trails, and other cycling videos of the week
The two small boys take their balance bikes on the trails for some impressive riding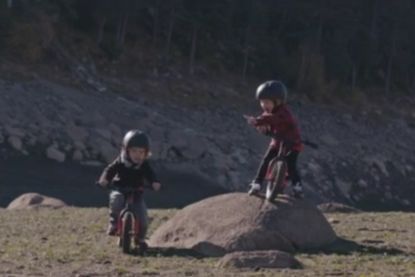 Not very road cycling related, clearly, but look at these small boys getting out on their balance bikes and enjoying the trails.
Many professional road riders started out as mountain bikers - most notably Peter Sagan and Cadel Evans - so who knows where these two might end up in years to come.
Clever stop-motion love story
https://www.youtube.com/watch?v=k8mGlmrcZoQ
This video is very well put together and must have taken an age to make.
The first half is the best when you get to see a bike being assemble piece by piece. Wait until the second bike turns up, that's where the love story begins.
Cyclist attacked by car passenger
This video came to light this week but looks like the incident took place back in the summer.
The car passenger prepares themselves for a pre-meditated attack on a cyclist, which they then carry out seemingly for their own pure enjoyment.
It's not known if the police have been able to track down the car passenger, or what condition the cyclist ended up in.
The most fun looking 'cross race ever
https://www.youtube.com/watch?v=OWXisCugGVE
This race looks simply brilliant. Already featured on CW this week, it's well worth its place in this cycling videos round-up.
Everyone looks like they're having a great time - riders and spectators - it's almost worth a visit to Canada especially.
Wet weather riding technique
Annoyingly, most of us are going to need the five tips listed in this Cycling Weekly technique video.
If you want to get the miles in this winter then chances are you will haver to face riding in the rain, but that need not be an ordeal.
Wet weather cycling can actually be quite enjoyable, but you really need to be dressed properly and ride to the conditions.
New cycle path put to improper use
https://www.youtube.com/watch?v=fuP4P_1NTjw
The new segregated cycling superhighway connecting Oval and Pimlico in London has finally opened, with Mayor Boris Johnson riding across Vauxhall Bridge to a mixed reception.
The section of the bike path seen in this video was put to use by a refuse collection lorry, just the kind of vehicle the segregation is intended to keep cyclists away from.
Thank you for reading 10 articles this month* Join now for unlimited access
Enjoy your first month for just £1 / $1 / €1
*Read 5 free articles per month without a subscription
Join now for unlimited access
Try first month for just £1 / $1 / €1
Jack Elton-Walters hails from the Isle of Wight, and would be quick to tell anyone that it's his favourite place to ride. He has covered a varied range of topics for Cycling Weekly, producing articles focusing on tech, professional racing and cycling culture. He moved on to work for Cyclist Magazine in 2017 where he stayed for four years until going freelance. He now returns to Cycling Weekly from time-to-time to cover racing, review cycling gear and write longer features for print and online. He is not responsible for misspelled titles on box outs, and he lost the argument about using UK spellings