Sportful reveals first look at Peter Sagan's new rainbow jersey
Tinkoff-Saxo kit partner reveals design and construction process of new world champion Peter Sagan's rainbow jersey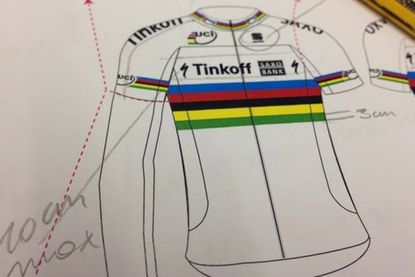 There's nothing more exciting for a new world champion than their first competitive outing in the rainbow jersey.
For 2015 champion Peter Sagan, that first opportunity will come at the inaugural Abu Dhabi Tour on October 8, rather than at Il Lombardia this weekend, so often the debut outing of the new world champion.
Kit manufacturers Sportful, who supply Sagan's Tinkoff-Saxo with their kit, have been busy getting the Slovak's new jersey ready.
The Italian company posted images on their Instagram account (opens in new tab) of the process it takes to make a custom kit, from drawing the designs, printing on the fabric and preparing for stitching it all together.
Watch: Secrets of the toolbox - Tinkoff-Saxo
From the images, it looks like a pretty tasteful design, with none of the sponsors logos trying to outshine the prestigious rainbow bands, which form a 15-centimetre hoop around the torso.
The UCI have strict rules over the design of a world champs jersey, though it does appear that this design still incorporates the old UCI logo rather than the refreshed design revealed earlier this year.
Those rules mean that we won't be seeing Sagan donning black shorts to really maintain the classic look of the kit, with the UCI stating that only team issue shorts or white shorts can accompany the rainbow jersey. And white shorts are rarely good.
Thank you for reading 5 articles this month* Join now for unlimited access
Enjoy your first month for just £1 / $1 / €1
*Read 5 free articles per month without a subscription
Join now for unlimited access
Try first month for just £1 / $1 / €1