The return of the white shorts: FDJ reveals new kit for 2015
French WorldTour team FDJ reveals its new kit for the coming season...and it's nothing like last year's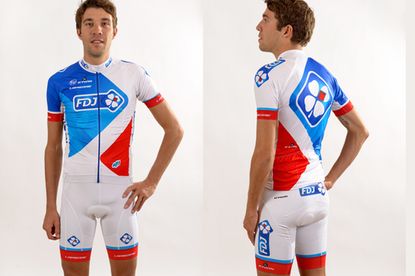 White bib shorts aren't a good idea. They never have been and they never will be.
But it appears whoever designed the new FDJ kit for 2015 doesn't care what we think, and has gone with the tight whites anyway, as modelled here by 2014 Tour de France podium finisher Thibaut Pinot.
FDJ's traditional kit colour since its inception in 1997 has been white (opens in new tab), with a mix of blue, grey and more white here and there. But after riding last year in their distinctive all blue, it seems slightly disappointing to lose it all together.
The new jersey is über French, combining the colours of the Tricolore with the sponsor's usual big four-leaf clover logo.
The team will don the new kit for the first time at a winter training camp in Spain between December 10-17, as they build towards the start of the WorldTour season in January.
And that's not the only news coming out of the French team either, as its very slightly changed their name for the coming season.
No longer will it be the 'FDJ.fr Cycling Team' that you knew so well last year, as it returns to the classic name 'FDJ Cycling Team'. Safe to say, using FDJ will probably suffice.
More racing stories
Credit: Twitter
Thank you for reading 5 articles this month* Join now for unlimited access
Enjoy your first month for just £1 / $1 / €1
*Read 5 free articles per month without a subscription
Join now for unlimited access
Try first month for just £1 / $1 / €1