Colombia women's team appear at Giro Toscana in truly terrible kit
Colombian national women's team appear at Giro Toscana race in possibly the worst kit ever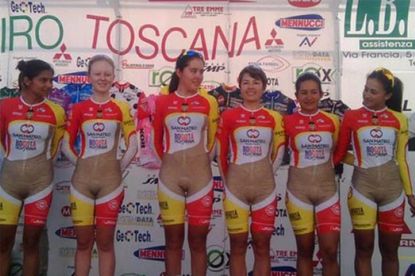 (Image credit: Twitter)
Now, there have been some bad kits over the years. This Footon-Servetto kit from 2010 for instance, or even Greg Lemond's Z-Tomasso team from 1990, but now there is a sure fire winner for the worst kit ever.
Lining up at the Giro Toscana last week, it's hard to imagine that any of these women were entirely happy with being asked to wear something that made them look like they were revealing a little too much.
But whether by hook or by crook they went out there, smiled and almost instantly became a social media sensation.
Probably not the kind of exposure the team was looking for.
Union Cycliste Internationale president Brian Cookson tweeted on Sunday that they would be looking into the design of the kit after receiving complaints, saying "it is unacceptable by any standard of decency".
Let us know your suggestions on what the worst kit ever might be.
Thank you for reading 20 articles this month* Join now for unlimited access
Enjoy your first month for just £1 / $1 / €1
*Read 5 free articles per month without a subscription
Join now for unlimited access
Try first month for just £1 / $1 / €1