THE BIG INTERVIEW: PAUL KIMMAGE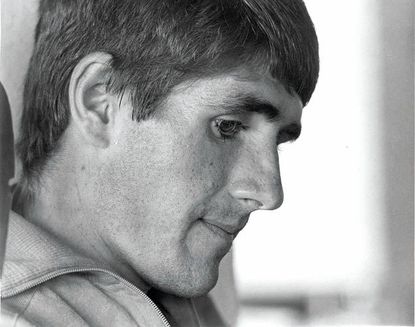 Get The Leadout Newsletter
The latest race content, interviews, features, reviews and expert buying guides, direct to your inbox!
Thank you for signing up to The Pick. You will receive a verification email shortly.
There was a problem. Please refresh the page and try again.
As a writer at the Sunday Times, Paul Kimmage is one of the most prolific and outspoken crusaders against doping in cycling. His critics, however, would argue that he?s a bitter and twisted journalist, still hung up on a failed career as a professional racer.
After several years of racing on the European circuit, including the Tour de France in the 80s, the Irishman hung up his wheels and published Rough Ride ? a tell-all autobiography that recalled the trials and tribulations of his life in the peloton. Most significantly the book broke the pro scene?s code of silence by lifting the lid on some of the sport?s doping practices.
Since then, attitudes in the peloton seem to have changed little, but the Dubliner?s career as a sports journalist has blossomed. He penned footballer Tony Cascarino?s award-winning and confessional biography, and, in his current position of chief sports interviewer, has given us a stream of candid insights into the lives of many top sports people. What seems to rub a number of cycling fans up the wrong way, though, is his frequent lambasting of the doping culture in pro cycling.
CW: What originally made you come out and publish Rough Ride?
Paul Kimmage: I knew it was going to cause me a lot of problems and cost me some friendships but the truth of the matter is that I felt a duty to the sport and young kids coming into it.
Did you think your book would make a difference to the practices in the peloton?
I was naive and idealistic: I thought it would change the world, I really did. It really hurt that nothing came of it. And now I think the sport is really paying for that.
Why didn?t it change anything?
One of the reasons it changed nothing was that it was too easy to dismiss me. The [then UCI president] Hein Verbruggens of this world quite frequently used the argument that people like myself and Gilles Delion were just failed cyclists. People like myself, who in good faith tried to help it, were ostracised. The people who?ve done it the most damage are held up in high esteem in the sport. The sport cannot move forward unless this is addressed.
Do you still feel ostracised?
I went to interview Bradley Wiggins last year at the Etoile de Bessèges and we sat down in one of the hotels. Bradley mentioned after I left the hotel that Yvon Madiot [Francaise des Jeux director sportif] came up to him and said, ?What are you talking to him for?? Yvon Madiot is reportedly of the new anti-doping regime yet there?s still this attitude of ?shoot the messenger?. That?s a classic example of the mentality that exists.
Do you still like the sport?
I still ride my bike. I?ve really got back into it, but that?s not the same as liking the sport. Unfortunately, Professional cycling is totally rotten.
But last year you said in the Sunday Times how covering the Tour de France was starting to grip you again?
I saw some things last year that were encouraging me to believe in it again. That was one of the problems with the 90s ? the Indurain era and the Armstrong era. I couldn?t identify with it. You?d see these guys going uphill and they weren?t even opening their mouths. But that was before Landis and his ride to Morzine.
Did you think last year?s Tour was cleaner than previous years, though?
Absolutely. No doubt about that.
Who stands out to you in the fight against doping?
I like Bradley a lot. I really do. He says the right things and is trying very hard. As much as I admire Bradley, I have complete disdain for David Millar. He should never be allowed to race again. He?s a classic example of what?s wrong with the sport.
My all-time hero is Christophe Bassons. What I don?t understand is how people point the finger at me and Bassons while Hein Verbruggen is still the UCI vice-president. And then there?s Pat McQuaid, the new UCI president. He?s saying all the right things now but it?s the exact opposite to what he was saying nine years ago when the Tour de France came to Dublin. He was telling all the journalists that Paul Kimmage is bad for cycling. Someone will have to ask him what he meant by that.
Do you think professional cycling can ever become dope-free?
It will be very difficult. Look at what?s happened with Telekom/T-Mobile. They came out with great intentions ? new anti-doping regimes, strict controls etc ? but they?re all prisoners of their past. Aldag raced in ?96 with drugs. The team doctors in place were the ones administering EPO in the ?90s. And those guys exist in every professional team. You can?t have situations where there are former pros on TV who put their heads in the sand every time the doping question comes up.
Given that outlook, have you not been tempted to just completely wash your hands of the sport once and for all?
I have. That?s what?s happened. I only went back last year because my boss asked me to do it. I hadn?t been on the Tour for a long time and I?ve only done it again this year because it starts in London and that?s a big event for the Sunday Times. I want to turn over the chapter in my own life and just walk away from it. The perception that I?m bad for cycling really hurts me. I only go back to it because it?s my job.
Your critics wonder why you?re always so keen to focus on doping when you do go back to cycling.
If you look at the piece I did on Bradley Wiggins I don?t think you?ll find doping mentioned.
But the topic does come up a lot?
It does. But I can?t name a Tour de France winner going back to? well, I?ve got be careful here or I?ll get myself in trouble. I know one that I?m prepared to give the benefit of the doubt to. When you know what?s going on in this sport, how can there be any other issue than doping until it?s sorted out? How can I hold these people up to be authentic champions when I know and I?ve listened to the lies that are now coming to the surface?
Do you feel frustrated by not being able to publish things that are legally contentious?
Yes I do, and the easy way round that is to say nothing. Your duty is to get as close to the truth as you can. I stand close to the wind with pretty much everything I write. You?re always getting into areas that are difficult. It?s very frustrating for writers but too many of them take the easy option of opting out rather than taking the more difficult option of pursuing it and doing a good job. As much as I protest about how responses to my writing hurt me, it?s not my job as a journalist to be popular. Too many people forget that.
This is what you were referring to during the Tour de France last year. You upset a few members of the press room by labelling them ?muppets?. You obviously think the press have a far greater role in the fight against doping?
Yes I do. There are some very good writers in that press room and in hindsight I didn?t mean everybody. There are some people I really respect but there is easily a majority that I don?t. And I don?t just mean the written press; the broadcast media too. Phil Liggett would be way down my Christmas card list, as would Paul Sherwen. In fact there isn?t a broadcaster I respect at all.
How do you respond to criticism from cycling fans that it?s always their sport being dragged through the mud with regard to doping? What about football or athletics?
It?s a fair question. In my defence, in 1996 we had a triple Olympic gold-medal swimmer called Michelle de Bruin here. She was the biggest personality in the
history of Irish sport. When she won those Olympics medals I was in no doubt that she was using drugs and wrote a very critical piece. Subsequently, she was caught and banned for life.
In 1996, and for two years until she was exposed, I continued to write those pieces and got a hard time for it. I interviewed [Spanish tennis player] Rafael Nadal two weeks ago in Hamburg. Before I went to meet him I looked into who his trainer was and I tried to get some sort of conclusive evidence that he was in the Operation Puerto files but I couldn?t get my hands on it. All I could do was ask him the question and all he did was give me a not very satisfactory response. It?s not only cycling with me. Whenever there are grounds to ask the question, I do so.
What sports particularly interest you now?
I?ve always liked all sports. But as an event I still think the Tour de France is the greatest event in sport. There?s nothing that comes near it. It?s an absolute travesty what?s happened. It really hurts that the racing is not believable anymore.
How does your current job compare to that of a pro cyclist?
During the ?90s I was chief sports writer in Ireland and covered a lot of football World Cups and Olympic Games. The nature of my job has changed since joining the Sunday Times in London. Now it is specifically interviews. That?s what interests me. I?ve always been interested in people and what makes them tick. I like to get beyond the veneer, and get in where it matters.
It?s very, very hard work. When I was riding the Tour de France I thought that would be the hardest thing I?d ever do. But I?ve finished pieces here where my wife has had to scrape me off the floor because I?m so mentally drained. I would never appreciate that at the time I was riding my bike. I wouldn?t change anything in my career. I did enjoy my professional cycling life and it was a great school for what I do now.
Thank you for reading 20 articles this month* Join now for unlimited access
Enjoy your first month for just £1 / $1 / €1
*Read 5 free articles per month without a subscription
Join now for unlimited access
Try first month for just £1 / $1 / €1
Get The Leadout Newsletter
The latest race content, interviews, features, reviews and expert buying guides, direct to your inbox!
Founded in 1891, Cycling Weekly and its team of expert journalists brings cyclists in-depth reviews, extensive coverage of both professional and domestic racing, as well as fitness advice and 'brew a cuppa and put your feet up' features. Cycling Weekly serves its audience across a range of platforms, from good old-fashioned print to online journalism, and video.