The Sky Spring: How Team Sky lit up early-season races
After a year in the doldrums, Team Sky lit up the early season with some stunning results. Sir Dave Brailsford tells us how he turned his team into winners again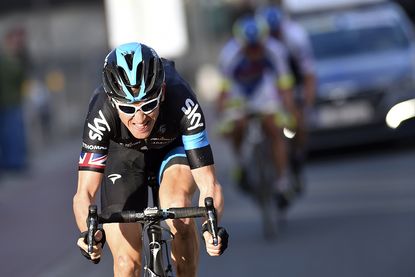 (Image credit: Watson)
Get The Leadout Newsletter
The latest race content, interviews, features, reviews and expert buying guides, direct to your inbox!
Thank you for signing up to The Pick. You will receive a verification email shortly.
There was a problem. Please refresh the page and try again.
"We talked about a lot of things in the winter and what Dave [Brailsford] was fascinated by. What he kept asking, was: 'What is it that makes a bike rider hungry? What is it that really stimulates their desire to keep suffering and training?'"
Team Sky's French directeur sportif Nicolas Portal was attempting to explain the origin of a process that several months later, contributed to the team's run of early season and Classic results.
Trying to work out which buttons to push to make athletes tick is a puzzle as old as the sport, but in the end Sky's management decided that it wasn't about money, it was about winning. And, as has been said before, winning can become a habit. Sky's management team reckoned that spreading those winning feelings was crucial.
Given Sky's successes at the Tour de France — two wins in the past three years if you please, with two different riders — as well as wins and podiums in most other stage races, how do you instil that 'habit' into the whole team?
"In the past we've split riders into different groups, the GC guys and the Classics riders, but this winter, when we were planning races we thought about trying to mix it up a little more than usual, so that we introduced a different dynamic into the teams at races," explained Portal.
However, introducing winning 'habits' and behaviour was never simply going to be about sticking up a few motivational posters inside the Sky bus and singing a new team song. It was going to require something more radical.
Six years of Sky
Six years since the formation of Team Sky, team principal Sir Dave Brailsford decided that the good ship Sky and all aboard it needed to be thrown up in the air and tossed around a bit.
"On the management side, if you give us a problem, we'd probably come up with the same solution and I thought — hmmm, where's the devil's advocate here?" Brailsford explains.
"Who's holding their hand up and going, 'Well, that's a load of b****cks?' And that's what we used to do. Now, it was nice. We all get on well, it's comfortable, you know? So I thought, we need to change this — unfortunately. We need some fresh eyes, fresh thinking, we need someone to come in and play devil's advocate. It was a bit of a risk because when you introduce change you risk upsetting people. But I thought I'd pick up the team and shake it from side to side for a while to see what happened.
>>> Roche: Chris Froome must prove he's in top form at Critérium du Dauphiné
We introduced a new Spanish coach [Xabier Artetxe], we've added another new nutritionist, James, though we've still got Nigel [Mitchell] working with us, we brought in Simon Jones as a coach who can be a challenging character [laughs]. There were new riders too — with Leo [König], Wout [Poels] and Nico [Roche] — so there were quite a lot of changes in the winter.
"I just felt that it was time to shake things up — you can't be complacent because the moment you think you've cracked it, you've lost."
New team dynamic
For Brailsford though, communication between all the staff on the team is key: "Asking people how we can improve, what we can do better, is a very motivational thing to discuss. If you start off by saying, 'OK, I didn't like the way you did that,' or, 'I didn't think that was very good,' it sets up a negative tone.
"If you say, 'OK, that's how we did it today, that was fine, but how can we do it better, what do you think?' The likelihood is you'll get many of the same answers, but if people feel safe rather than threatened, they are far happier to speak and come up with ideas and say, 'Yeah, you know what, I think I could have done that better,' and then you are on to something, then you start to introduce a different dynamic into the team."
>>> Team Sky's Critérium du Dauphiné squad announcement takes one rider by surprise
Part of the idea behind introducing that different communication-based 'dynamic' and attitude within the team meant — hopefully — that everyone would be able to experience the pleasure of winning or at least being part of a winning team. Mixing up the 'teams within the team' a little meant that there was a greater chance of that happening.
Sky's early results in 2015 suggest this tweak of team psychology has had the desired effect. Not that a 'Woo! High five! Group hug touchy-feely' ethos has replaced Sky's attention to the details, the nuts and bolts of actually winning bike races like Paris-Nice or the Tour of Catalonia — and it's a process that is replicated throughout the season.
Chance to shine
Looking at the panoply of talent at Sky — as well as the different ambitions of each rider — part of the skill of creating a winning team is juggling the abilities to ensure that riders are motivated yet fulfilled. If you're a world-class bike rider, you have to be given a chance to shine in your preferred race (a Classic, a short stage race, whatever motivates you) before you will be ready and keen to take on the job of working your arse off — without a second thought for your own results — at the Tour de France.
Which brings us to the illustrative case of Richie Porte. Given that Porte had a 'difficult' 2014, the fact that the 30-year-old came out of the blocks roaring perhaps shouldn't be that much of a surprise.
"It just didn't work out for him last year," says Brailsford. "Often after a bad season a rider will get a rebound which comes from the hunger a rider has and you could tell from September or October time he's been like a metronome with his training, his diet, he's brought it all together and he hasn't missed a beat. He was really motivated and training with a purpose, he was training with intent, real meaning."
At the start of the 2015 season Porte was motivated, ready and raring to go. [Since this article was written Porte withdrew from the Giro d'Italia with injury. Ed.]
Fine line
It's also instructive to note the relative results and management styles at Sky and Tinkoff-Saxo and those of Porte and Peter Sagan. Neither rider had stellar 2014 seasons, yet Porte has rebounded at Sky, while Sagan is floundering at Tinkoff, a team wracked with personnel changes.
If Sky as a whole had had a difficult 2014 — from Ian Stannard's back injury, Chris Froome's early-season health issues, thence to his crash in the Tour de France, to Porte's bouts of illness at the wrong time, all via Geraint Thomas crashing out of the lead in Paris-Nice — when things don't go well you realise what a fine balance there is between a great season, a decent season and a series of disasters.
Following Brailsford kicking off a no-holds-barred internal review to re-energise the whole squad, things have gone well. Stannard triumphed in Het Nieuwsblad; Froome won the Ruta del Sol; new boy Wout Poels led Tirreno-Adriatico; the team's efforts in Milan-San Remo impressed; Geraint Thomas's wins at E3 and Tour of the Algarve were backed up by a Ghent-Wevelgem podium. There were Porte's boomerang comeback wins at Nice and in Catalonia, Sir Bradley Wiggins's TT win in De Panne, Ben Swift's win at Coppi e Bartali and Sergio Henao's leadership in the Tour of the Basque Country. Sky had a great spring.
The 'shaking the ship' approach appears to have worked and Brailsford ends by summing up the complicated process with a simple visual metaphor. "When we turned up with our bus six years ago it was a bit special, but now every team has one. But from the bus, last year, I could see that the edge of the awning was a little bit frayed, a bit worn and I used to laugh and tell the guys that that was the team, that it epitomised us. We needed a refresh."
Sky's bus got a new awning and the team a new outlook that paid dividends this spring. Who would bet against that run continuing through to July?
The original version of this article appeared in the July 2015 issue of Cycle Sport magazine
Video: Secrets of the toolbox - Team Sky
Thank you for reading 20 articles this month* Join now for unlimited access
Enjoy your first month for just £1 / $1 / €1
*Read 5 free articles per month without a subscription
Join now for unlimited access
Try first month for just £1 / $1 / €1
Get The Leadout Newsletter
The latest race content, interviews, features, reviews and expert buying guides, direct to your inbox!