Tony Martin: Cancellara wrong, there can't be enough attention on the Hour Record
German time trial specialist hopes to announce his own attempt sometime this year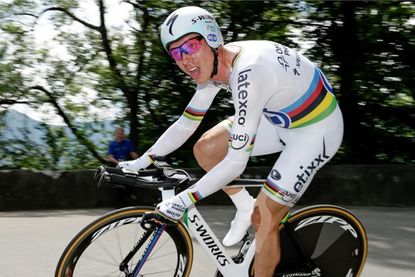 (Image credit: Graham Watson)
Tony Martin says that Fabian Cancellara is wrong to say the Hour Record is 'low level', as the three time World Time Trial Champion plots his own attempt on the prestigious record.
Cancellara said in an interview (opens in new tab) in November last year that he believed the Hour was losing its worth after the UCI changed the rules to allow the use of modern aerodynamic bikes and clothing, adding that the record was devalued because "everyone can do it who wants and there's no limit."
But Martin thinks that the having the likes of Britain's Alex Dowsett (opens in new tab) and Australians Rohan Dennis (opens in new tab) and Jack Bobridge (opens in new tab) announce their attempts at the record, currently held at 51.852 by Austrian Matthias Brändle, is good for the sport.
"I definitely don't agree [with Cancellara]," he told Cycling Weekly. "There can't be enough attention on the Hour Record. I think Cancellara should try it when Wiggins and I have done it and we'll see then how it goes."
The German time trial specialist says his his own attempt is in the pipeline, after compatriot Jens Voigt became the first rider to set the new 'unified record' when he rode just prior to he retirement in September last year.
However, Martin's record will almost certainly come after Bradley Wiggins' attempt, which is confirmed to be happening in London in June.
"[The Hour Record] is a certainly a goal…it's on the agenda for 2015 or 16," Martin said.
"We are still planning and there are a lot of things to do, so I'm not 100 per cent sure what the timeline will be. But we'll speak about it and I think we will announce in 2015 what the plan is."
Martin, who held the World Time Trial Championship title for three years between 2011 and 13, says he is more motivated than ever to claim back the rainbow bands, having missed out on the 2014 title to Wiggins by a margin of just over 26 seconds.
"It wouldn't have been the same if I'd have won it it last year," he said.
"In the end you run out of goals because how often do you want to win it? I can accept that I lost it but the will to win it back now is even stronger."
Thank you for reading 5 articles this month* Join now for unlimited access
Enjoy your first month for just £1 / $1 / €1
*Read 5 free articles per month without a subscription
Join now for unlimited access
Try first month for just £1 / $1 / €1