Jack Bobridge: 'I am going to set the Hour Record benchmark'
Australian Jack Bobridge says that he'll set an Hour Record time that will 'leave everyone questioning themselves about whether they want to do it'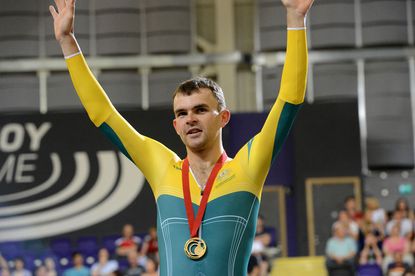 Australian track cycling specialist Jack Bobridge plans to set an Hour Record mark on January 31 that will become a new point of reference for attempts.
He told the Cycling Victoria website: "I'm aiming to set a benchmark that leaves everyone questioning themselves about whether they want to do it or not."
The Hour Record mark now stands at 51.852 kilometres, but Bobridge could reach 54 kilometre according to former Cycling Australia head coach and current Orica-GreenEdge general manager, Shayne Bannan.
"Jack Bobridge will set a time difficult to beat," Bannan told Cycling Weekly.
"With Brad Wiggins, Tony Martin and Bobridge... I wouldn't be surprised if the mark got up to 54 from that bracket of riders."
This morning in Melbourne, Bobridge announced that he would attempt the Hour Record in the city's DISC (Darebin International Sports Centre) velodrome.
Before cycling's governing body, the UCI, stepped in, riders were attempting the record on specialised bikes in extreme positions. Brit Chris Boardman rode to 56.375 kilometres with arms out-stretched in what was called the 'superman style'.
In 2000, a UCI rule change forced cyclists to use traditional bikes, wheels and positions roughly the same that Eddy Merckx used to ride to 49.431 kilometres in 1972.
Few riders attempted the record after the rule change. Boardman went again under the new rules and rode to 49.441 kilometres. Czech Ondrej Sosenka recorded 49.700 kilometres, but the mark sat on the shelf for years with little interest in the record.
Jens Voigt during his Hour Record attempt
Following a May 15 rule change, which allowed team pursuit bikes, cycling is seeing a hour record resurgence. German Jens Voigt (Trek Factory Racing) rode to 51.110 on September 18 and Austrian Matthias Brändle (IAM Cycling) 51.852 on October 30.
Both Voigt and Brändle are strong, but neither have a deep track background. As Bannan said, "It's now time for the big boys to have a go."
Australian Rohan Dennis (BMC Racing) announced yesterday afternoon that he will attempt the hour record on February 8 in Switzerland. Brit Alex Dowsett (Movistar) is expected to ride for the record on February 27. Team Sky's Wiggins is slated for a June or July attempt.
Germany's Martin of team Omega Pharma-Quick Step is the only rider of the "big boys" without a track pedigree. The three-time time trial World Champion said that he hopes to ride the record in 2015.
Dutchman Thomas Dekker and Dane Alex Rasmussen also said that they will attempt the Hour Record.
Wiggins won a gold medal in the team pursuit and two in the individual pursuit at the Olympics. Bobridge won the pursuit at the 2011 Worlds and the 2010 and 2014 Commonwealth Games. In 2011, he set the current world record at four minutes, 10.53 seconds.
"I never thought I would break Boardman's individual pursuit record, I don't think anyone thought I'd beat it," said Bobridge.
"At this point I can see myself beating the current hour record but it's how much further I can go that will be decided on the day."
The 25-year-old from Adelaide will train with coach Tim Decker and new team Budget Forklifts. After riding with top teams Garmin, Orica-GreenEdge and Belkin, he signed for the third division Australian team to build towards the 2016 Rio Olympics.
Bobridge plans to ride on the road in his build up at the national time trial championship and the Tour Down Under in the South Australia team.
Thank you for reading 20 articles this month* Join now for unlimited access
Enjoy your first month for just £1 / $1 / €1
*Read 5 free articles per month without a subscription
Join now for unlimited access
Try first month for just £1 / $1 / €1