TOUR DE FRANCE 2007: TALES FROM THE BROOMWAGON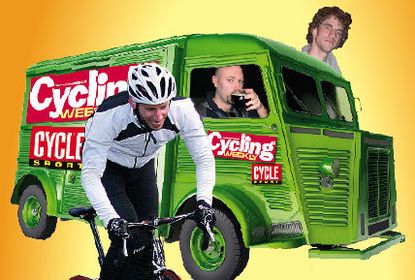 Get The Leadout Newsletter
The latest race content, interviews, features, reviews and expert buying guides, direct to your inbox!
Thank you for signing up to The Pick. You will receive a verification email shortly.
There was a problem. Please refresh the page and try again.
Saturday
Day 1 - London
At last the Tour de France is cool - or at least socially acceptable among the non-believers. Gone - hopefully - are the days when people ask, on hearing what I do and learning that I love watching professional cycling, any of the following questions:
"So, are you riding the Tour de France this year?" - No, why? Are you playing in the FA Cup final?
"Is it true Lance Armstrong also works as a postman?" - Honestly, I've been asked that more than once.
"How do they go to the toilet?" - Same way as you and I.
"Is it okay to boo the Astana team?" - Yes, it is.
Actually, I made that last one up. No one has asked me that. Yet. But when half their team is 18 minutes clear in the mountains don't come crying to me.
Perhaps now more people will understand what this great sport is all about having been given a chance to get close to the race on home turf. This was, without a shadow of a doubt, the biggest sporting event in London for years and years. Perhaps even since the World Cup final in 1966 and at times it was overwhelming and surreal. The crowds were just so big - far bigger than any prologue I've been to, although apparently Paris in 2003 was on a similar scale.
And the atmosphere was fantastic. There wasn't the sports stadium roar you associate with the mountain stages it was more a sense of wonder. The British riders, though, did get a tremendous reception.
It was odd to hear the announcements made in English and French. Without coming over all Daily Mail about it, you're in our country now mate, speak English. It would have helped whip up the atmosphere a bit more had the French canned it for a bit.
And, of course, none of the British newspapers printed a full start list in their morning editions - like L'Equipe does. Cycling Weekly's website had the running order up early on Saturday morning, soon after it was published by the organisers, but by then most people had already set off to the course.
Usually on prologue day there is growing excitement as the big names approach and, perhaps, had the cycling fanatics in the crowd been able to access a starting order their sense of anticipation would have spread.
To be fair to the London organisers the information points in the park were fantastic and many fans were spotted jotting down the start times of their favourite riders from the start lists pinned up there.
But, to many fans, the identity of each rider was a surprise - like opening a Christmas present in an unusual shaped box. "Ooh, it's Dave Zabriskie, how nice!"
Still, at least everyone knew when one of the five Brits was on the road - the noise rolled around the course like a rouleur in 53x11.
Plans to meet friends and family bit the dust when it became apparent that to get around the course would be complicated. It was like Glastonbury. Glastonbury with bikes. And fewer drugs. Woah, let's not go THERE!
Sadly, where there are crowds, there are also thieving toerags and our photographer Tom lost a very expensive camera and hired lens that he'd rested on his foot while using his other camera to take some pictures. My offer to lend him my Kodak disposable for the rest of the day didn't go down too well.
It was impossible not to feel a sense of anti-climax at the end of the day. All the build-up, all the expectation and excitement and that was it, done in an afternoon. Would that have been changed had Wiggins won? Possibly. But the over-riding feeling was that the Tour must come back to London soon.
THE PREDICTION GAME LATEST
There are a hundred variations out there but this one has gripped a portion of the Cycling Weekly office during the Giro d'Italia - making even days when Saunier Duval were winning bearable - has been revived for the Tour de France.
The prediction game rules are here.
In a nutshell, each player takes turns to pick a rider until all three players have selected three riders. The finishing positions of each rider are added together to give a points total. Lowest total wins the day. There's also a 25-point bonus for picking the stage winner.
Ed had first pick for the prologue and went for an all-CSC trio of Cancellara (1st), Zabriskie (11th) and O'Grady (179th). Even with the 25-point bonus deduction courtesy of Cancellara this was a whopping 166 points although, to be fair, O'Grady did stop off for an ice cream in Hyde Park. Ed reckons he crashed! A likely story!
I picked Wiggins (4th), Hushovd (28th) and Bennati (33rd). Wait, wait! There was sound reasoning behind these choices, it's just I can't remember what they were now. I entered all the data from the past six months in Excel and the computer promised me I'd win with those three. Instead I scored 65 points. A very mediocre start but it's a marathon not a sprint.
Simon went for Vinokourov (7th), Millar (11th) and Boonen (41st). Two solid picks. And Boonen. 61 points.
And so our first stage winner was new addition to the game, deputy editor Nigel who scored well thanks to a phenomenon known in these circles as Beginner's Luck. Hincapie (3rd), Kashechkin (16th) and Rogers (20th) were enough to give him a handsome victory with 39 points.
THE LOWDOWN
Where we stayed: The Intercontinental Hotel, Park Lane, again
What we ate: While the rest of CW's team headed for the noise and burgers of the Hard Rock Cafe, the more sophisticated of us went to a little Lebanese place called Noura on Curzon Street for assorted mezze.
Kilometres driven so far: 0
PREVIOUS TALES FROM THE BROOMWAGON:
Tales from the Broomwagon: Friday, July 6
Thank you for reading 20 articles this month* Join now for unlimited access
Enjoy your first month for just £1 / $1 / €1
*Read 5 free articles per month without a subscription
Join now for unlimited access
Try first month for just £1 / $1 / €1
Get The Leadout Newsletter
The latest race content, interviews, features, reviews and expert buying guides, direct to your inbox!
Sports journalist Lionel Birnie has written professionally for Sunday Times, Procycling and of course Cycling Weekly. He is also an author, publisher, and co-founder of The Cycling Podcast. His first experience covering the Tour de France came in 1999, and he has presented The Cycling Podcast with Richard Moore and Daniel Friebe since 2013. He founded Peloton Publishing in 2010 and has ghostwritten and published the autobiography of Sean Kelly, as well as a number of other sports icons.