Try the 'Race of Truth': Your invite to ride a time trial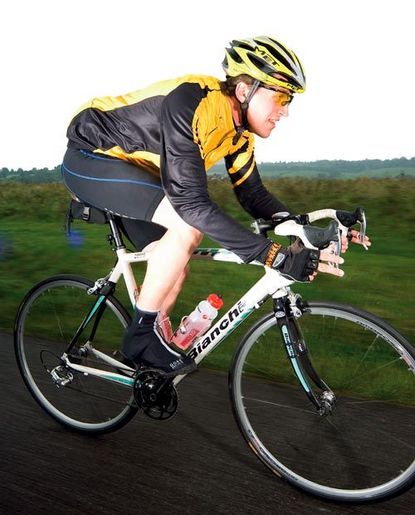 Just how fast can you ride a bike? Do you want to find out? That?s what a time trial is for ? it?s the purest possible test of your riding ability.
Setting off one at a time, and riding on their own, riders get to see exactly what they can do.
But that?s not the best thing about it ? the best thing is that it?s also the most personal test of riding ability, because for most of the riders the challenge isn?t to win; it?s to see how they measure up against their own previous rides.
There is nothing else in cycling that?s as exciting as flying towards the finishing line, fighting your screaming muscles to set a new personal best and give yourself a grin that will last for weeks.
Time trialling is easy to fit in with the rest of your riding and the rest of your life ? there are hundreds of events all over the country in a season that lasts from February till October.
There are events over 10, 25, 50 and 100 miles, as well as the tougher test (if you fancy it) of setting your best distance over 12 or 24 hours.
Ride time trials for a personal challenge; use them to give your riding more focus and motivation. It?s up to you.
But remember, if you haven?t ridden a time trial, you don?t know how good you are.
Getting into time trialling is easy. Just contact one of your local clubs listed on www.cyclingtimetrials.org.uk and they?ll tell you all you need to know!
Just turn up and ride
Time trialling is easy to take up. All you need is a roadworthy bike.
Then go to www.cyclingtimetrials.org.uk and find a club near you that?s running a ?come and try it?
These are very informal, normally held on weekday evenings, usually over a simple out and back course of ten miles (or thereabouts) with the midway turn at a roundabout. You can just turn up and ride, usually for a small fee of a pound or two.
You?ll get a number to put on your jersey, and a start time. When your time comes, someone will hold you up on your bike, and the timekeeper will countdown to your start. Then it?s up to you.
Getting started: Emma Pooley
Emma Pooley won a silver medal at the Beijing Olympics. She switched from running to cycling when she was a student.
What was your first time trial?
A Cambridge University CC club event in 2003. It was windy, and I was too scared to use the tribars! I got beaten by a guy on a mountain bike who was wearing a gorilla costume.
And after that?
I did club events round Cambridge. They were nice and informal, with no pressure, you just rolled up, paid a pound or two and rode.
What do you like best about time trialling?
It doesn?t depend on luck, it?s just down to you. I like that certainty.
Any advice for a beginner?
Yes ? don?t be put off by any of the fancy kit other people might have. Getting your tyre pressures right makes almost as much difference!
www.cyclingtimetrials.org.uk
Thank you for reading 20 articles this month* Join now for unlimited access
Enjoy your first month for just £1 / $1 / €1
*Read 5 free articles per month without a subscription
Join now for unlimited access
Try first month for just £1 / $1 / €1