Thousands of Londoners take to their bikes to beat the Tube strike
Only a few bike traffic jams and a bit of rain to deal with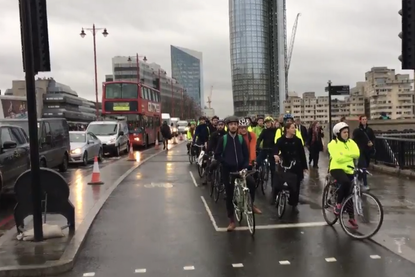 (Image credit: Twitter/Chris Kenyon)
With a strike by London Underground workers closing the majority of the Tube network, thousands of the capital's commuters have been able to experience the joy of cycling to work.
While many decided to drive to work (causing gridlock through much of central London), wiser commuters took to two wheels, with Transport for London reporting a 149 per cent increase in bike hires.
>>> Nine reasons why commuting by bike is surprisingly brilliant
Unsurprisingly this surge in demand pushed the cycle hire scheme beyond capacity in places, with over 400 bikes placed in one docking station in Soho Square designed to hold just 50.
There were also a few traffic jams on parts of London's network of Cycle Superhighways, with one commuter capturing a video of a lengthy hold-up on Blackfriars Bridge.
>>> It's official: cycling makes you happier
Among those affected by the strike were members of the House of Lords, who quite wisely appear to have opted for a form of two-wheel transport that lets them use cycle lanes.
Unfortunately wet weather in the capital could make the commute home unpleasant for some, but hopefully there will be a few who decide to continue cycling to work, strike or no strike.
Thank you for reading 20 articles this month* Join now for unlimited access
Enjoy your first month for just £1 / $1 / €1
*Read 5 free articles per month without a subscription
Join now for unlimited access
Try first month for just £1 / $1 / €1