UCI 'extremely unhappy' with controversial E3 Harelbeke poster
Cycling's governing body has reminded E3 Harelbeke of its 'responsibilities' over promotional poster, with organisers prepared to remove the offending article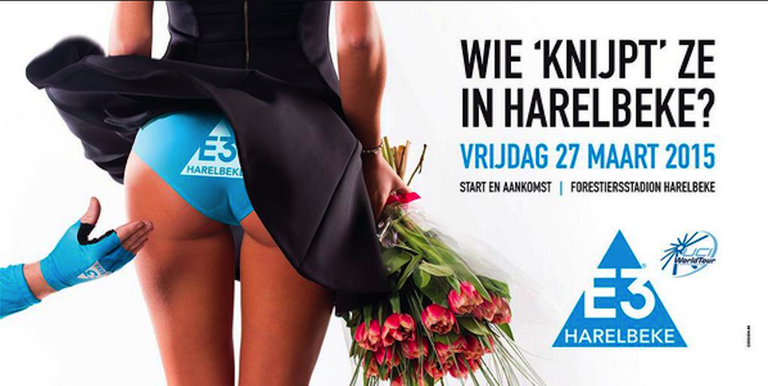 The organiser of E3 Harelbeke has agreed to remove its controversial promotional poster after the UCI stepped in.
Cycling's governing body said in a press release that it was 'extremely unhappy' with the poster, which critics denounced as sexist.
"The Union Cycliste Internationale (UCI) was extremely unhappy with the promotional poster of the 2015 E3 Harelbeke," the UCI said. "We have reminded the organiser of its responsibility and the UCI Regulations and they have agreed to take off the poster from all communication platforms."
The poster was presumably attempting to poke fun at Peter Sagan's podium antics in 2013, where he pinched a podium girl's backside at the Tour of Flanders and mimed patting another girl's rear at Harelbeke.
It's not the first time the race has been condemned for using risqué pictures on their promotional adverts, with Flemish Playboy model Gaëlle Garcia Diaz featured lying naked in the 2011 poster.
That advert was deemed 'too sexy' and Diaz was replaced by pictures of Fabian Cancellara, Tom Boonen and Juan Antonio Flecha.