E3 Harelbeke advert causes controversy
Advert for the Belgium one-day classic labelled as sexist by critics after it was posted online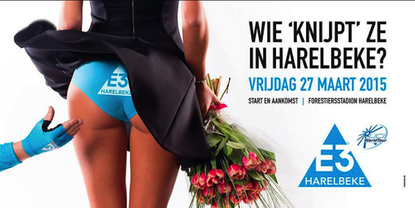 The organiser of the E3 Harelbeke classic has courted controversy with its advertisement for the 2015 race, which attempts to poke fun at Peter Sagan's podium antics from the 2013 editon of that race and at the Tour of Flanders in the same year.
Having finished runner-up to Fabian Cancellara in both instances, the Slovakian, then riding for Cannondale, mimed patting the podium girl on the backside as she congratulated the E3 winner, before pinching podium girl Maja Leye while on stage in Flanders.
Now, the organiser has decided to use the controversial moments as an advertising strategy, but was met by a barage of criticism when the image was posted on social media on Monday morning, being described as 'misogynistic' and 'demeaning'.
The caption on the poster, 'Wie knijpt ze in Harelbeke' literally translates to 'Who squeezes them in Harelbeke?'
Last season Sagan took the top spot in Harelbeke and Niki Terpstra was snapped staring at the podium girl's bottom as they leant in for the kiss.
The Belgian classic has a history of risqué advertisements, starting in 2011 with Flemish Playboy model Gaëlle Garcia Diaz lying naked girl lying in the grass with cyclists drawn riding up her back.
The advert was deemed 'too sexy' and the model was replaced by pictures of Fabian Cancellara, Tom Boonen and Juan Antonio Flecha. In reaction to the controversy, organisers recruited Germaine to be the model and podium girl for the 2012 campaign.
Thank you for reading 20 articles this month* Join now for unlimited access
Enjoy your first month for just £1 / $1 / €1
*Read 5 free articles per month without a subscription
Join now for unlimited access
Try first month for just £1 / $1 / €1