Verenti Bikes launches website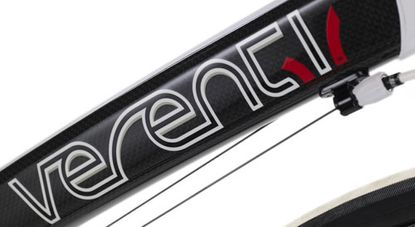 British-based Verenti Bikes has launched its new website
, showing off the full range of bicycles launched in March this year.
The Verenti Bikes website includes full details and photos of the whole 2010 Verenti range, comprising of carbon-fibre and aluminium alloy-framed machines.
All bikes have been designed from scratch for cyclo-sportive riders: performance and comfort were given equal consideration.
The range starts with the aluminium-framed, SRAM Rival-equipped Kilmeston (£900) and tops out with the full carbon-fibre, SRAM Red-equipped Rhigos 01 (£2,900).
In addition to full details on Verenti's product range, you can find out more about the company, get the inside track on new product development and even enter Verenti-sponsored events on the site.
Verenti Bikes were launched in March 2010 by Wiggle (opens in new tab), the British-based cycle retailer.
External link

Verenti website: www.verentibikes.com
Verenti events: www.verentibikes.com/events
Verenti Rhigos 01
Thank you for reading 10 articles this month* Join now for unlimited access
Enjoy your first month for just £1 / $1 / €1
*Read 5 free articles per month without a subscription
Join now for unlimited access
Try first month for just £1 / $1 / €1