Waller Pain hill climb back for 2015
Surrey summer hill climb returns for 2015 with new timing, new sponsor and more categories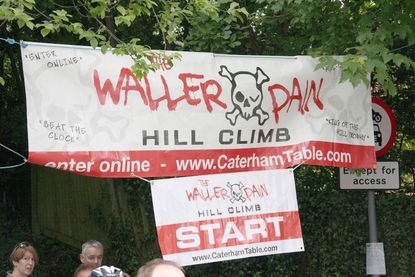 The annual Waller Pain Hill Climb in Caterham, Surrey, is returning for 2015 with a few new improvements.
Now sponsored by Yellow Jersey Cycle Insurance, the tough event up the steep Waller Lane in the centre of the town on Sunday, June 14, will feature electronic timing for the first time.
Waller Lane is 0.31 miles (500 metres) in length, but rises 210 feet (64 metres) up the side of the North Downs. It has a long history of being used as a venue for cycle hill climbs, having been used for the famous Catford Hill Climb in 1893 long before it found its current regular venue of Yorks Hill.
The event prides itself of being all-inclusive, with elite-level riders on lightweight carbon machines mixing it up with locals having a go on mountain bikes.
Matt Pilkington currently holds the event record of one minute and 14 seconds, which he set in 2011.
There are new categories this year in addition to the more accurate timing, including veterans, under-12s and fancy dress categories.
The event is part of the wider Caterham Festival, so there are usually plenty of other things going on in the town at the same time, including a food festival.
Online entries are now open via Race Nation, and it costs £7 to take part.
Thank you for reading 5 articles this month* Join now for unlimited access
Enjoy your first month for just £1 / $1 / €1
*Read 5 free articles per month without a subscription
Join now for unlimited access
Try first month for just £1 / $1 / €1