The magic of the Col du Galibier
The Col du Galibier is a magical climb that we discuss in full detail in this week's Cycling Weekly (Sept 24 edition), where we also test deep-section wheels and an FDJ bike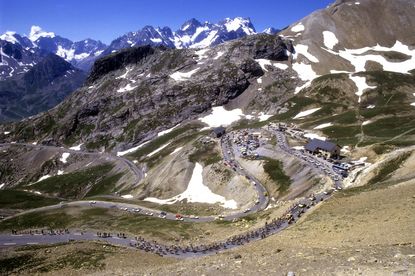 (Image credit: Watson)
The Col du Galibier is "never fun" , according to the world's best cyclists, but it a climb that you simply have to do.
In this week's Cycling Weekly, we discuss the famed climb, talking about its history, its beauty and how to climb it.
The mountain road, standing tallest at 2,642m, is a magical pass at 34.9km in length from St Michel de Maurienne. Several WorldTour pros, including a Tour stage winner on the Galibier, talk us through their memories of the climb.
It was meant to have been included on stage 20 of this year's Tour de France, but a landslide prevented its inclusion. Even if it had stayed on the route profile, Michal Kwiatkowski would not have competed as he withdrew on stage 17.
It is Kwiatkowski who shares the centre-pages of this week's magazine with Galibier, telling us about the difficulties he has faced this year, recalling his win at Amstel Gold and also about leaving Etixx Quick-Step at the end of the season, for a yet-to-be-named team, thought to be Sky.
But can he regain the World Road Race Championships jersey? "Road World Championship courses are always similar so I think I can go for it," he says in our four-page interview.
Closer to home we take a look at the hill-climb calendar's newest event: the Hardwick Hall estate night-time, floodlit course in Derbyshire that attracted 400 spectators and even one who addressed as Didi the Devil.
Shanaze Reade and Katie Archibald share their thoughts ahead of this weekend's National Track Championships, while we also review the spectacular opening round of the World Cup cycle-cross event in Las Vegas.
When it comes to dream bikes, we all envy the professionals. At just £3,099, French brand Lapierre are retailing their Aircode 500 FDJ bike, which comes with the WorldTour team's stamp of approval. But would we recommend it?
Deep-section wheelsets are also on test this week and there's one set of wheels – which aren't even the most expensive - which we were mightily impressed with.
Elsewhere, we assess how gut health affects performance and also speak to Aviva Tour of Britain Mountains and Sprint classifications winner, Pete Williams, about his training prior to the race.
News:
There's a look ahead to the World Road Race Championships and a Team Time Trial review;
Keith Lambert, Great Britain's Olympic Academy programme coach, tips Owain Doull for success in the U23 road race;
The latest on British Cycling's decision to reject a Tour de Yorkshire extension to four stages;
Tom Bracegirdle discusses writing racing lessons down in a book in this week's Brits Abroad;
The latest on the banned British cyclist Dan Stevens
Tech:
We answer if there's room for direct-mount brakes in a market saturated by caliper rim and disc brakes;
The Nopinz SuperSuit and the PowerTap P1 pedal power meter are one of nine road tested items this week
Fitness
There's a guide on how to set up your cleats properly;
How does crisped salmon with watercress and soba noodles sound? If the answer's 'I want to try that' then we have a recipe for that;
Autumnal training begins now and in our handy guide we have a training routine for you
Regulars
You give us your verdict on this year's Vuelta a España
The Kentish Killer sportive is this week's Insider's Guide, and, yes, Killer is an appropriate name;
Taw Velo CC tour Devon with us in this week's Ride With. It may have been wet but we loved the ride;
Matlock's Riber hill is this week's Killer Hill. We describe it as ouch.
Dr Hutch talks us through his recent roadside experiences at the Tour of Britain. He didn't know what to do.
Cycling Weekly is priced at £2.99 and it available at all good newsagents and supermarkets. It is also available for download.
Thank you for reading 20 articles this month* Join now for unlimited access
Enjoy your first month for just £1 / $1 / €1
*Read 5 free articles per month without a subscription
Join now for unlimited access
Try first month for just £1 / $1 / €1