WIGGINS AND CAVENDISH OFF THE PACE IN GHENT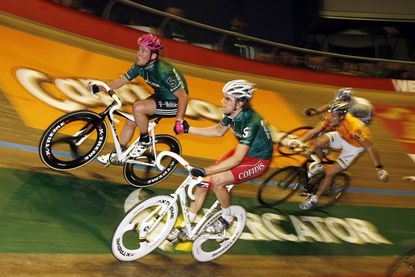 (Image credit: LUC CLAESSEN)
Click here to see a gallery of photos from day two of the Ghent Six-Day
Click here to see a gallery of photos from day one of the Ghent Six-Day
Bradley Wiggins and Mark Cavendish lost ten laps on the opening night of the Ghent six-day last night, as the British pair found themselves off the pace.
The pair finished seven laps down in the first Madison race and lost a further three in the second. Any chances of the overall win now seem unrealistic, although that shouldn?t be too much of a surprise considering they have both recently had extended rest periods following heavy racing seasons.
By the end of the week, the pair should be riding themselves in to form before heading straight out to Sydney and the first track world cup. The pair will ride the Madison in Sydney to gain crucial qualifying points. In an Olympic cycle it?s the world cups that hold far greater importance for the British pair.
There is however plenty to cheer for British fans, as youngsters Adam Blythe and Peter Kennaugh found themselves in the lead in the Under-25 event that runs before the pro race. The pair, who are still juniors, lead the event by two points, with the first four teams all on the same lap.
Both Blythe and Kennaugh are newcomers to British Cycling?s Olympic Academy this winter, and despite their age have plenty of track racing experience. ?I?ve always taken non Madison riders to these events, to push their technical skills? their coach Rod Ellingworth said of bringing two of his strongest new riders. ?But we?ve now got so many riders training together on the track that it?s not an issue. They can learn the skills they need in training.?
This is the first six-day of the season for young British riders, and there?s no pressure on them to win. ?It?s all about race tactics,? Ellingworth explained. ?How to race, how to hold on to a lead. Technically they?re very good but it will be hard for them to hold on to it. There?s some very experienced teams here and [Blythe and Kennaugh] are more likely to make a mistake.?
Adam Blythe and Peter Kennaugh take the flowers after the first night
RELATED LINKS
Click here to see a gallery of photos from day two of the Ghent Six-Day
Click here to see a gallery of photos from day one of the Ghent Six-Day
Galvez remembered at Ghent Six-Day
Thank you for reading 20 articles this month* Join now for unlimited access
Enjoy your first month for just £1 / $1 / €1
*Read 5 free articles per month without a subscription
Join now for unlimited access
Try first month for just £1 / $1 / €1