Young drivers not learning fast enough to avoid collisions with road users such as cyclists, report finds
IAM Roadsmart suggests possibility of advanced hazard perception training for young drivers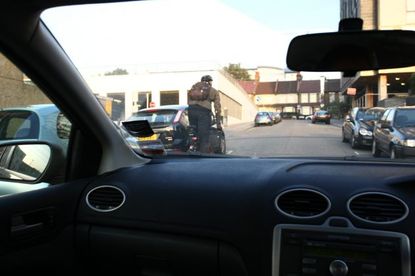 (Image credit: Grant Robinson)
More needs to be done to help young drivers learn how to avoid collisions with vulnerable road users such as cyclists, according to a report by road safety charity IAM Roadsmart.
The report, titled Young Novice Driver Collision Types, found that although younger drivers quickly learned how to prevent "single vehicle loss of control crashes" (such crashing as a result driving too fast on a country road), they were much slower to learn how to avoid collisions with vulnerable road users.
>>> 'What is car dooring, and is it illegal?' - you asked Google, and we've got the answer
Looking at Department for Transport statistics and a study by the Driver and Vehicle Standards Agency, IAM Roadsmart and TRL Limited sought to discover which aspects of driving were learned quickest.
The report concludes that young drivers were slow to learn how to deal with manoeuvring and safely negotiating vulnerable road users, suggesting that "advanced hazard perception training" might be a way of reducing the risk that young drivers pose to cyclists and other vulnerable road users.
The findings also emphasise the importance of driving experience in improving the safety of young drivers on the roads, with "an average 17-year-old driver expecting their risk of being involved in a crash to reduce by 36% as a result of driving experience and 6% owing to ageing and maturity."
Sarah Sillars, IAM RoadSmart's CEO, said that the report showed that more needed to be done to make sure that young drivers are safe in their first years behind the wheel.
>>> Safety fears are main reason Scottish children don't cycle to school, finds survey
"It is really useful to learn more about how young drivers are gaining the experience they need to have a safe driving career," Sillars said.
"However, analysing the results, it is vital that government, road safety bodies and the driver instruction industry work together to generate new strategies to target those skills that are not being learned at the fastest rate.
"It also shows that in the formative years of driving, there is clearly a need for post-test training to continue, to build experience that can reduce the number of needless tragedies on our roads."
Thank you for reading 20 articles this month* Join now for unlimited access
Enjoy your first month for just £1 / $1 / €1
*Read 5 free articles per month without a subscription
Join now for unlimited access
Try first month for just £1 / $1 / €1