Safety fears are main reason Scottish children don't cycle to school, finds survey
Results of survey conducted by Sustrans Scotland and the Scottish Parent Teacher Council finds that over 42 per cent of parents unsafe cycling routes prevent children from riding or walking to school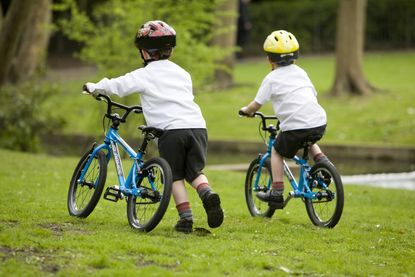 (Image credit: chris catchpole (not free))
Concern over safety is the number one reason why parents do not allow their children to cycle to school in Scotland, the newly-published results of a survey has found.
The survey conducted by Sustrans Scotland and the Scottish Parent Teacher Council (SPTC) found that 42.4 per cent of parents "felt that unsafe walking and cycling routes, a lack of or inadequate pavements, ineffective or lack of crossings, unsafe school entrances and dangerous driving were all major factors which prevented their children from walking, cycling or scootering to school."
A total of 1,232 parents from across Scotland were polled regarding the method by which their children travel to school. The lack of adequate cycle routes was quoted by 29 per cent of respondents as a reason why their children did not cycle to school.
The survey also found that convenience and lack of time were the second and third most influential factors on how children travelled to school.
Commenting on the results of the survey, Sustrans Scotland acting head of behaviour change Lynn Stocks said: "These findings formalise what we have been hearing anecdotally from parents and teachers for some time.
"Increasing the number of pupils travelling actively to school is a simple way of providing children with the moderate intensity of exercise required every day.
"However it is clear that as long as parents feel that these journeys are not safe, they will be unwilling for their children to travel actively."
>>> London roads 'too dangerous' for children to cycle on
Sustrans Scotland concluded that there was still 'more to be done' to encourage children to cycle or walk to school, notably by providing safe routes to travel.
SPTC says that parents often feel conflict with keeping their children safe and encouraging them to exercise, as well as fitting in school travel in among a busy daily schedule.
"These pressures often lead to a vicious circle of competing imperatives," said SPTC executive director Eileen Prior.
"For instance, we know driving too close to schools to drop off children actually creates danger in many ways. Schemes which encourage parents to park and walk; some distance away from school gates, or walking buses, help children to be healthy and remove congestion from outside schools."
SPTC says that schools must work with their parent groups to tackle the issue of safety.
Thank you for reading 20 articles this month* Join now for unlimited access
Enjoy your first month for just £1 / $1 / €1
*Read 5 free articles per month without a subscription
Join now for unlimited access
Try first month for just £1 / $1 / €1