Good morning, Adam Becket here ready to take you through another big day of cycling news. Today might be the day that we finally find out where Mark Cavendish will be riding next year, but there are some other things happening too.
If you want to get in touch, my Twitter is above, or you can email me on adam.becket@futurenet.com.
Christmas is less than a week away, so if you're struggling for a last minute gift, don't forget you can get a subscription to Cycling Weekly. We fill it with the best stuff every week, I promise.
Key events
9.46 Mark Cavendish reportedly heading to Astana Qazaqstan
11.10 Tom Pidcock smashes Mallorcan KOM on Strava
11.26 WiV SunGod (now AT85) to ride Dolan Bikes in 2023
12.11 Southwark Council attacked for apparently favouring cyclists over pedestrians
13.19 Ineos Grenadiers release new kit
14.09 Council workers told to call police if faced with 'trouble' over bike hangars
15.03 Mathieu van der Poel 'scared' on Val di Sole snow
15.24 Lotto-Dstny set to skip Giro d'Italia
16.46 Jai Hindley to skip Giro d'Italia
Refresh
Mark Cavendish reportedly heading to Astana Qazaqstan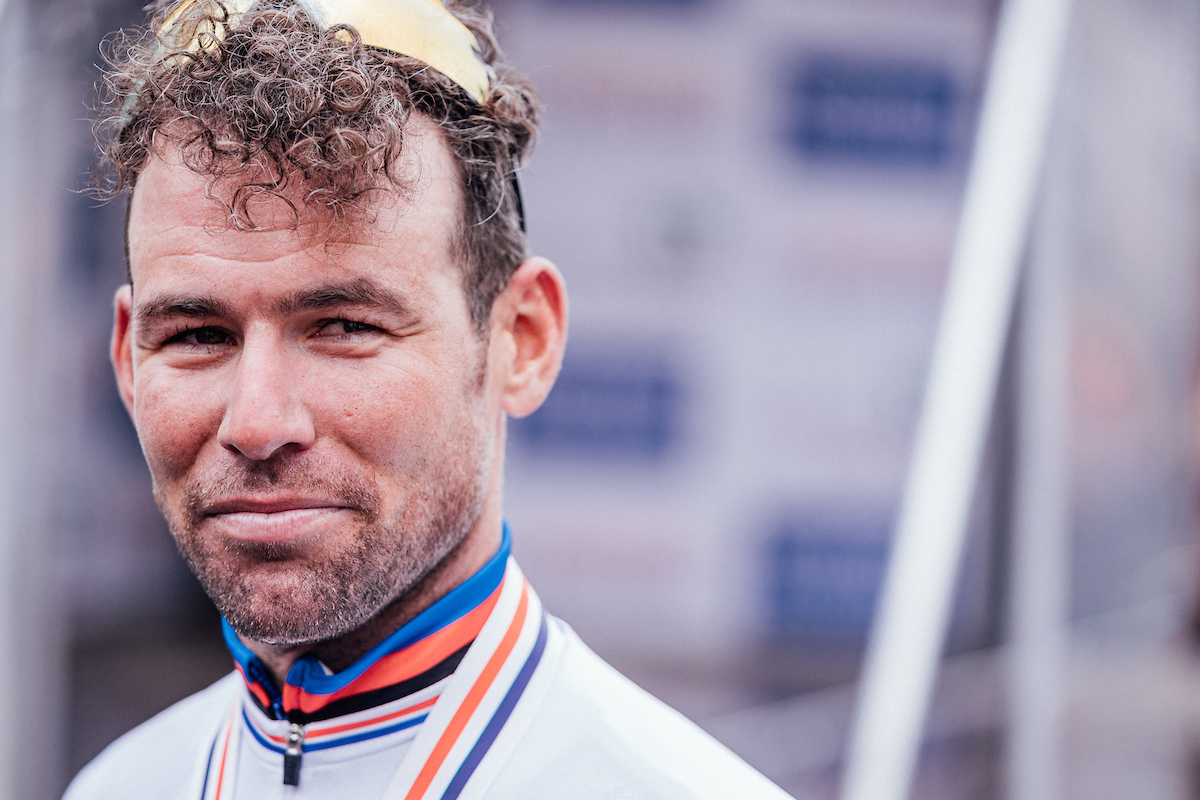 Mark Cavendish will ride for Astana Qazaqstan next year, it was reported over the weekend.
The legendary Tour de France sprinter was linked heavily with Astana since it terminated its contract with Miguel Ángel López last week, freeing up space on the team and funding to sign him.
On Sunday, La Gazzetta dello Sport reported that Cavendish will head to Calpe, Spain to join Astana at its training camp on Monday. He is just one Tour de France stage win off holding the record for victories outright, at the moment he shares it with Eddy Merckx on 34.
It is the end of a saga which has seen Cavendish rumoured to be joining all sorts of teams after the collapse of the B&B Hotels squad, which were leading the race to sign him.
Last week, Cyclingnews reported that Astana's manager, Alexandre Vinokourov was interested in signing Cavendish. While the deal is yet to be officially completed, however, there could still be another twist in the tale.
La Gazzetta dello Sport also reported that Cees Bol of DSM has also signed with Astana; he was another linked to B&B.
However, there might need to be some shuffling of the pack at the Kazakh team to find space for both Cavendish and Bol, with the suggested solution being that a rider moves down to the team's development squad in order to make room. The UCI limit for riders per team is 30.
Today might be the day we find out conclusively what Cavendish will be doing next year.
Decathlon launch e-cargo bike in the UK - could this transform cycling?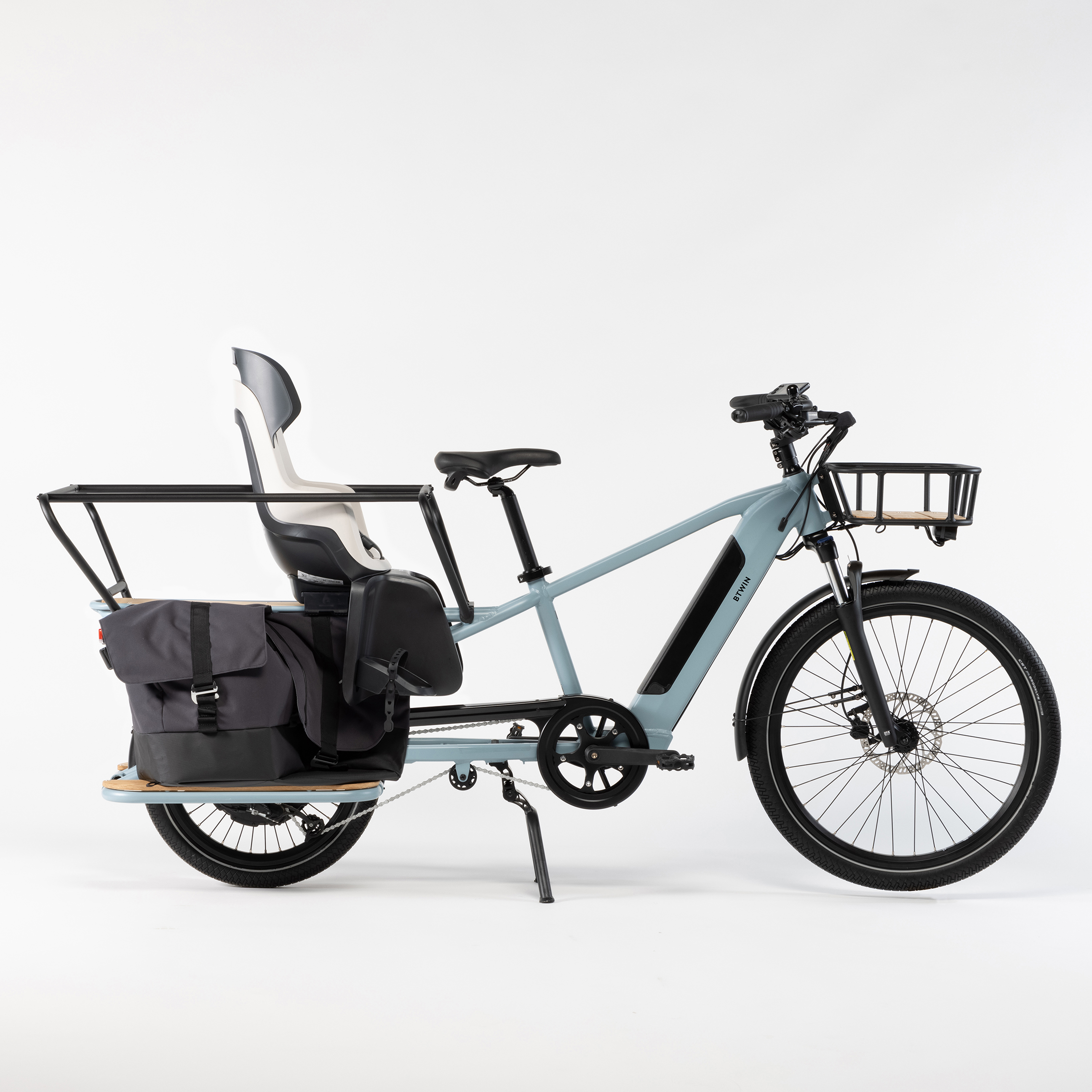 Cargo bikes are one of the coming things of the cycling world, the machine that might genuinely have more of an impact on reducing car use than any other.
Sports super retailers Decathlon have not been slow to get in on the act, with the R500 electric longtail cargo bike being released in the UK just in time for Christmas. If you are thinking about cutting down on car use for economic or environmental reasons then this could be a great family gift.
It can reach speeds of up to 25km/h, and can take 2 children and 1 adult or 170 kg of load on top of the bike's weight. The perfect vehicle for a trip to the shops, or to school, or wherever!
ICYMI Alex Morrice and Luca Vergallito win Zwift Academy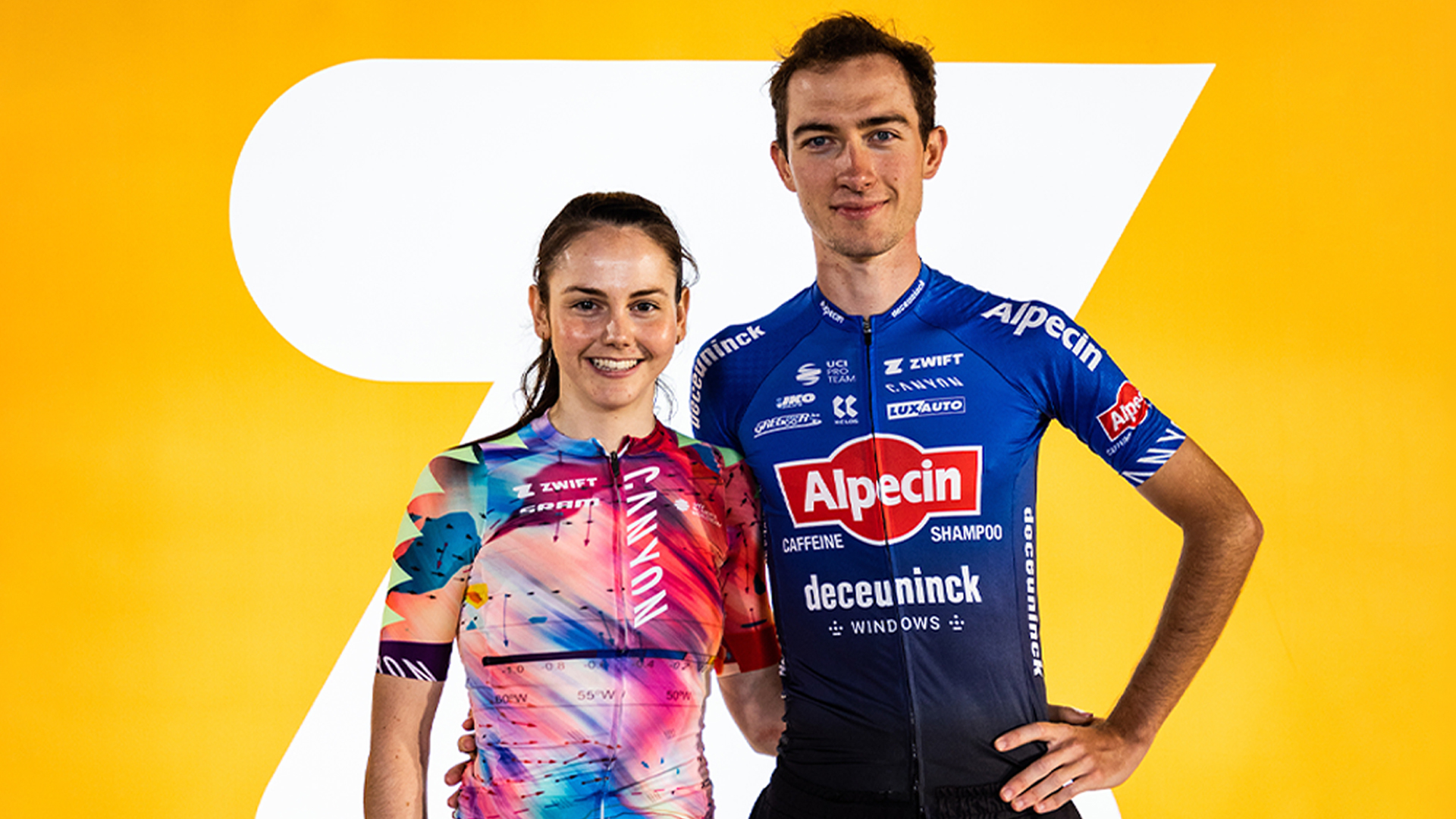 On Sunday, British cyclist Alex Morrice and Italian Luca Vergallito were announced as the winners of the Zwift Academy and will join top-level cycling teams in 2023.
The duo were among more than 160,000 riders who participated in this year's competition, and have now won one-year contracts with Canyon-Sram and Alpecin-Deceuninck respectively.
In a statement shared on Saturday evening, a spokesperson for Zwift said: "Alex and Luca distinguished themselves for having exceptional athletic talent, impressive on-bike skills, and the necessary demeanour to learn what it takes to succeed at the highest levels of racing."
This year, Zwift Academy contestants had to complete a baseline ride and eight workouts, testing their threshold power and VO2 max among other performance markers. Ten finalists were then selected, and travelled to Denia, Spain, where they met the team coaches and rode with their future team-mates.
Morrice, 22, who competed this year for British team LDN - Brother, said: "It was such a privilege to get to go to Spain and spend a week with the incredible women on Canyon-Sram racing.
"Everyone made me feel so welcome and I couldn't be more excited to race alongside these ladies in 2023 and beyond."
Tom Pidcock sets new record for Sa Calobra climb on Strava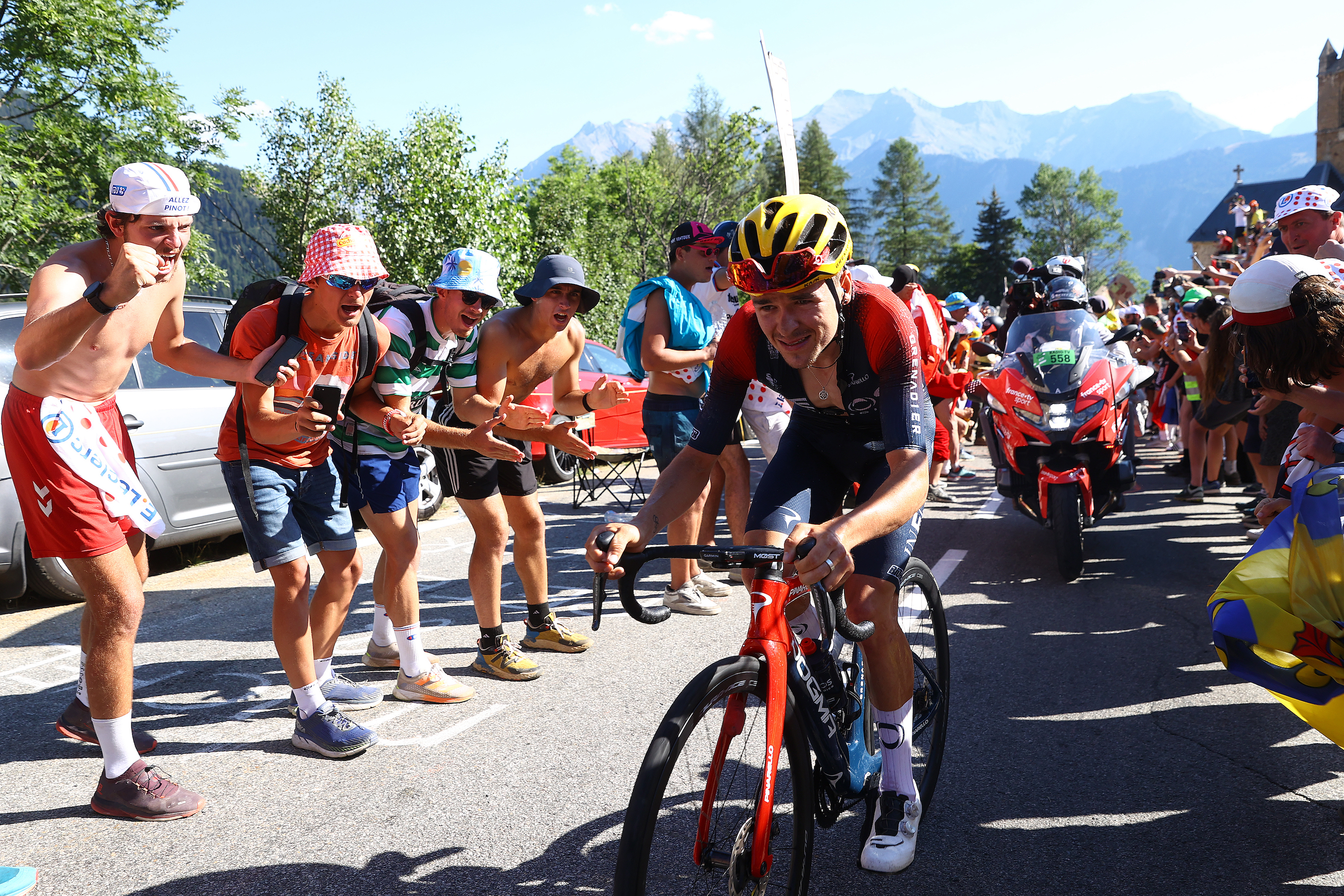 Tom Pidcock does not know the meaning of off-season. First off, he has still been racing cyclo-cross as riders around him take some time off or build their road cycling base, but now he has been taking KOMs during a training camp.
Ineos Grenadiers are currently at their usual Mallorca camp, and Pidcock took the opportunity to storm up the Sa Calobra climb, taking the record on Strava by almost two minutes, setting a time of 22-46.
In doing so, he beat other WorldTour pros like Gianni Moscon, Simon Yates and Sebastian Henao.
He averaged 24.9km/h on the 9.44km segment, which sees a rider climb 656m at an average of 7%. Not bad.
He uploaded his power stats too, which show he held an average of 386 watts for 22 minutes, meaning he was riding a watts per kilogram ratio of 6.7.
WiV SunGod (now AT85) to ride Dolan Bikes in 2023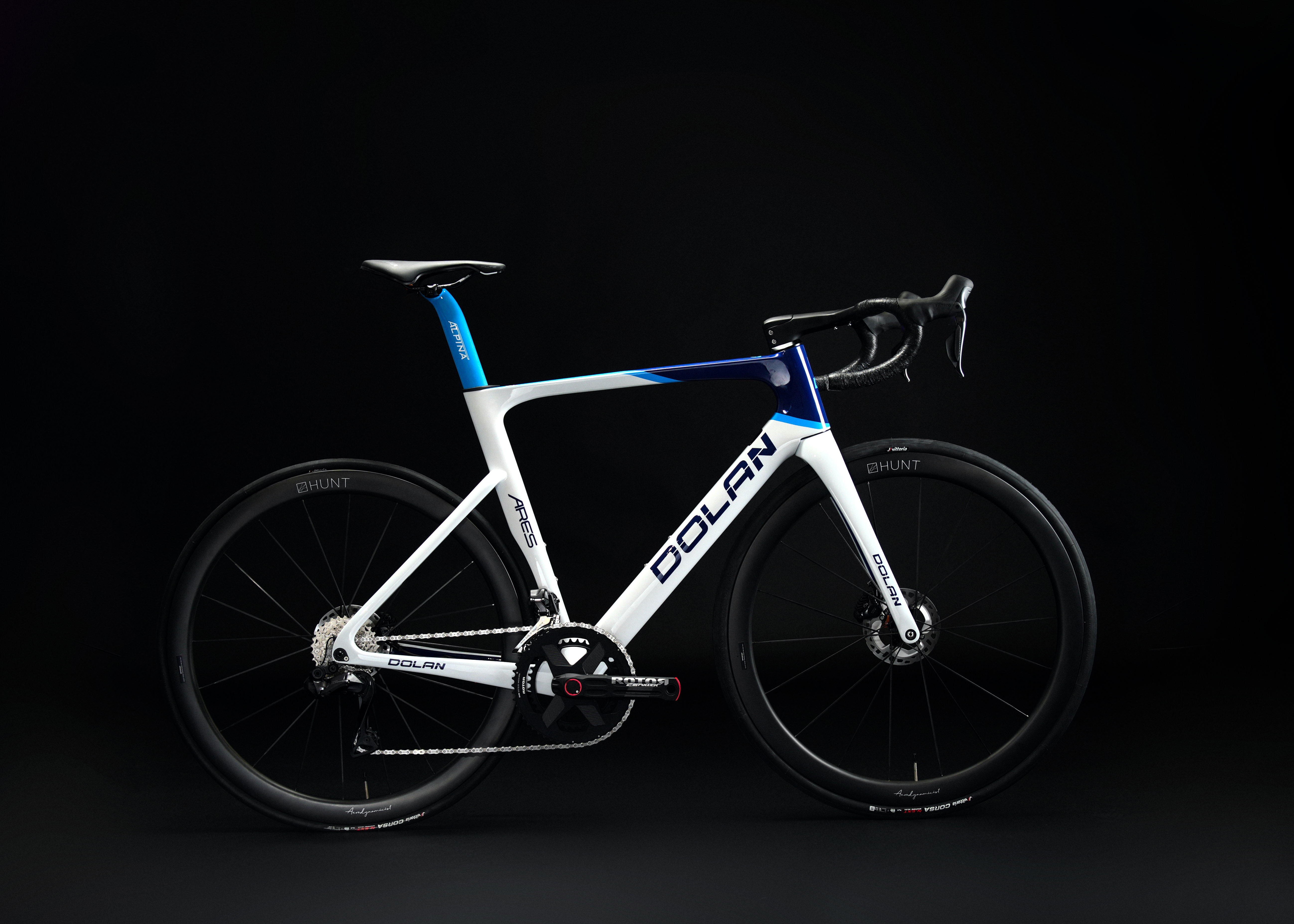 The team formerly known as WiV SunGod, now AT85, will ride Dolan Bikes in 2023, the team and manufacturer have announced this morning. They previously were on Canyons.
The British Continental squad have been teasing us with revelations each day through December, which might be the best kind of Advent calendar.
On the 19th day of the month, we have discovered what AT85 will be riding next year, and it is the Dolan Ares. The integrated bar and stem and seat post are made by Dolan's sister brand Alpina.
Tim Ellison, AT85's principal, said in a statement: "I'm really excited to partner with a top British brand such as Dolan. They have a great heritage in racing, and I only run this team to go racing and winning.
"We have had a long and strong relationship with our previous partner so changing brand was a big deal for me, but once we started to test the bike and see what the future holds it became an easy decision. I can't wait to get started."
Dolan Bikes' founder Terry Dolan said: "We are proud to announce this two-year partnership with AT85. After speaking with Tim earlier this year we were excited about his aspirations and visions for the team. The team will be riding our Ares which has been built with racing in mind.
'We are excited to work with the team to develop some of our new products throughout the year. We look forward to the new season and many victories ahead."
Cycling through an eruption of joy
The biggest thing to happen over the weekend obviously wasn't cycling-related - that went instead to Lionel Messi and Argentina, who lifted the World Cup last night. One brave cyclist decided to head through the streets of Buenos Aires moments before Argentina won the penalty shootout against France to decide the final. The results are epic, as I'm sure you will agree.
Moments before the last penalty kick, in Buenos Aires pic.twitter.com/nPIdYged8TDecember 19, 2022
See more
Southwark Council attacked for apparently favouring cyclists over pedestrians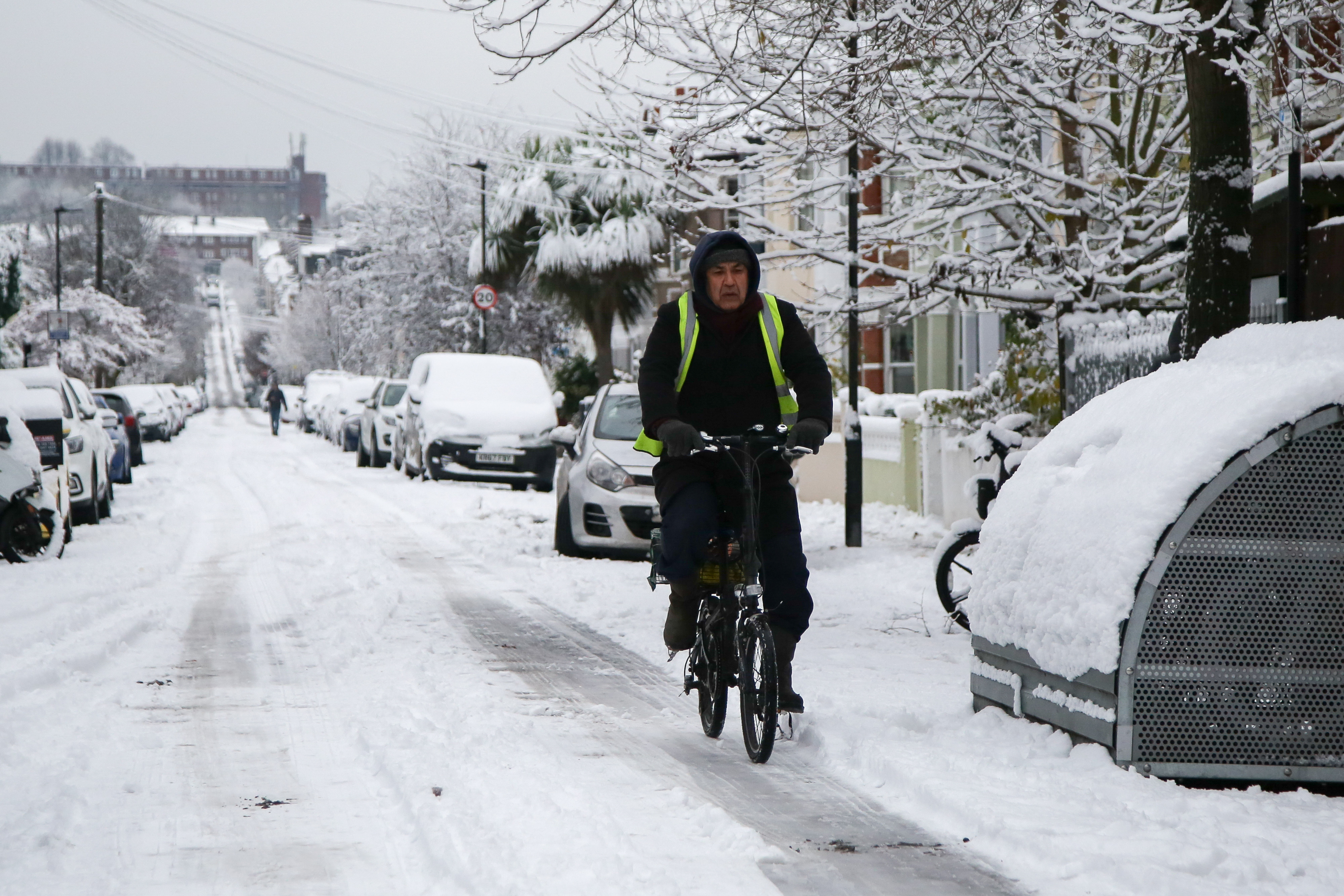 An interesting article in the Daily Telegraph today, where Southwark Council are accused of "prioritising cyclists over motorists and pedestrians during the cold snap".
The contention of the anti-low traffic neighbourhood (LTN) campaigners quoted in the article is that a cycle lane in Dulwich Village was gritted but the pavements weren't, which seems like a strange thing to be angry about.
"They have [gritted] the LTNs and they've not done the main roads – the area that is most contentious in Dulwich has been completely snow free," a spokeswoman for Clean Air For All Dulwich, an anti-LTN residents group, told the Telegraph.
"Yet on the main roads, even yesterday I saw someone almost slip over, and Dulwich Park is still completely iced over. They seem not to have been bothered at all.
"I think they've actually just focused on people who can cycle and not cared about people who walk, as it's been the pavements that have been so dicey."
However, as some people have pointed out on social media, it is mainly roads only that have been gritted, and not pavements anywhere really.
Southwark Council actually tried to ward cyclists off riding in bike lanes during the snow/ice frenzy last weekend, so I'm not sure the anti-LTN campaigners have a point.
One helpful Twitter user even provided a photo of the controversial cycle lane in question covered in ice.
The idea that some councils are now pro-bike and anti-car will be darkly humorous to many of us.
"They have [gritted] the LTNs and they haven't finished the main roads – the most controversial area in Dulwich has been completely snow free," a spokeswoman for Clean Air For All Dulwich, an anti-LTN residents' group, told The Telegraph.This is a blatant lie. pic.twitter.com/XlTsTnqH4bDecember 19, 2022
See more
Given the cold weather alert over the next few days, we're appealing to cyclists to be safe and think about taking public transport or walking instead, just until the roads and cycleways are clear of ice https://t.co/RF6W4M3Ha5 pic.twitter.com/B06h3J3ms3December 9, 2022
See more
Father Christmas on two wheels
Ever wondered how Father Christmas gets around on his bicycle? Cartoonist Dave Walker has taken a look here, as part of his Odd Bikes series.
Walker draws cartoons for my former workplace, the Church Times, so it's always good to know that I'm not the only church world to cycling world crossover out there.
New cartoon: Santa's Christmas Bike.See more diagrams from my Odd Bikes series here: https://t.co/6df2qoLXTR pic.twitter.com/fx0mTMRj8hDecember 17, 2022
See more
Ineos Grenadiers release new 'visibly fast' kit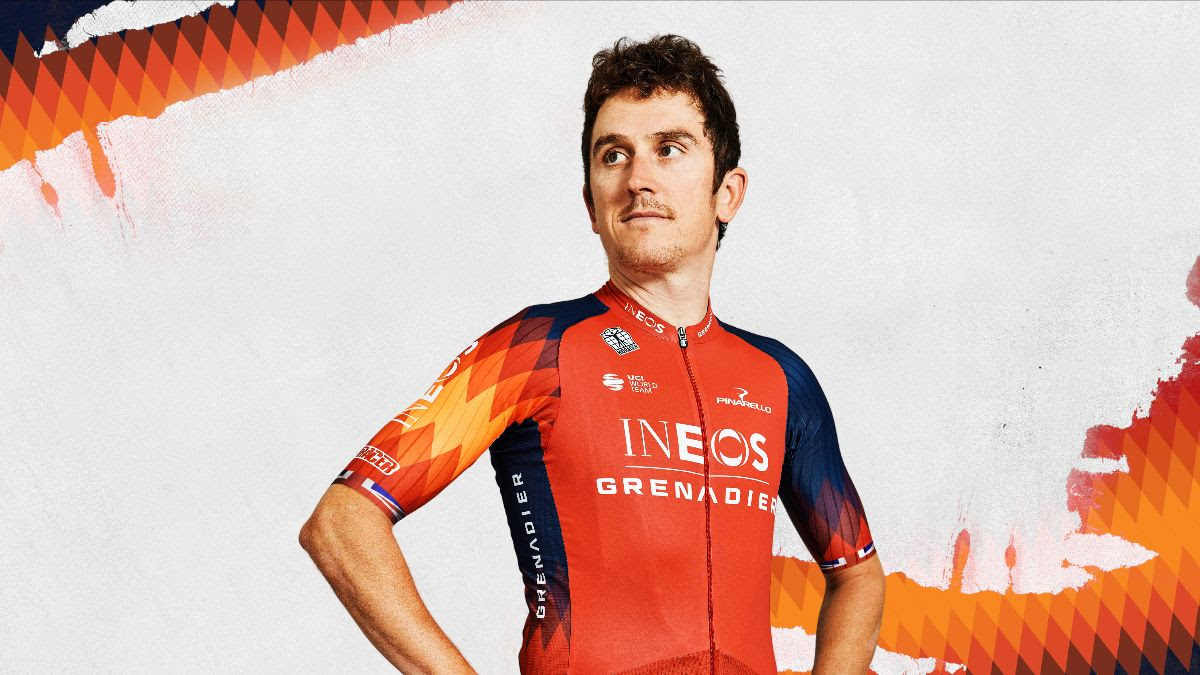 Ineos Grenadiers have released their orange/red 2023 Bioracer kit, which comes with the tagline "visibly fast".
In a departure from the team's kit for the past five years, navy is not the main colour on the kit; that honour is instead given to a vibrant orange and red, which is perhaps more redolent of Bahrain Victorious.
Only once since the team's inception in 2010 has their main kit been something other than navy or black - 2018's white kit - and so this might take some adjusting to for viewers and fans.
The team are using Ineos' "brigade red" colour, according to the press material.
Rod Ellingworth, the team's deputy principal, said in a statement: "The team is shifting up a gear with our 2023 jersey. We're excited by the evolution of the design and hope our fans love this new look as much as we do. The shift to Ineos' brigade red reflects the way we plan to race - with passion, grit and determination.

"The introduction of the distinctive orange colour is also important. It will increase the visibility of our riders during racing, as the orange kit they wear does whilst they are training, helping to keep them safe on the road and supporting them in all conditions. Bioracer has really risen to the challenge with our 2023 jersey and we're looking forward to racing in this 'Visibly Fast' kit."
We're ready to light it up in 2023 🔶🟥🔷INEOS Grenadiers ⚡ @bioracer pic.twitter.com/OCxYrp6OssDecember 19, 2022
See more
Council workers told to call police if faced with 'trouble' over bike hangars
News from Sussex, where council workers in Brighton and Hove to call the police if faced with "trouble" from residents who oppose the installation of bike hangars in their city.
The Argus reported on Monday that a Labour councillor had told them that residents in Cissbury Road were expecting a cycle hangar in their street – but two were sited there this month despite their objections.
When residents asked workers what was going on, they were shown an email advising the hangar installers to call the police "if there was any trouble".
There is a debate over bike hangars in the Sussex city, after a Brighton and Hove City Council meeting where the Tories and Labour called for a detailed report on bike hangars.
A Conservative councillor said that there had not been proper scrutiny before more than 60 hangars appeared on the streets of Brighton and Hove.
In response, the ruling Green Party said that councillors had had a number of chances to debate the introduction of bike hangars, and that they were proving popular with residents who "really want them".
Mathieu van der Poel 'scared' on Val di Sole snow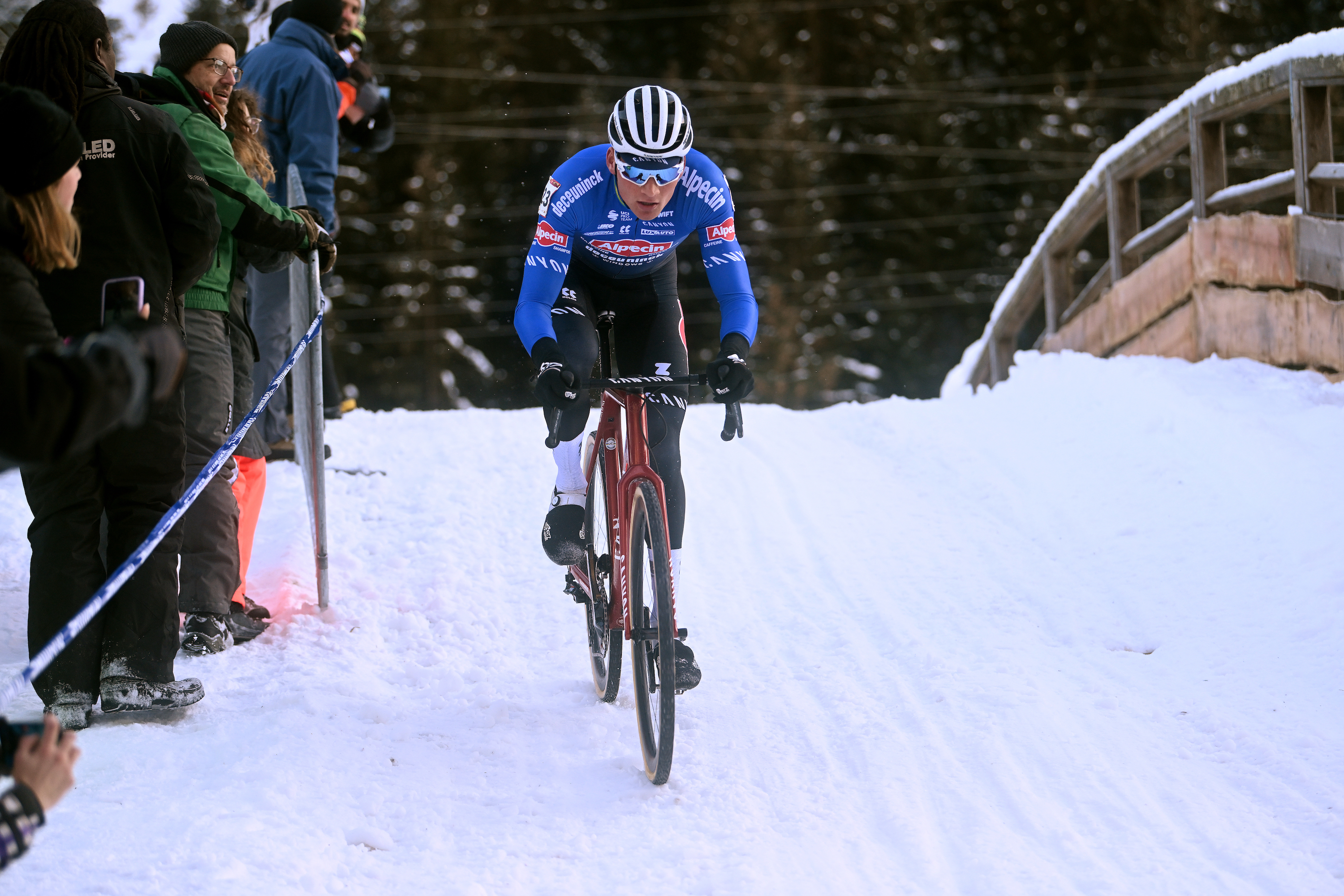 Mathieu van der Poel battled to eighth place at the Val di Sole round of the cyclo-cross World Cup on Saturday, but was "scared" according to his father.
Adri van der Poel told Het Nieuwslbad that the Dutchman was riding with a "gigantic egg in his pants", which is a Dutch analogy for being scared, apparently.
"It was simple, he didn't have the confidence on the snow and ice," Van der Poel said about Van der Poel. "It showed at the start and during the race. Michael Vanthourenhout rode with confidence, Mathieu didn't. You saw that at every corner."
Fem van Empel and Eli Iserbyt both crashed out in the women's and men's races, respectively, which were won by Puck Pieterse and Vanthourenhout.
"His form is certainly not the issue," Van der Poel continued on his son. "If you look at his heart rate for the last five laps, I don't think he went above 125. He was never in the game. Every now and then he saw someone lying on the ground that had hit a post. That makes you think, doesn't it?" Adrie van der Poel claimed.
"We can't forget that he raced [cyclocross] properly for two years. This performance is really the last thing I'm worried about. Next week is another race on a different course."
No Lotto-Dstny at the Giro d'Italia for the first time in 23 years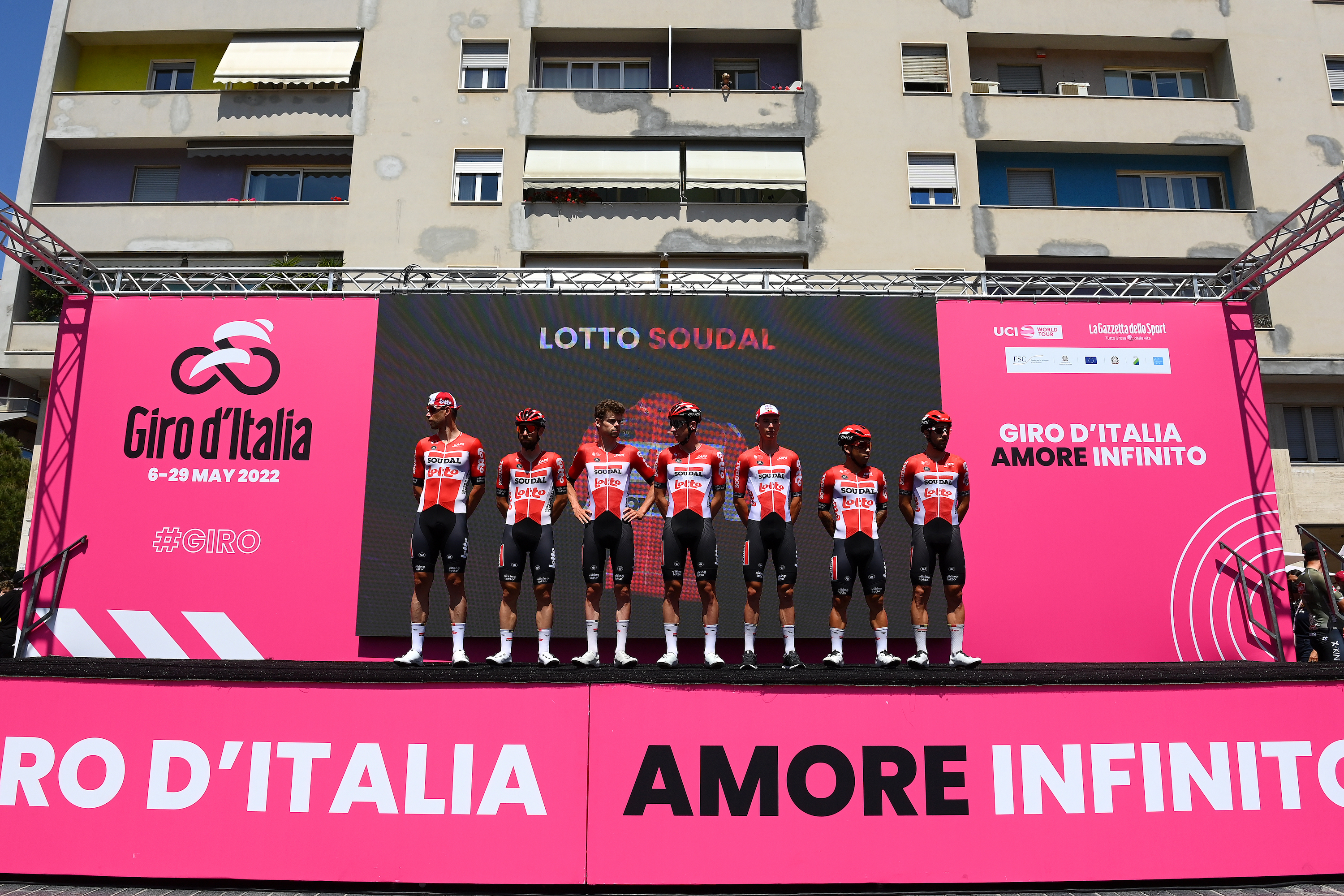 Free of WorldTour obligations, Lotto-Dstny will not ride the Giro d'Italia next year, making it the first time since 2000 that the Belgian team will not start the Italian Grand Tour.
Lotto was relegated from the WorldTour at the end of this season, but finished with enough UCI points to gain automatic invited to all WorldTour races next season. However, now it is out of the top table, it has the ability to turn down these invites without penalty.
As a result, the Belgian squad will miss the Giro as well as Tirreno-Adriatico and the Tour of the Basque Country, according to Het Nieuwsblad. It means no repeat for Thomas de Gendt of his stage win last May, and no sprint opportunities for Caleb Ewan.
Instead, it is likely the team will focus on smaller races where more points can be gained, something that became a speciality for Arnaud De Lie last year. This also means that one extra invite will be at the disposal of the Giro's organisers; Arkéa-Samsic did the same thing last year.
No Jai Hindley at Giro, but Aleksandr Vlasov will go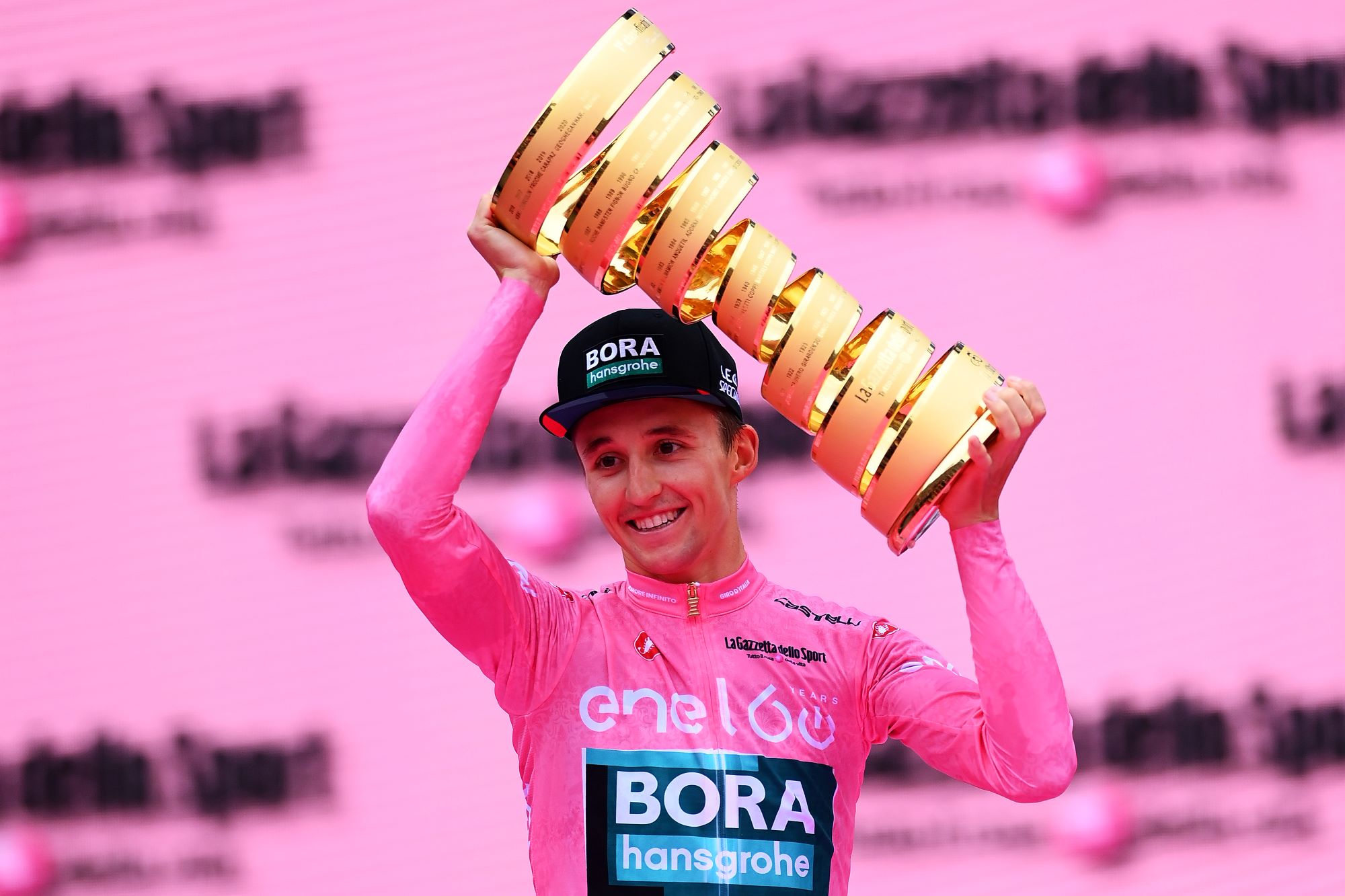 There will be no defending champion at the Giro d'Italia for the second year running, with Jai Hindley looking like he is set to go to the Tour de France instead. German media reported last week that Aleksandr Vlasov was heading to the Italian Grand Tour, while his Australian teammate would go to the Tour.
"Looking at the routes of the Giro and Tour, the trend is towards riding the Giro with Aleks and the Tour with Jai," Ralph Denk, Bora-Hansgrohe directeur sportif said, according to Radsport. "We're trying to defend the title with Vlasov."
Hindley became the first Australian to win the Giro last May, but will now seek to emulate Cadel Evans in France next July.
Right, that's probably enough news for now. I'll be back tomorrow unless something dramatic happens tonight - still no concrete news on the Mark Cavendish front, remember.
We are expecting some more kit launches this week too, so remain on standby for those.
Good evening!
Thank you for reading 10 articles this month* Join now for unlimited access
Enjoy your first month for just £1 / $1 / €1
*Read 5 free articles per month without a subscription
Join now for unlimited access
Try first month for just £1 / $1 / €1