Hello, cycling fans. The wait is over. It's Flanders day. De Ronde. The hilly cobbled Classic we've building up to ever since Opening Weekend at the end of February.
Join us throughout the day as we provide you with live updates from Belgium, where Mathieu van der Poel goes in search of his third victory in the last four years in the men's race, while SD Worx will look to continue their dominant spring form, boasting the defending champion Lotte Kopecky among their talented ranks.
If you want to get in touch with me, Chris Marshall-Bell, then you can send me a message on Twitter @cmbell310
Timings:
Men's race (273km) began at 9:00 (BST) and will finish around 3:30 (BST)
Women's race (157km) will begin at 12:30 (BST) and finish around 4:30 (BST)
Updates (BST time)

10:45: Both Mathieu van der Poel and Tadej Pogačar rejoin peloton after frantic salvation jobs
11:30: Five-man breakaway finally forms ahead of first berg
12:00: Peter Sagan and Tim Wellens abandon after huge crash also takes out Julian Alaphilippe
13:00: Jumbo-Visma, Soudal-QuickStep and UAE-Team Emirates represented in strong leading group
14:30: Pogačar, van der Poel and Wout van Aert reduce leaders' lead after a series of ferocious attacks
14:50: Wout van Aert is dropped by van der Poel and Pogačar as Mads Pedersen tries solo attack
15:05: Pogačar goes solo over the Kwaremont, passes Pedersen, and closes in on win
15:25: Pogačar wins men's race as Annemiek van Vlueten crashes in the women's race
16:15: Lotte Kopecky attacks solo as she looks to defend her title
16:45: Lotte Kopecky wins her second successive Flanders with teammate Demi Vollering in second.
Refresh
Men's race flag drops in Bruges with the Big Three the favourites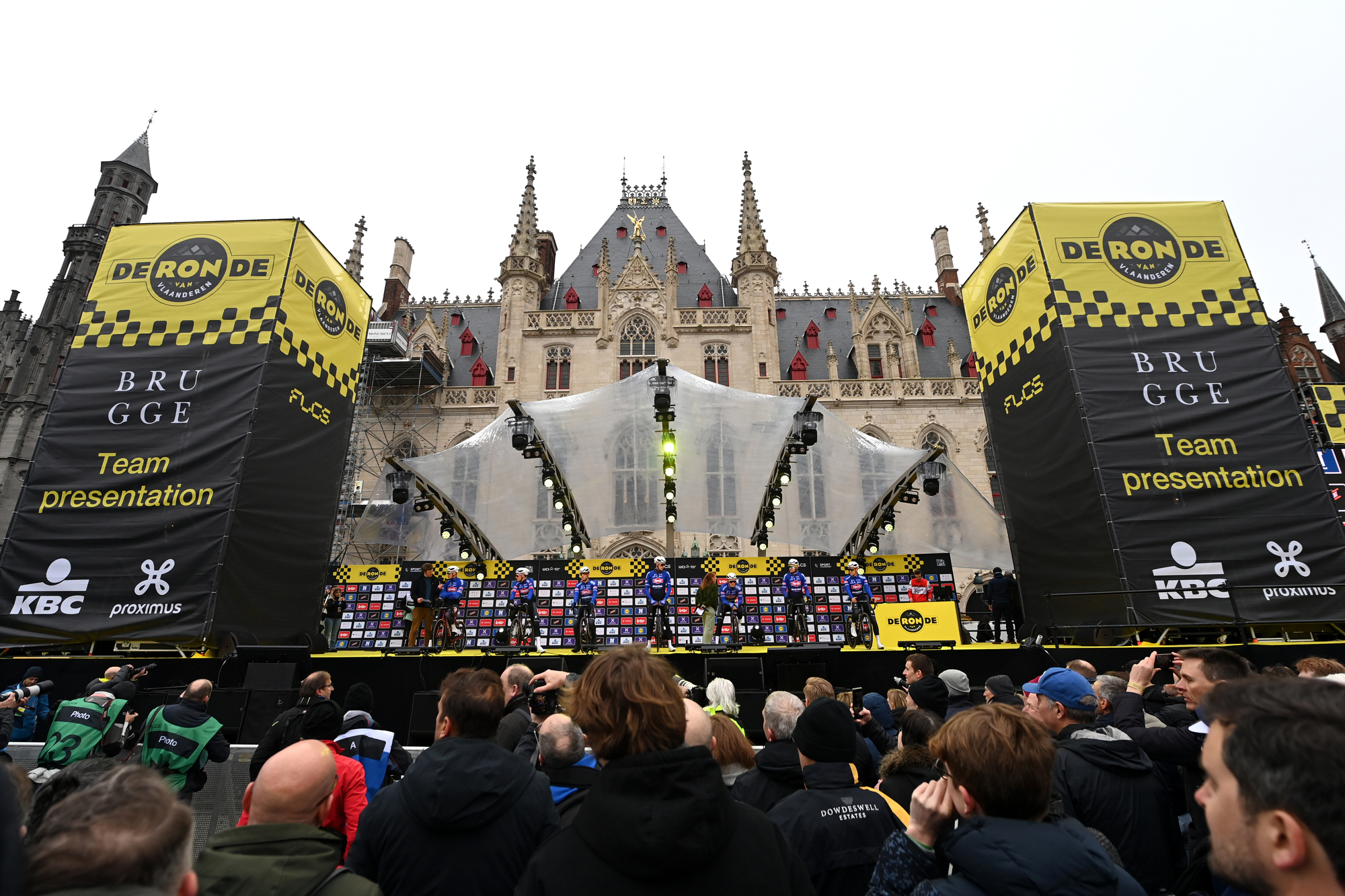 All the talk pre-race has been about the Big Three: defending champion Mathieu van der Poel, Wout van Aert and Tadej Pogačar. Who can stop them?
Tom Pidcock will certainly try but for the Briton, winner of Strade Bianche four weeks ago, to triumph, he will require Jumbo-Visma, Pogačar and Van der Poel all to have an off-day.
There are, of course, plenty more riders than just the Big Three: Trek-Segafredo's Mads Pedersen, Groupama-FDJ's Valentin Madouas and EF Education-EasyPost's Neilson Powless will all fancy their chances.
Windy, windy, windy
There is no rain forecast for either the men's or women's races today, but it's a cold start to the day - 6°C is what the thermometers are registering. There is also a brisk headwind blowing through Flanders, and most concerningly for Tadej Pogačar, a medium-strength gust is expected in the final hour of racing when they ascend the Paterberg for the final time.
How will that affect the day?
Van der Poel caught out by crosswinds after just 40km of racing
After an hour of racing in the men's race, we have our first act of drama. Strong crosswinds have caused a split in the pack and, crucially, Mathieu van der Poel is caught in the second group. The group ahead, which contains the other favourites, has a lead of more than 30 seconds and has the firepower to power away from Van der Poel's group. His teammates are pulling hard but it's proving in vein.
Forming a breakaway has proven incredibly difficult so far, despite plenty of attempts. Among those to have tried since the neutral start is everyone's new cult hero: Oier Lazkano of Movistar (second at Dwars door Vlaanderen on Wednesday).
Van der Poel back in the peloton
Situation saved for the defending champion: after a stressful 20km, Mathieu Van der Poel has returned to the main peloton, thanks to the work of his Alpecin-Deceuninck teammates who closed a gap that at one point was at 40 seconds. What will the effect of that chase have on the race's final outcome?
Meanwhile, we're still waiting for the first break to form. It's been a relentless start to the racing.
And now it's Tadej Pogačar trapped behind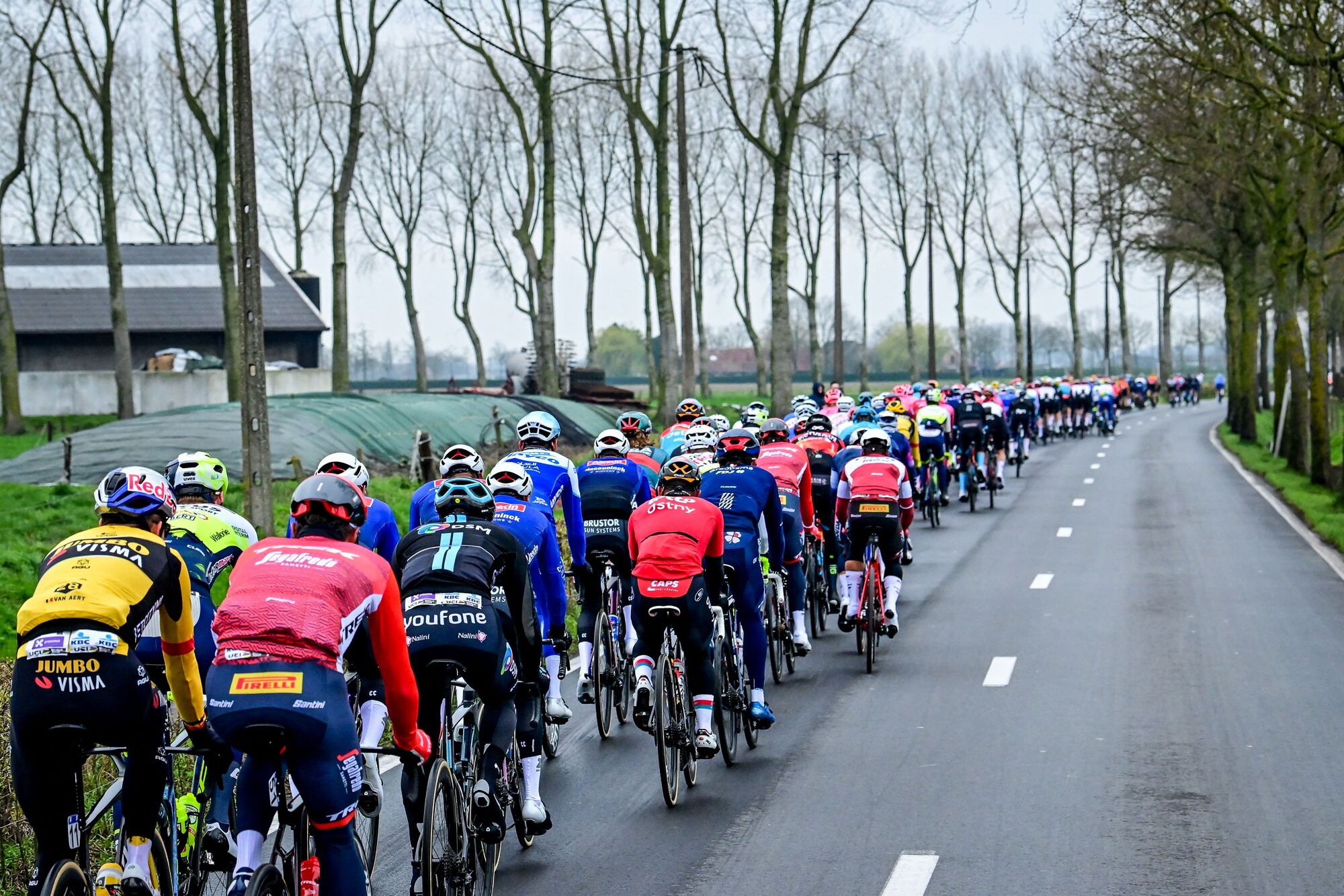 The drama is not abating. While many riders still try to jump clear, a crash at the back of the peloton caught Tadej Pogačar out. Although the two-time Tour de France champion did not fall, he and his UAE-Team Emirates teammates were more than 30 seconds behind the peloton. Thanks to some intense work, Pogačar and co. rejoined the peloton after a few kilometres.
We've had 100 minutes of racing and it's been full-on action.
Slip and sliding expected on the cobbles
Oude Kwaremont.Very slippery and muddy.#RVV23Photo: @BeelWout pic.twitter.com/MlXdwkZ3UBApril 2, 2023
See more
90km of racing and still no breakaway
The opening two hours of the season's second Monument have been intense, characterised by a rapid pace, crosswinds and a crash.
As we approach 100km, the race is, remarkably, still waiting for its first breakaway to form. No one can get away. There have been plenty of attempts but the elastic will just not stretch further than 100 metres.
The fastest Ronde ever?
We are on course for the fastest ever men's edition of De Ronde. The first two hours of racing were completed at an average speed of 48.7kph, a massive 5kph faster than the 2001 edition which averaged 43.6kph. That remains the fastest-ever Tour of Flanders.
Of course, there are the bergs, cobbles and headwinds to come that will slow down the speed, but those figures highlight just how quick the opening few hours has been.
Do we have a confirmed breakaway?
It looks like it: Jasper De Buyst (Lotto-Dstny), Daan Hoole (Trek-Segafredo), Elmar Reinders (Jayco-AlUla), Filippo van Colombo (Q36.5) and Guillaume Keirsbulck (Bingoal WB) have been given a lead of around 20 seconds and the peloton behind - already significantly smaller thanks to an incessantly-fast first two hours - seems willing to permit them an advantage. It only took 110km of racing.
How long will this break last?
Update at 11:40 (BST): the break now have a lead of 1-40, with Jumbo-Visma manning the front of the peloton.
This is really interesting... Tim Merlier of Soudal-QuickStep has accelerated from the front of the peloton, bringing with him Jonas Rutsch of EF Education-EasyPost. The pair have bridged across to the break of five, ensuring that Soudal-QuickStep have presence in the breakaway. Soudal-QuickStep have had a torturous spring Classics campaign and they are desperate to be involved today.
Read more: Forget the Classics, Soudal-Quick Step are a GC team: 'We have shown that we're strong enough'
The women's race is getting underway soon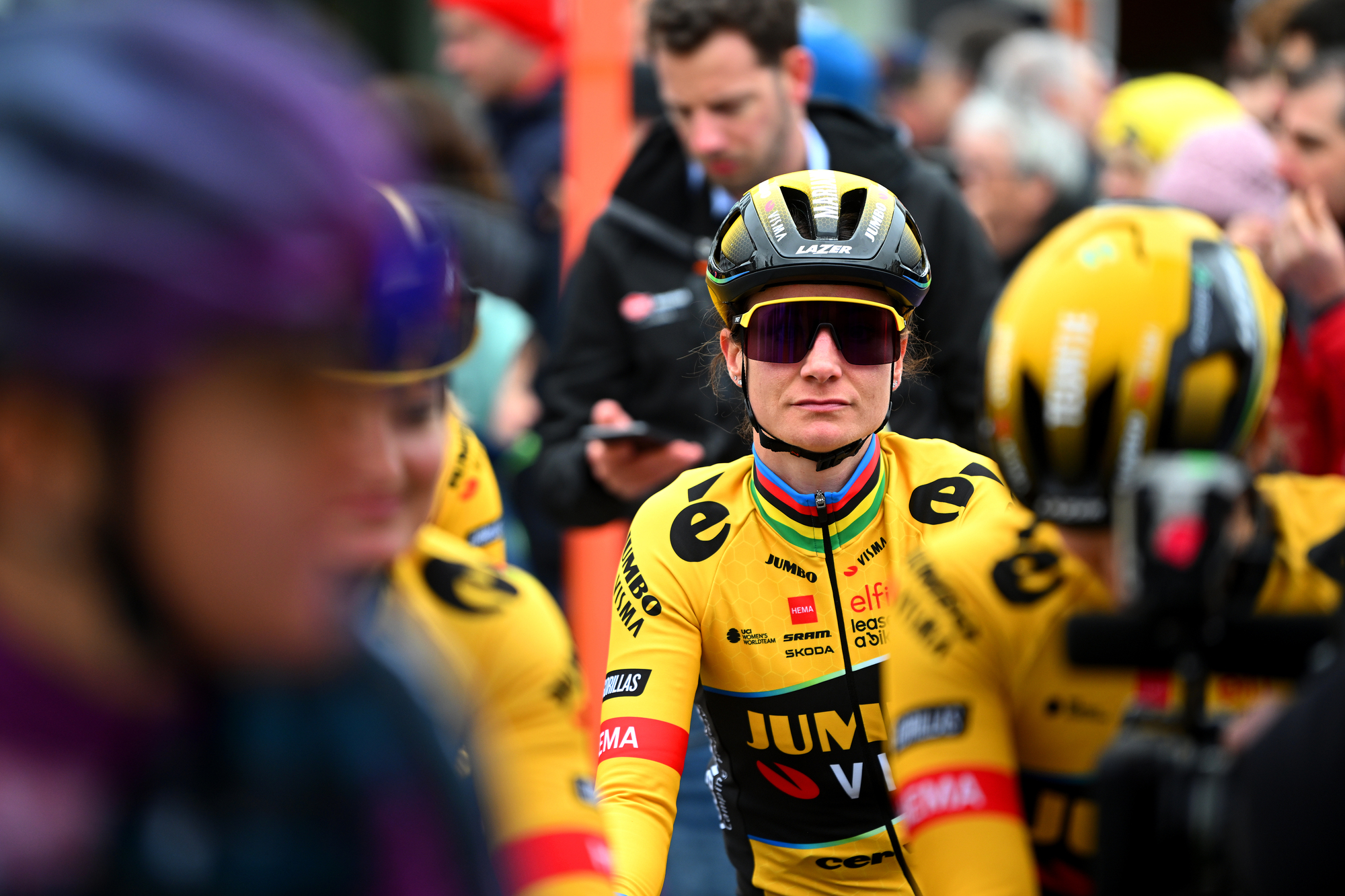 The escape builds a sizeable lead as the Kwaremont approaches
Men's race - 145km to go: It took forever for the breakaway to form, but now it has the seven men up front have a lead approaching five minutes. The first ascent of the Oude Kwaremont is looming, and behind the peloton is being led by Jumbo-Visma and UAE-Team Emirates.
Huge crash affects scores of riders
Men's race - 141km to go: A huge crash has taken out dozens of riders at the front of the peloton, including Soudal-QuickStep's Julian Alaphilippe, Trek-Segafredo's Jasper Stuyven, Peter Sagan of TotalEnergies and Tim Wellens of UAE-Team Emirates.
It all happened because Filip Maciejuk, a Bahrain-Victorious rider, sprinting to get to the front, abruptly rejoined the road after careering into a deep puddle to the side of the peloton. Riding out of control, the rider veered straight into the front of the bunch, upending several riders and thus created a domino effect that caused many to fall.
Wellens was subsequently forced to abandon, along with Ben Turner (Ineos Grenadiers).
Filip Maciejuk disqualified for causing crash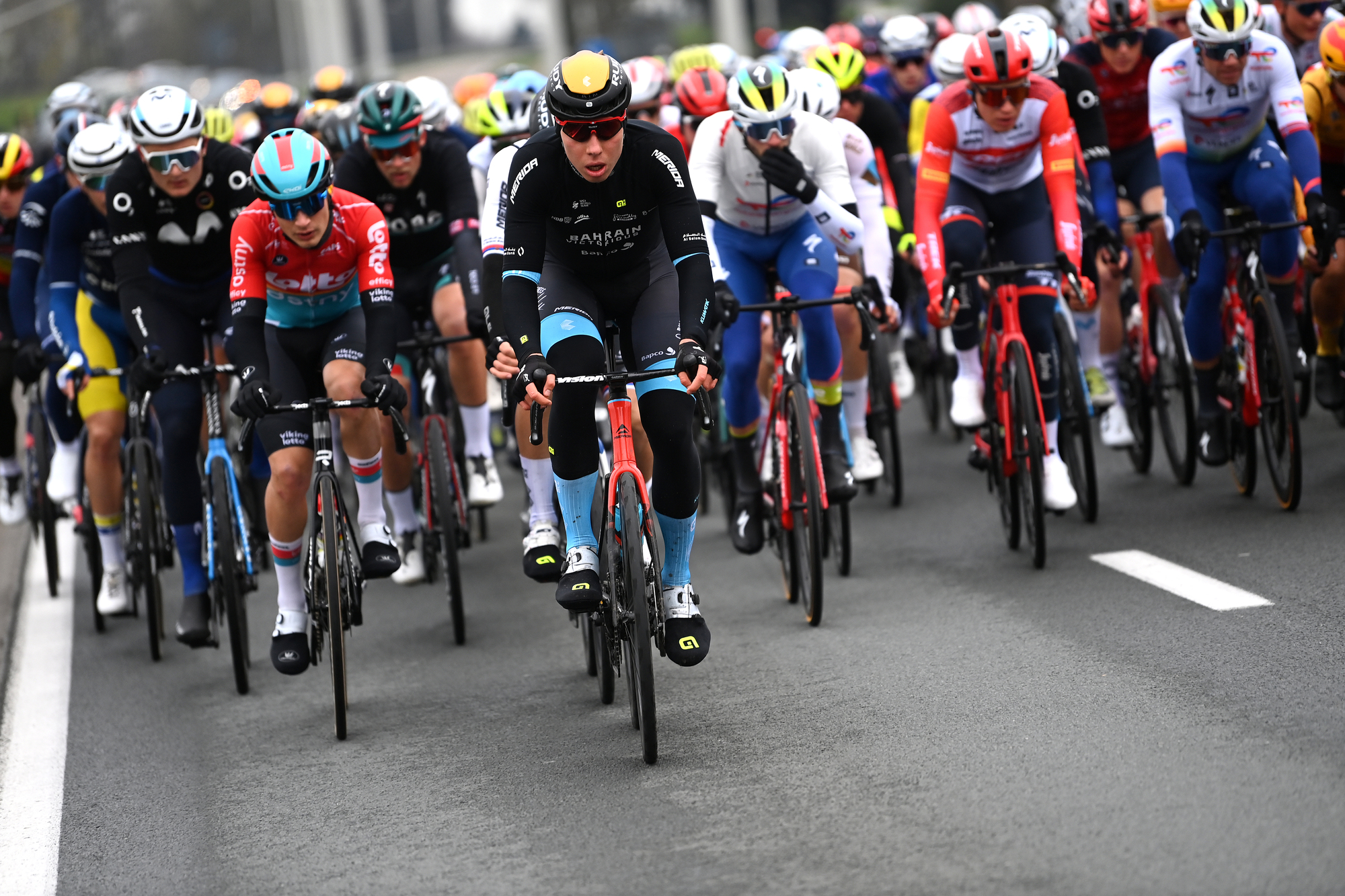 Men's race - 133km to go: Filip Maciejuk, the Bahrain-Victorious rider who was responsible for bringing down several riders at the front of the peloton, has been disqualified by the race jury. The Pole, 23, was riding his second Ronde.
Meanwhile, the break of seven continue to enjoy a lead in excess of five minutes. The peloton have just ridden up and over the Oude Kwaremont where the crowds are spectacular. No one creates noise like the Belgians do.
Men's race - 117km to go: A few more crashes have brought down yet more riders, including Soudal-QuickStep's Davide Ballerini. DSM have tried a curious tactic of slowing the pace down to a crawl before then accelerating, while Israel-Premier Tech are now at the front of proceedings. The break continue to hold an advantage of just over five minutes.
Women's race - 155km to go: the women have just got underway in Oudenaarde.
Yet more crashes in the men's race as Pedersen attacks
Men's race - 113km to go: Today's race has developed into a crash-fest. The latest has involved Magnus Sheffield of Ineos Grenadiers, Dries Van Gestel of TotalEnergies and Tim van Dijke (Jumbo-Visma).
Mads Pedersen has started the attacks from the peloton with a move that seemed to catch many by surprise. Matteo Jorgensen (Movistar) jumped straight onto the former world champion's wheel, with Matteo Trenton of UAE-Team Emirates also shadowing. The first big move to pay attention to.
Peter Sagan (TotalEnergies) has abandoned the race as a result of the earlier crash that led to the withdrawal of the Bahrain-Victorious rider who caused it.
Men's race - 105km to go: the peloton have chalked off two minutes of the breakaway's lead, and the action behind is hotting up. Tadej Pogačar is attentive to the attacks, the first of which was from Mads Pedersen, but Wout van Aert is not near the very front.
Women's race - 140km to go: We're still waiting for the first breakaway to form.
Attacks, attacks, attacks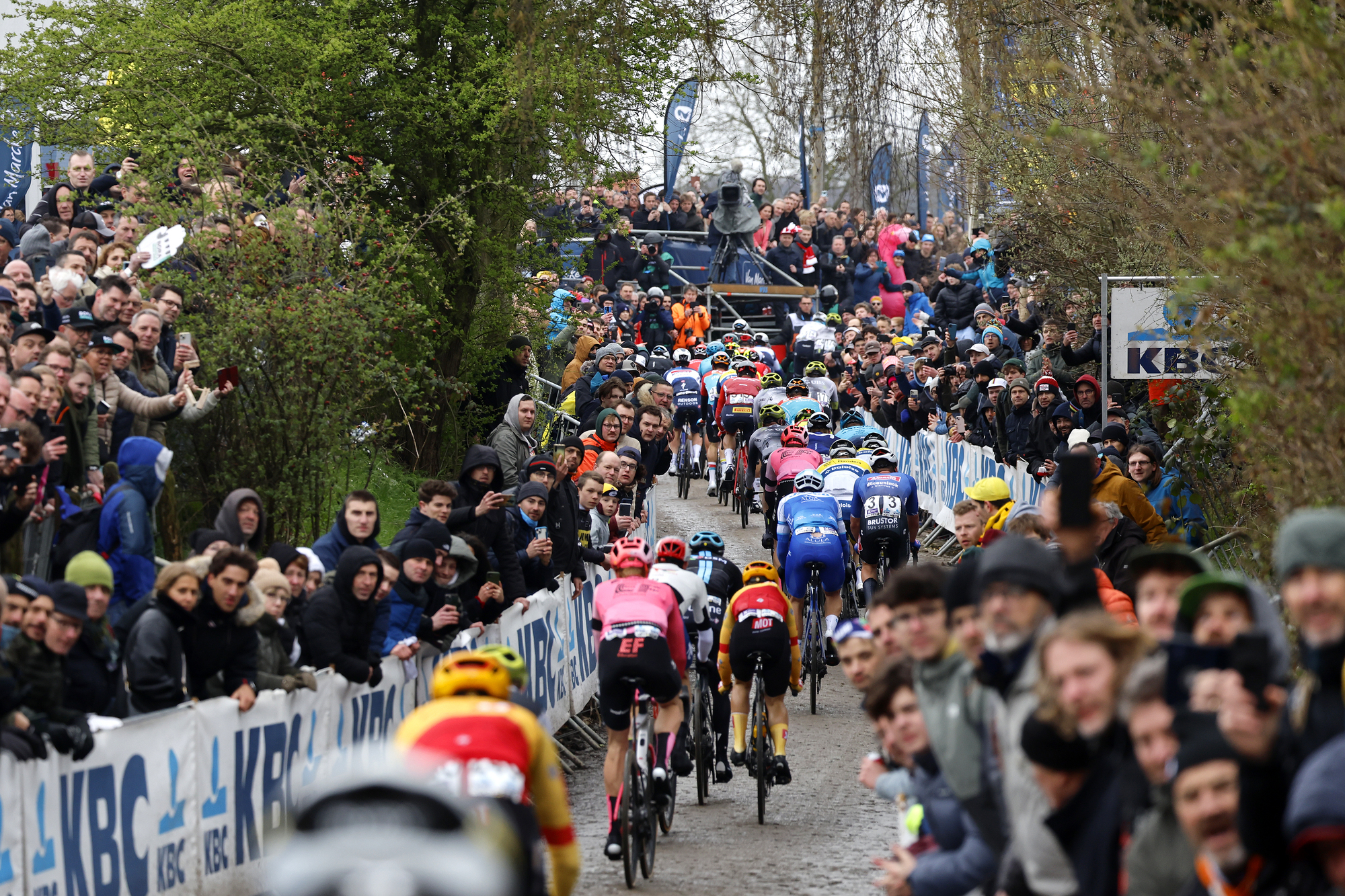 Men's race - 99km to go: A strong-looking group of nine has clipped off the front after the ascent of the Molenberg. It includes Stefan Küng (Groupama-FDJ), Mads Pedersen (Trek-Segafredo) and former winner Kasper Asgreen (Soudal-QuickStep). They are two minutes off the breakaway and have a small advantage over the peloton.
Most notably, UAE-Team Emirates are represented by Matteo Trentin and Jumbo-Visma by Nathan van Hooydonck. That means it's Alpecin-Decuninck who will have to chase.
Is the winner in this chase group?
Men's race - 89km to go: This 11-strong group led by Mads Pedersen now has a minute's lead over the peloton, and is closing in on the breakaway up ahead. This has the feel of the winning move.
Included alongside Pedersen is: Matteo Jorgensen (Movistar), Stefan Küng (Groupama-FDJ), Fred Wright (Bahrain-Victorious), Neilson Powless (EF Education-EasyPost), Kasper Asgreen (Soudal-QuickStep), Jhonatan Narváez (Ineos Grenadiers), Florian Vermeersch (Lotto-Dstny), Benoît Cosnefroy (AG2R-Citröen), Matteo Trentin (UAE-Team Emirates) and Nathan Van Hooydonck (Jumbo-Visma).
Women's race - 130km to go: Despite a few attacks, no-one has been able to build a significant lead and the peloton remain grouped together.
Men's race - 75km to go: the breakaway and the chasers have joined forces to create a mega-group of 19 riders, with Soudal-QuickStep represented by both Kasper Asgreen and Tim Merlier. The peloton are 1-50 behind, with Wout van Aert, Tadej Pogačar, Mathieu van der Poel and Tom Pidcock all sitting at the front.
Women's race - 115km to go: no change, with the peloton still all together.
Men's race - 71km to go: Another crash brings down Biniam Girmay (Intermarché-Circus-Wanty) and Matej Mohorič (Bahrain-Victorious), while the peloton is now led by Jumbo-Visma. With the Dutch team having Nathan van Hooydonck up front, they have slowed down the speed. Does that mean Wout van Aert's chances are evaporating?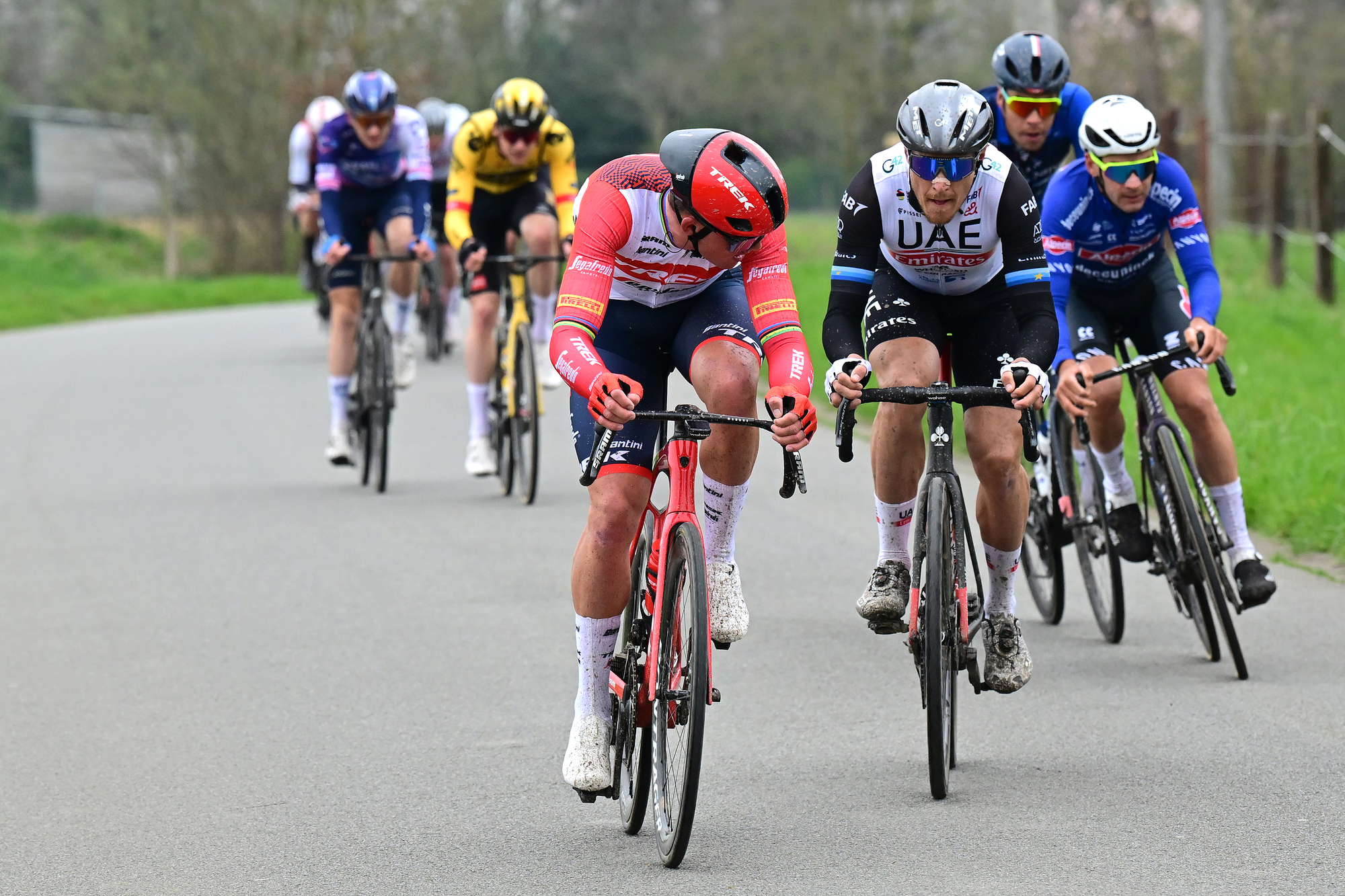 Bahrain-Victorious rider apologises for causing pile-up
I'm really sorry for my mistake and causing the crash today. I hope all those involved are in good health and safe.This should not happen and was a big error in my judgement.April 2, 2023
See more
Men's race - 59km to go: It looks increasingly unlikely that one of the Big Three will triumph today, and instead the winner will come from the 19-strong group at the head of proceedings. But one of them must attack soon because if not Tim Merlier of Soudal-QuickStep will fancy his chances of winning the bunch sprint.
Women's race - 99km to go: Just like the men's race before it, the women are reluctant to let a break form.
Men's race - 55km to go: Now they've gone! Tadej Pogačar's teammates have set the Slovenian up for a monstrous attack and no-one can follow him! But he still has two minutes to make up to the leading group.
Mathieu van der Poel and Wout van Aert were unable to follow the two-time Tour de France champion's attack, but they, Tom Pidcock, Nils Politt and Christophe Laporte are just 15 seconds behind, working together to try and bridge across to the Slovenian.
Men's race - 51km to go: Kasper Asgreen, winner of this race in 2021, attacked solo from the front of the leading group but was quickly caught. Tadej Pogačar has cut the gap by 30 seconds in just a few kilometres, but the Van Aert-Pidcock-Van der Poel group are just behind.
Men's race - 49km to go: Christophe Laporte has jumped clear from the group of five and has joined forces with Tadej Pogačar who appeared to be slowing down, whether through fatigue or on purpose. It means that Jumbo-Visma now have one rider in the leading group, Laporte with Pogačar and then Wout van Aert just a few seconds adrift.
Women's race - 89km to go: There was a split in the peloton but they are back together. Still a break has not formed. It has been a fast first two hours.
Men's race - 44km to go: The Koppenberg always delivers, and Pogačar, Van Aert and Van der Poel all fly up the steep, cobbled climb as one, putting serious distance into Pidcock and Laporte behind. The trio are just over one minute behind the front group that now numbers 12.
Men's race - 37km to go: The trio of Pogačar, Van der Poel and van Aert are now just 40 seconds behind the lead group of 12, and with the Taaienberg, Kwaremont and Paterberg on the horizon, attacks are going to come from the leading dozen.
Women's race - 80km to go: Ally Wollaston (AG Insurance - Soudal Quick-Step) has enjoyed a solo lead for the past 15km, but it looks likely that her slender lead of 15 seconds will soon be wiped away with the bergs starting to bite.
Men's race - 35km to go: Van der Poel briefly lost ground on the Taaienberg, but the cobbled berg did not produce any further attacks from the trio.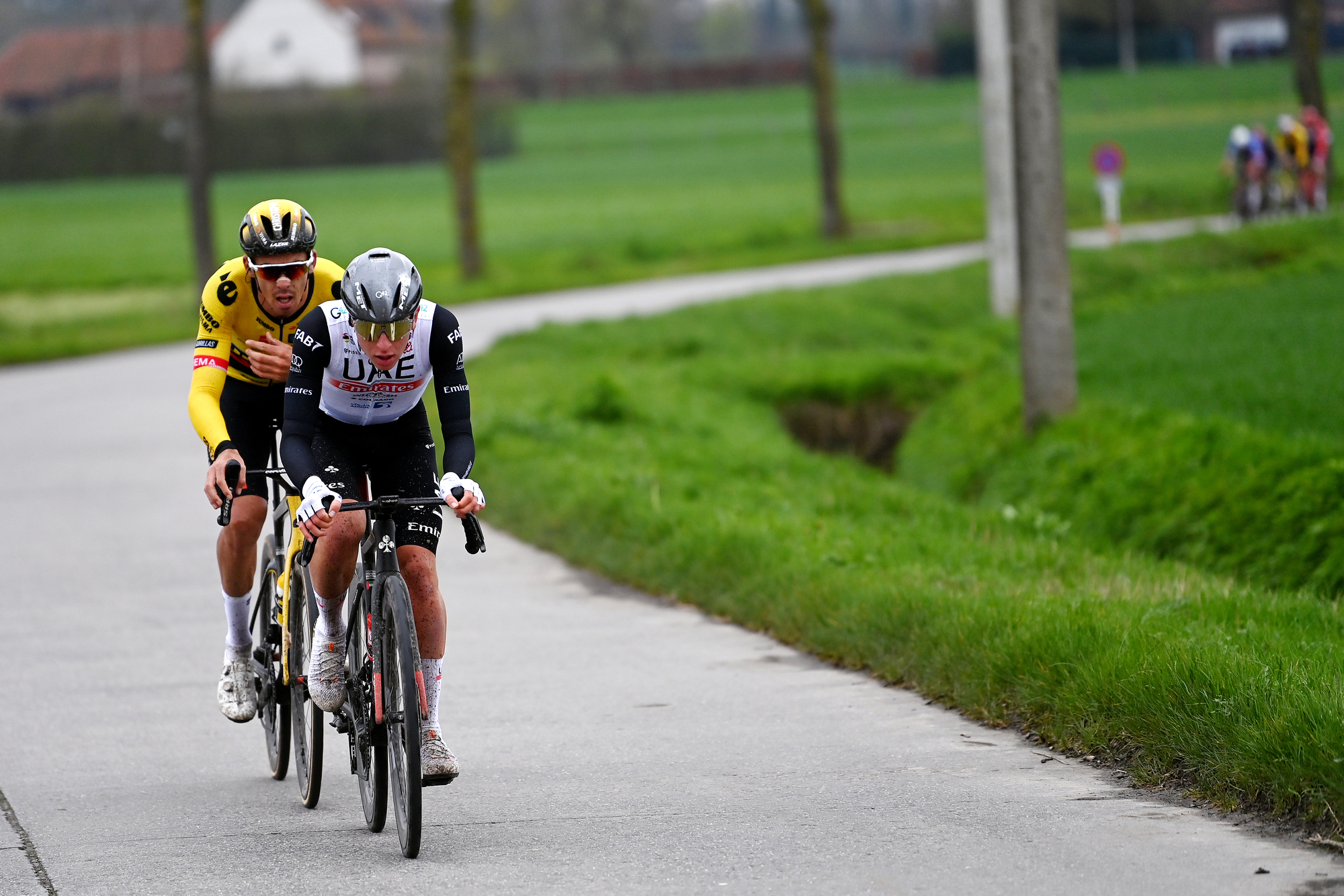 Big attacks with van Aert struggling
Men's race - 28km to go: Mads Pedersen doesn't want to wait and he has gone. He has a small gap of around six or seven seconds and is climbing well on the Kruisberg. His former breakaway companions don't seem too bothered about the former world champion's attack.
Van der Poel, meanwhile, attacks on the same stretch of cobbles and while Pogačar is able to follow, Van Aert is not. Van der Poel and Pogačar have 30 seconds to make up to Pedersen with eight riders sandwiched between.
Women's race - 72km to go: Against expectation, Ally Wollaston's lead has increased from 15 seconds to 50 seconds.
Men's race - 20km to go: Van Hooydonck has dropped from the second group on the road to help pace van Aert back to the front of the race. Van der Poel and Pogačar - who have now caught the remnants of the original lead group - are looking good but Pedersen's lead is remaining stable. He has around 35 seconds to the group behind.
Pogačar attacks and leads after Kwaremont
Men's race - 17km to go: The Kwaremont comes for the final time and Pogačar attacks with fury, finishing off a grand job by his teammate Matteo Trentin who was setting the pace in the chase group. Crucially, van der Poel cannot follow, and within a minute Pogačar catches and passes Pedersen. Wout van Aert, meanwhile, is out of the equation. Pedersen and van der Poel are 11 seconds behind. Just the Paterberg to come.
Men's race - 13km to go: Van Aert has impressively regained touch with the chasing group, but he is some 40 seconds behind Pogačar. Van der Poel is chasing hard after the UAE-Team Emirates rider, but it was going to require a huge collapse from Pogačar on the Paterberg to give van der Poel a chance of the win in Oudenaarde. That did not happen, and with 13km to go it looks increasingly certain that Pogačar will add the cobbled Monument to his collection.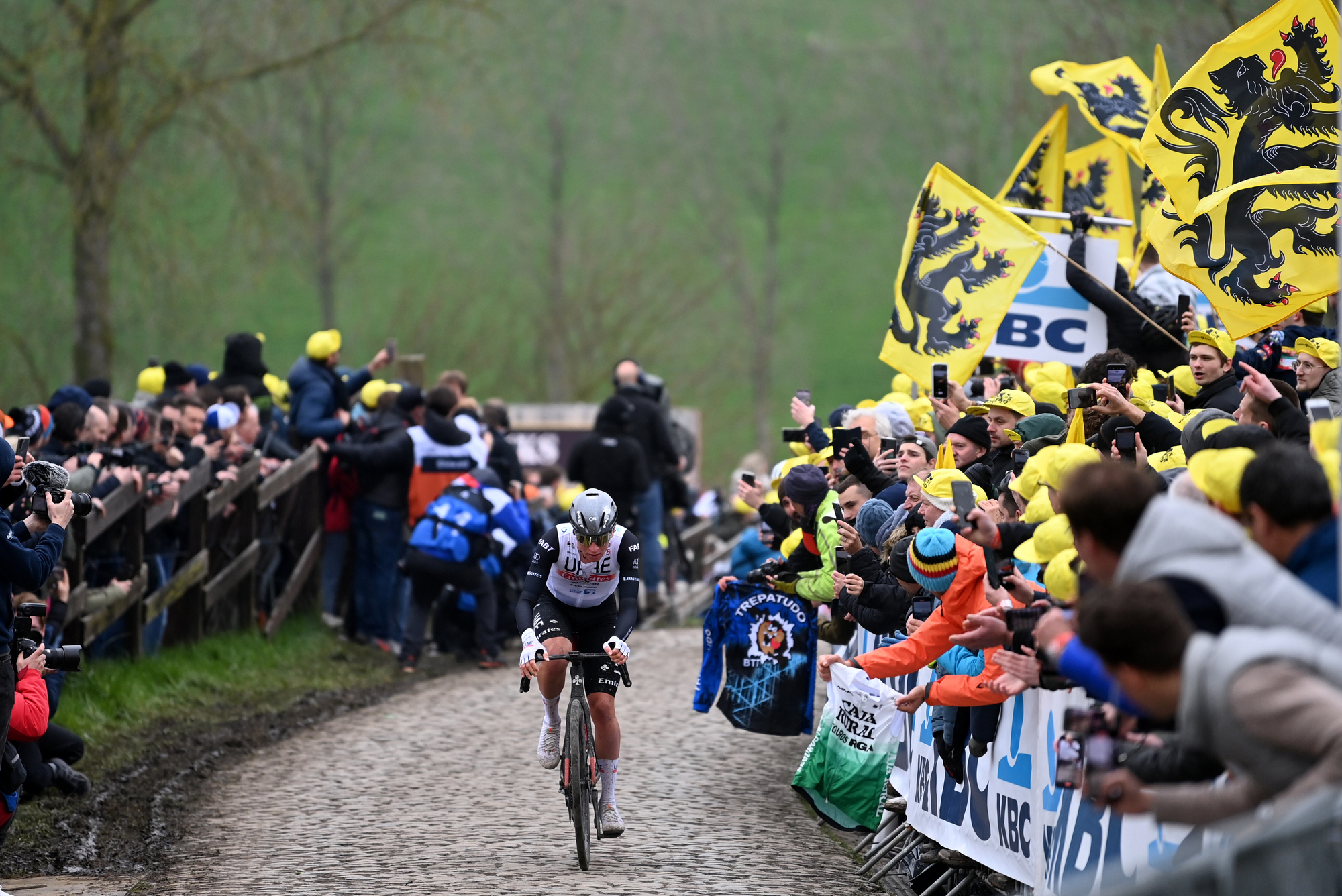 Men's race - 4km to go: Pogačar is going to win. Van der Poel has accepted that second will be his, and the small group behind him will fight it out in the bunch sprint for third.
Women's race - 50km to go: Elinor Barker and Elise Chabbey have joined Wollaston up front. They have a lead of 45 seconds.
Tadej Pogačar wins Tour of Flanders
Men's race - 0km to go: Pogačar triumphs with Van der Poel behind him, and Pedersen gets his reward for a superb ride by winning the sprint for third.
Read our race report here
Women's race - 38km to go: The front of the race is packed out by three riders from SD Worx - defending champion Lotte Kopecky, Lorena Wiebes and Marlen Reusser. They are joined by Silvia Persico (UAE-Team ADQ).
The chase group of 10 is 20 seconds behind, while Annemiek van Vleuten is chasing hard a minute behind after a crash with 50km to go.
One final line to bring you from the men's race: at 44.09kph, it was the fastest ever Ronde. So much for those headwinds, huh!
Women's race - 35km to go: Lorena Wiebes is dropped from the leading group, meaning that Silivia Persico is not so outnumbered now, just having two SD Worx riders (Lotte Kopecky and Marlen Reusser) alongside her.
The chase group, which now numbers 10, is around 20 seconds behind.
Women's race - 30km to go: We still have the Kwaremont and Paterberg to come one final time, and the leading trio's lead has been cut to 10 seconds. SD Worx has two more riders present in the chase group: Lorena Wiebes and Demi Vollering. Former winner Elisa Longo Borginhi is one of three Trek-Segafredo riders.
Women's race - 28km to go: Kopecky flies up the Kruisberg and only Persico is able to keep pace. Reusser is dropped, and all of a sudden the chase group behind is in pieces.
Women's race - 20km to go: Kopecky and Persico continue with a lead of 25 seconds, and behind the chase group has regrouped. Trek-Segafredo are driving the pace hard, but it will come down to the Kwaremont and the Paterberg.
Women's race - 18km to go: Kopecky goes! She attacked at the bottom of the Kwaremont and Persico could do nothing. Kopecky is powering up the climb with apparent ease. Who would bet against a second consecutive title now?
Women's race - 13km to go: Kopecky cruises up and over the Paterberg and now has a lead in excess of 40 seconds. But Persico is battling hard: she will not catch Kopecky, but she is desperate to hold onto second place. Unfortunately for the Italian, she is caught by the chase group on the Paterberg.
Fighting it out for second and third will be the SD Worx duo of Demi Vollering and Marlen Reusser, as well as Persico, Shirin van Anrooij (Trek-Segafredo) and Katarzyna Niewiadoma (Canyon-Sram)
Women's race - 8km to go: Kopecky's lead has been reduced a little, but with two SD Worx teammates behind in the chase group it seems inconceivable that the Belgian will not win.
Interestingly, Elisa Longo Borghini has caught the second group on the road, meaning we look set for a six-way bunch sprint to determine second and third.
Lotte Kopecky defends title to win Tour of Flanders yet again
Women's race - 0km to go: Kopecky wins her second De Ronde in as many editions, while the fight for second and third goes to Demi Vollering (SD Worx) and Silvia Persico (UAE-Team ADQ), respectively.
It has been a truly extraordinary spring for SD Worx.
Read our full report here.
Well, that's it for the live blog today. I do hope you've enjoyed watching and reading the unfolding drama. We'll do it all again next weekend for Paris-Roubaix. Bring it on!
Thank you for reading 20 articles this month* Join now for unlimited access
Enjoy your first month for just £1 / $1 / €1
*Read 5 free articles per month without a subscription
Join now for unlimited access
Try first month for just £1 / $1 / €1