Hello and welcome to our live coverage of the final stage of the 2023 Giro d'Italia. A GC race that had taken a while to come to the boil reached a spectacular conclusion yesterday, as Primož Roglič overturned his deficit from Geraint Thomas to take victory in one of the closest Grand Tour finishes of recent times.
Roglič might have (barring disaster) sealed the pink jersey, but there still plenty to play for in Rome today, with a likely bunch finish providing one last chance for the sprinters — among them Mark Cavendish, in his final ever appearance at the Italian Grand Tour.
Key updates:
14:44 - Stage begins
15:07 - 'It's going to be a bit hard': Thomas reflects on lost pink jersey
15:24 - Roglič celebrates 'incredible' victory
15:52 - Riders enter Rome
17:30 - Cavendish wins the sprint
Refresh
The flag's just dropped on what is a sunny day in Italy. Though that doesn't mean the racing will start any time soon —the riders have spent the last three weeks racing through some of the toughest terrain, often in foul weather, so are going to make the most of the relaxed first phase of this ceremonial party stage to Rome.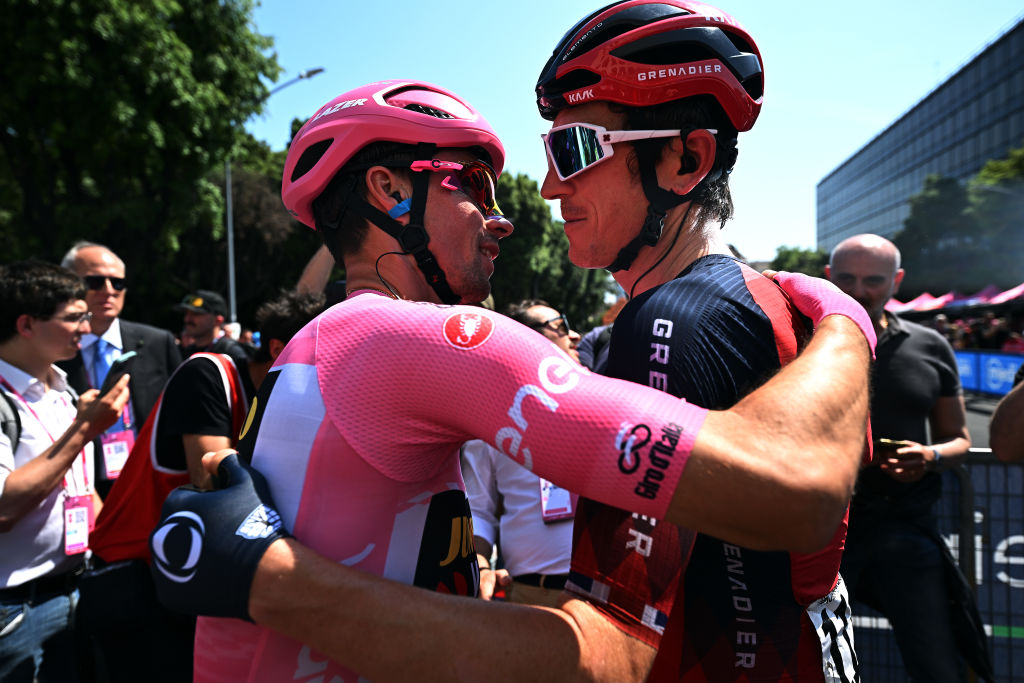 Not everyone is in such a jubilant mood, of course. Geraint Thomas especially is still processing his defeat yesterday, but was in a magnanimous mood in a pre-race interview.
'I didn't sleep too good, to be honest. It was a bit of a wait at doping control, it took about two and half hours to actually go, and then there was a bit of a transfer to the hotel. But I had a nice meal with the boys, had a beer with them, and just reflected on a really good race for us. The atmosphere we've had together, it's been a really good team spirit all the way through, even though we took some hits with losing guys with crashes and stuff. At the end of the day, I think second is still a result I can be proud of after the year I've had.'
Regarding the Giro a a whole, he reflected how 'It was definitely eventful, cold and wet. There was a lot going on, you had to be switched on every day. That's tiring in itself. I think when I look back, from the end of training camp in December through to the end of February, it was so stop-start, I missed a lot of training there. And obviously the start of the season was halted as well. To just get here in the shape I was, and to finish on the podium, is still a great result.'
When asked whether he'd be up for another Grand Tour in the future, he replied: 'I dunno, I dunno, we'll see how it goes. The Worlds would be a nice target at the moment. But I'll go home and have a bit of downtime with the family first, and go from there.
'I think it's gonna be a bit hard, to be honest', he said when asked what it'll be like arriving in Rome today. 'I'm not looking forward to that bit. It will be nice around the Colosseum, with the history and everything, it's pretty special. As I say, to be on the podium will be a nice way to finish.'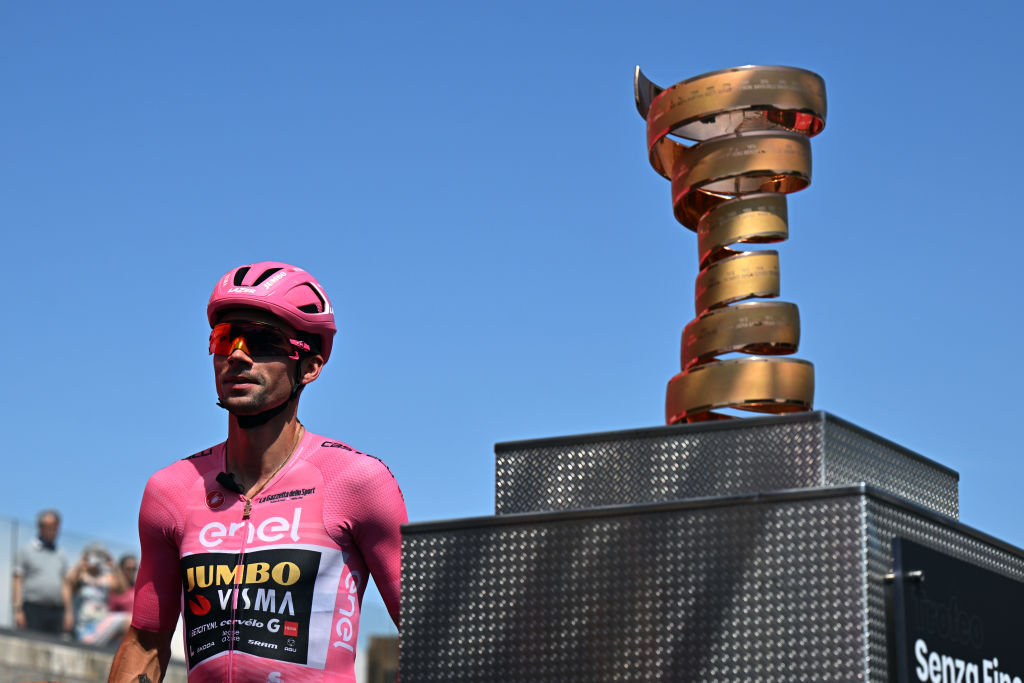 The man who took the pink jersey from him, Primož Roglič, was typically understated in his interview.
'I wouldn't really lose too much', was his reply when how he slept last night.
'It was really incredible, unforgettable memories, what I could experience on that mountain.'
When asked how the victory felt in the context of what happened to him on Planche des Belles Filles at the 2020 Tour de France, he insisted that he 'didn't really have big problems with it, it's more probably the people who are around. I kept being positive.
'[the Giro] was something I was missing. As I always say, everything that comes next is always a bonus, so it's also a bonus this one coming.
'Today? 'That's the main goal, to come through safe and finish top.'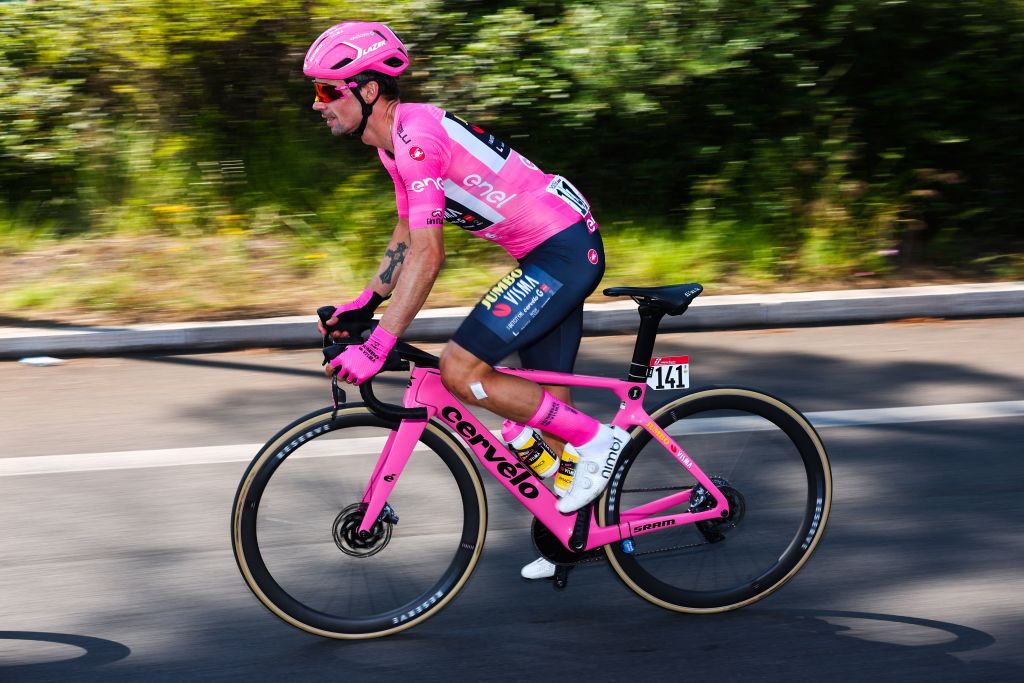 Here's Roglič out on the road at the moment. As you can see he's decked out in pink, including a pink bike. This is the only day he's worn the jersey all race, and he's making the most of it.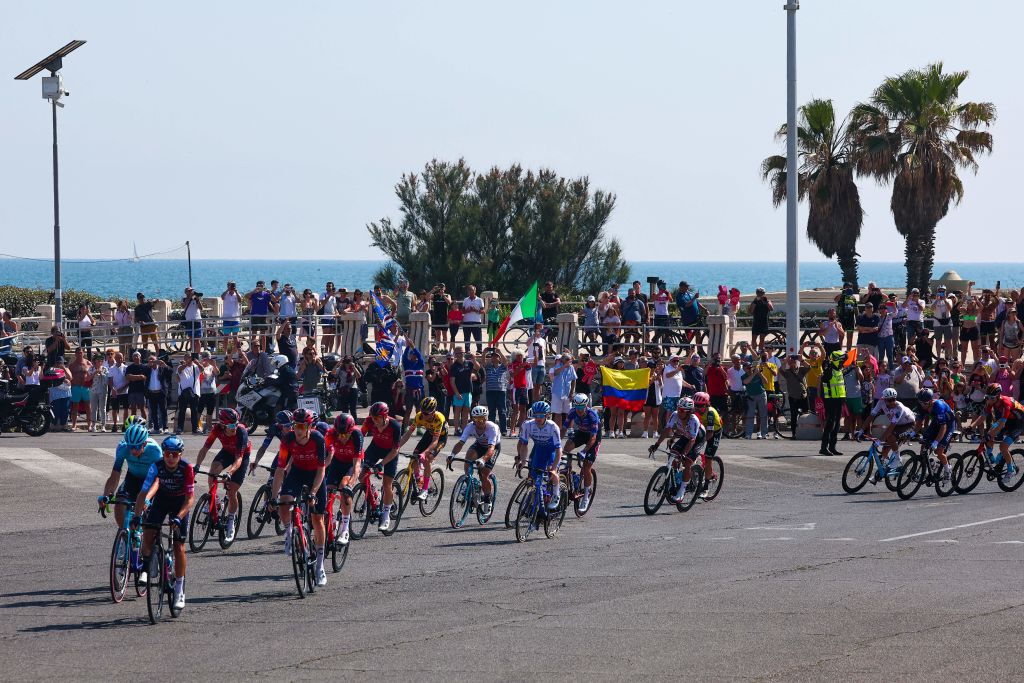 Here's a shot of the peloton with the Lido di Castel Fusano in the background. The riders are currently heading back from the coast and back into Rome, where they will take on five laps around the Eternal City.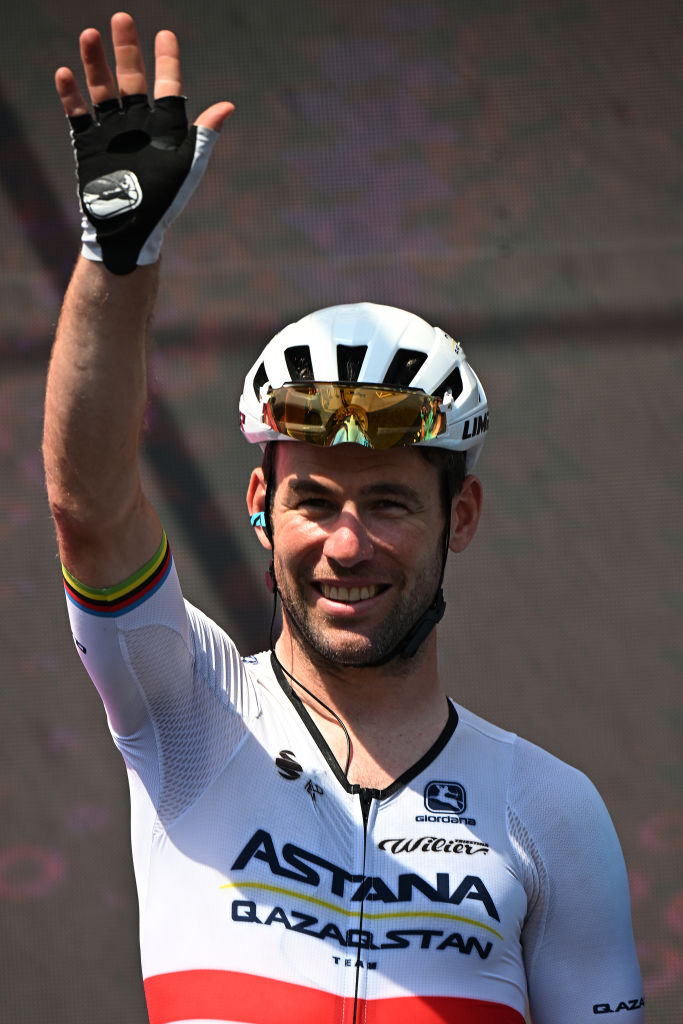 Once they arrive in Rome, things will start to get serious again as the sprinters start racing for the expected bunch finish.
Of the sprinters this is an especially big day for Mark Cavendish, for whom this will be his last ever day of racing at the Giro d'Italia. He's looking to add to his 16 career wins here.
'It's another race, so you gotta get your race head on,' he said at the start. 'It's nice to be in Rome, I think last time I raced here it finished in Rome. It was in 2009, I stopped the Giro to prepare for the Tour. They had a time trial, there was a bit of rain. It's nice to have this circuit here, it should be a sprint. I know every team feels they deserve something from a Grand Tour, but obviously, when you see what's going on in your team, the work that's gone into it, I'd really like for us to end this Giro really well. We'll give everything and try and get the win today.
'We have a plan. Obviously we don't have the strongest sprint team here, but I think, as we've seen in the last sprints, actually we have some very capable boys looking after me in the final. Especially in this type of final, it's more like the stage when I was third, like the Tour de France, manoeuvrable rather than corners making everything happen. We've got a good team for that, we've got a plan in place, hopefully it'll be successful.
'Since I've thought that this could be my last year, I've enjoyed every race. You don't take any pedal rev for granted, especially at the Giro. This is always a special race. Every race has changed over the last decade, but it's always special here. Italy is a place I know well, I had a home here for many years, and I've had a lot of success here. It's been superb, the tifosi have been incredible, and the atmosphere in the team has been great, so I've really enjoyed it.'
Jumbo-Visma have led the peloton into Rome! They've just crossed the finish line for the first time, and are now taking in the sites.
70km to go: Jumbo-Visma aren't hanging about. Rohan Dennis is setting a pretty brisk pace around Rome considering the circumstances. So far there hasn't been any attacks from any optimists hoping to deny a bunch sprint
67km to go: We've had our first attacks of the day. Maxime Bouet, Cesare Benedetti and Toms Skujiņš have gone clear from the peloton, and finish the first lap with a gap of a few seconds.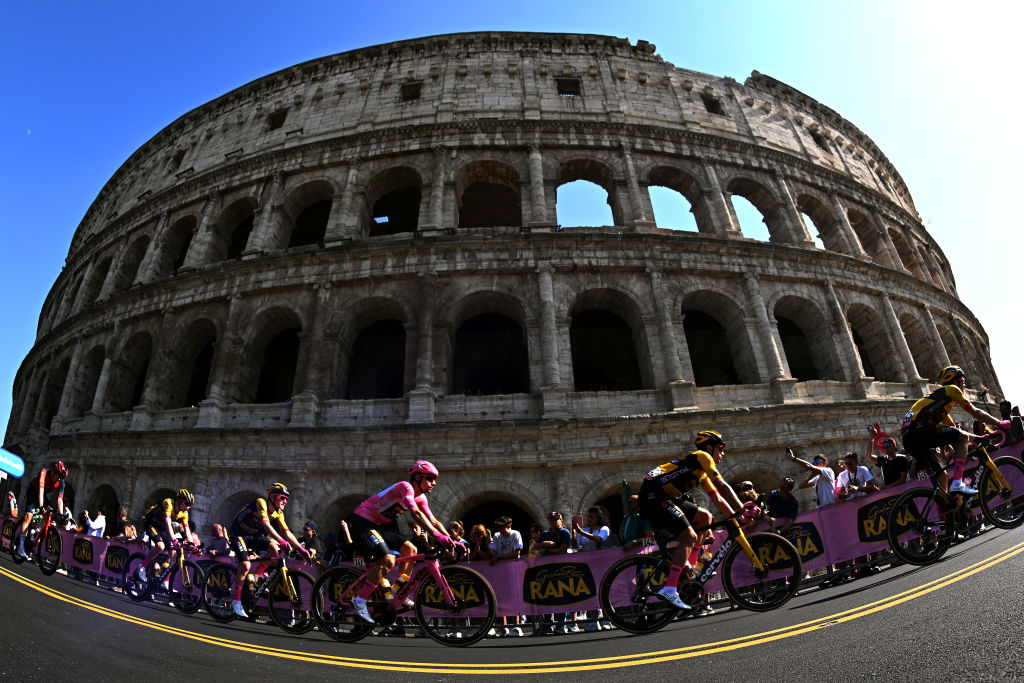 60km to go: The leading group have established a 20 second gap on the peloton, which both groups might be happy with: the trio for managing to get up the road and at least have a chance of a stage win, and the peloton for keeping things under control and ensuring only a small group forms the break.
Another man who will be happy to see a break get up the road is Eddie Dunbar. He holds a one second lead over Andreas Leknessund in seventh on GC, but so long as riders are up the road, he isn't at risk of losing that time to him in bonus seconds.
54km to go: Four more laps to go, as the breakaway cross the line for second time with a lead of 37 seconds
Some action in the peloton over the line, too, as Derek Gee launches a sprint. It's an intermediate sprint, meaning points are available in the intermediate sprint classification, which Gee currently leads. Up the road in the break, Skujiņš poses a threat in that classification, and took maximum points over the line. Surely Gee can't be relegated into second in yet another category? Skujiņš now only needs two more points at the next intermediate sprint to take the classification.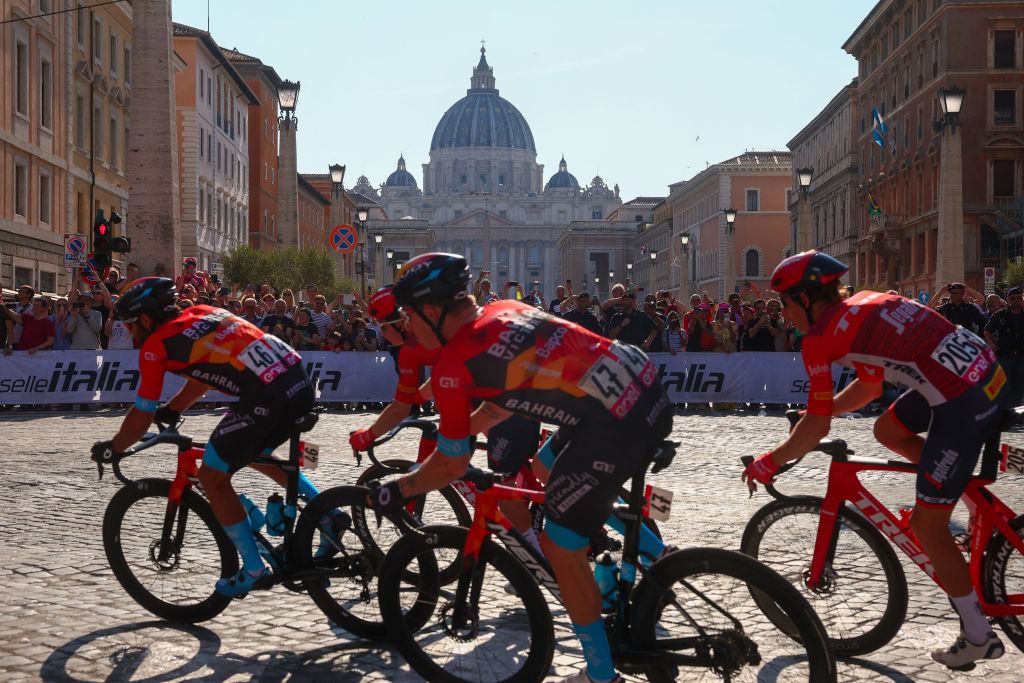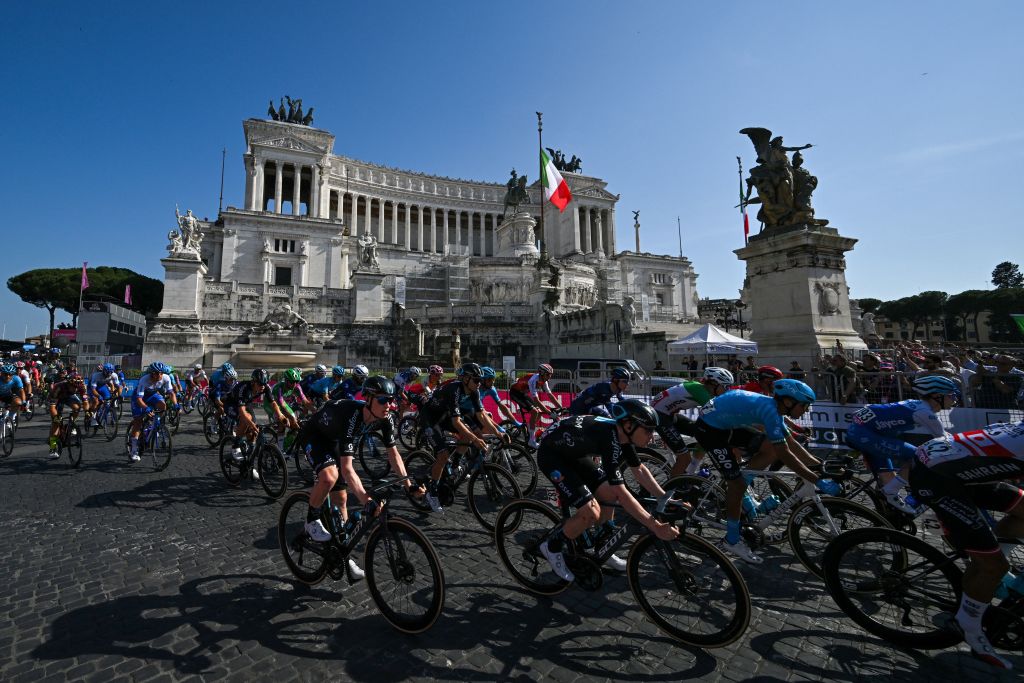 35km to go: The trio's gap is holding steady, remaining at about 30 seconds. They're likely to get caught eventually, but not any time soon, so that Intermediate Sprint classification may well be heading Skujiņš's way.
21km to go: The break have just past the finish line for the third-to-last time, and Skujiņš led them over, meaning he dethrones Derek Gee as winner of the Intermediate sprint classification.
That means Gee is now second in the points classification, King of the Mountains classification and the Intermediate sprint classification, to go with his four second-place finishes in stages throughout the race. As Geraint Thomas said yesterday — what is it with the Gs and second-place at this Giro?
Bike change for Michael Matthews. He looks very relaxed and there's still plenty of time for him to get back into the peloton. The Australian doesn't prioritise the bunch finishes so much these days, and took his stage win at this year's Giro from a reduced group on a hilly day, but did look in great nick during the last bunch sprint on stage 17, where he placed second. Is he a contender for today's stage?
Can't help but feel bad for Derek Gee. If there was a classification for Second Best Rider at the Giro d'Italia, you'd expect him to finish second-place in that, too.
20km to go: Just under 20 seconds for the break now. The catch does feel like only a matter of time.
Meanwhile in London, the third and final stage of RideLondon-Classique looks like it's going to finish at around the same as this stage of the Giro. Right now a three-woman break has a lead of over a minute over the peloton. We'll keep you posted.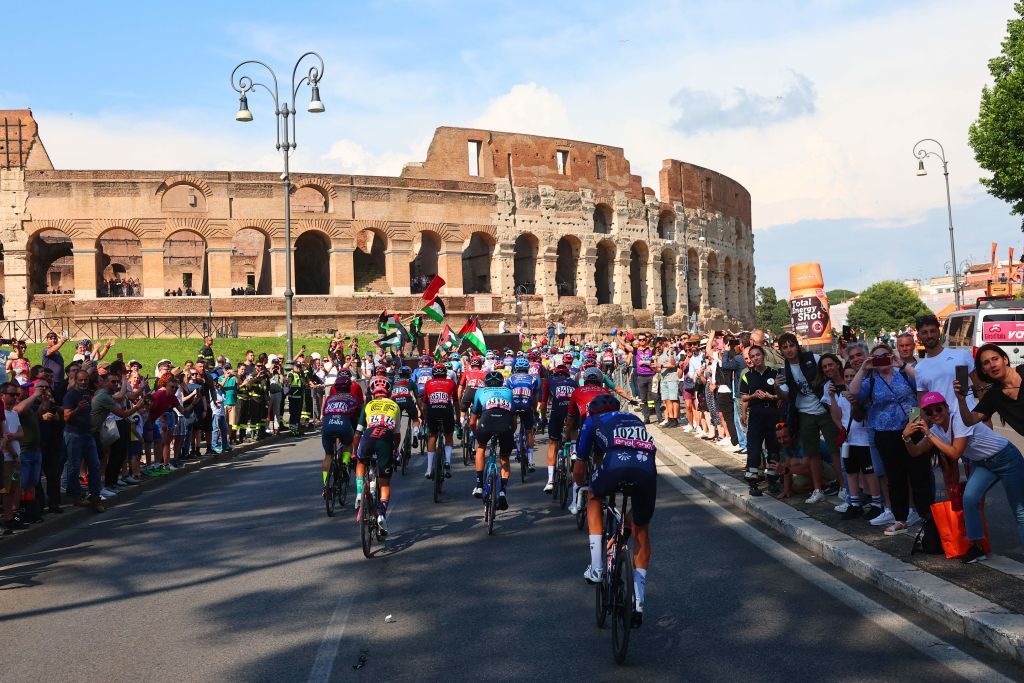 DSM, Movistar and Bahrain-Victorious are the teams currently setting the pace in the peloton, working for Dainese, Gaviria and Milan respectively. Like most of the sprints at this Giro, it looks wide open.
14km to go: Magnus Cort has attacked out of the peloton just as the break was in the peloton's sites. He's latched onto the back of the break, but they only have a few seconds.
13km to go: The riders hear the bell! Just one lap left now.
Shortly after the bell the break was caught, meaning the race is all back together. Surely there's going to be more attacks before the finish…
Mechanical for Eddie Dunbar. It should have come early enough for the Irishman to get back into the peloton in time. Remember, he only has one second to play with in defending his seventh-place on GC.
11km to go: It hasn't taken long for Dunbar to get back into the peloton. He's latched onto the back now, helped by the race convoy, and his teammate Alessandro De Marchi.
9km to go: Ineos and Jumbo-Jisma are now at the front of the peloton, safely negotiating their GC men to makes sure nothing goes wrong in these last few minutes of the Giro d'Italia.
6km to go: Still Ineos at the front. The sprinter teams are gathering behind them.
5km to go: Attack from, guess who, Derek Gee!
Gee has an EOLO-Kometa rider with him, and they have a gap of a few seconds
3km to go: Gee and the EOLO rider, Mirco Maestri, have ran out of steam, and have been caught.
2km to go: Movistar are on the front now, trying to set things up for Gaviria.
Now Thomas is on the front, leading the peloton.
1km to go: Bahrain-Victorious take over as they sweep round a corner into the final kilometre
Milan is third in line, Cavendish fourth. They both look very well placed
Cavendish launched his sprint early responding to Gaviria, and ended up winning by a country mile
Roglič also crossed the line safely, meaning he official seals overall victory in the Giro d'Italia
Unfortunately there was also a crash in the sprint, involving Pasal Ackermann. The big German is up and on the saddle, crossing the line now, very gingerly.
We'll have a full race report up soo, but for now Cavendish is being congratulated by countless people in the peloton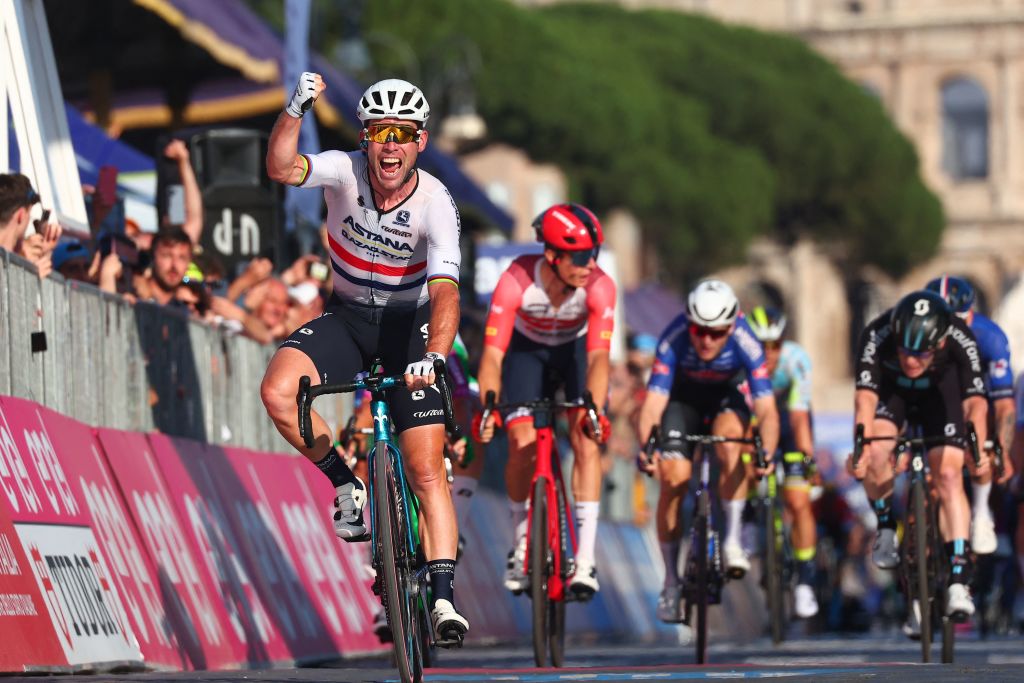 Here's our full race report of today's stage, with come comments from Cavendish and Thomas
Here's our report on the final stage of RideLondon Classique, won again by Charlotte Kool.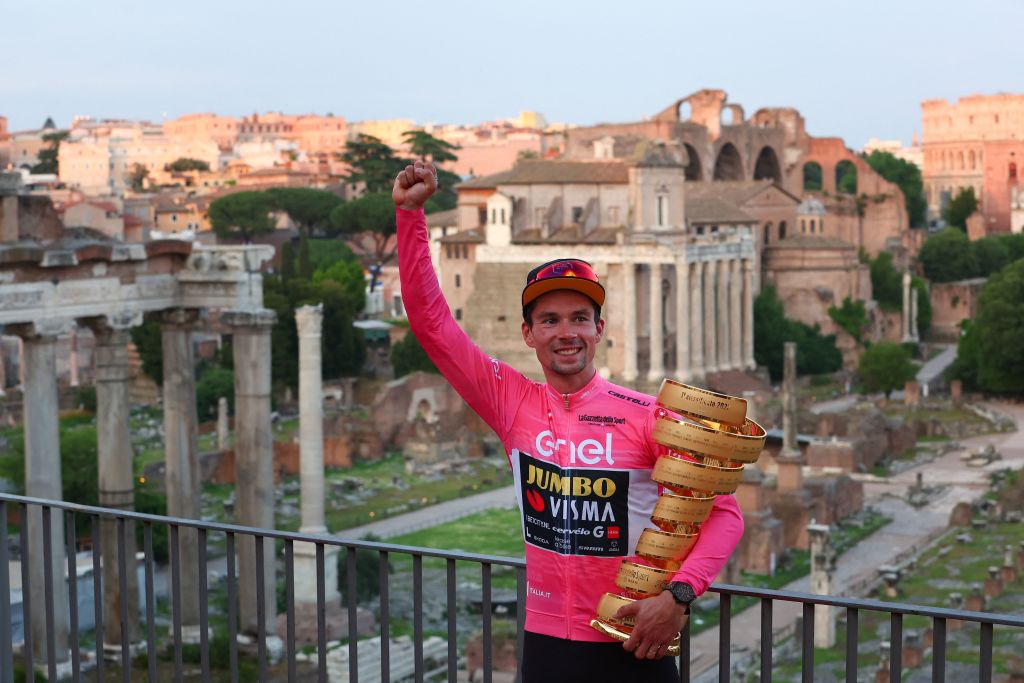 Thans for joining us today, and throughout this whole Giro. It's been a pleasure.
We'll leave you with Primož Roglič as he talks us through his emotions at being crowned winner of the 2023 Giro d'Italia.
'I'm enjoying the moment. I try to enjoy also the emotions, and everything that happened yesterday…it's always nice when you win, but this energy from yesterday, and today riding in this spectacular city surrounded with all these things, is super-beautiful. I enjoyed it a lot again.
'Like I always say, every win is definitely special. I'm just grateful to be able to achieve this one, and it will stay in my memories for the rest of my life.
Thank you for reading 20 articles this month* Join now for unlimited access
Enjoy your first month for just £1 / $1 / €1
*Read 5 free articles per month without a subscription
Join now for unlimited access
Try first month for just £1 / $1 / €1