Welcome to today's live blog, where we'll be keeping you updated as to what's happening at stage 15 of the Giro d'Italia, as well as the rest of the cycling world. It's the last day of the second week, and looks like an unpredictable one, as the riders take on an 'urban mountain stage' in Lombardy.
Key updates (all times BST)
11:09 Race underway
11:22 Cavendish set to announce retirment
11:29 17-man break of the day forms
13:47 Healy chasing KOM points and first over the Selvino
14:46 Vollering wins stage and overall of Vuelta a Burgos
15:11 Grégoire seals overall and Merlier the stage at 4 Days of Dunkirk
16:11 McNulty wins the stage ahead of Healy and Frigo
16:19 Armirail dropped, but retains the pink jersey
Refresh
The riders are in the neutralised zone. You sense this is the calm before the storm. As soon as the flag drops, expect a real fight to get into the breakaway.
Many puncheurs and classics specialists will see this as their last chance for a stage win: next week's stages feature hgh mountain stages and a couple of flat sprinter days, and nothing in between.
190km to go: The riders are off and the attacks have been flying. Ben Healy and Simone Velasco are up the road together, and a large chasing group are close behind.
As a 'mini Il Lombardia' that features the same hilly terrain in Lombardy that characterises that cycling monument, this could be a fruitful day for whichever puncheurs can get into the break.
The climbing could also be hard enough to draw the overall favourites into a GC battle later in the day, but for now it's all about which stage-hunters can successfully buy a ticket for the lottery by getting themselves in the break.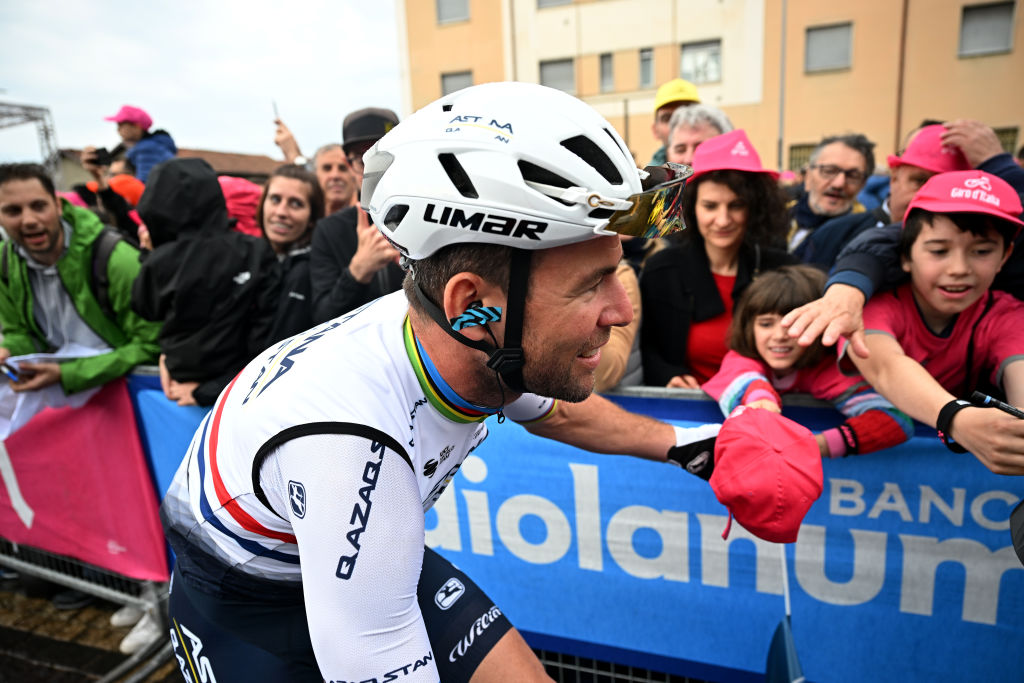 CAVENDISH SET TO ANNOUNCE RETIRMENT
Big news coming from Italy about the future of Mark Cavendish.
La Gazzetta dello Sport is reporting that the 38-year-old is set to announce his retirement at the end of the 2023 season.
It's understood that he will make the announcement during tomorrow's rest day at the Giro d'Italia.
Having signed for Astana Qazaqstan after a long hunt for a new team during the offseason, the Manxman is currently at the Giro and has been competitive in the bunch sprints, but hasn't managed to win a stage.
He is expected to take part in the Tour de France in July, where he will attempt to win the one stage he needs to break the all-time record for most number of Tour stage wins.
That's quite the bombshell about Cavendish, but perhaps not something we shouldn't have seen coming. We're so used to him bouncing back from setback after setback that at times it has felt like he could go forever. But time is at last catching up on him — in fact, he's turned 38 today (happy birthday Cav!)
170km to go: Back to the racing, Healy and Velasco have been joined by another 13 riders, and it appears we have our break of the day. The peloton has eased up and the gap is over four minutes already. We'll run through the full list of riders present shortly.
Here's a full list of the riders in the 15-man break.
As well as Healy and Velasco, the rest of the group includes: Brandon McNulty (UAE Team Emirates), Bauke Mollema (Trek-Segafredo), Davide Ballerini (Soudal-QuickStep), José Joaquín Rojas (Movistar), Alberto Dainese (DSM), Vincenzo Albanese, Francesco Gavazzi (both EOLO Kometa), Andrea Pasqualon (Bahrain-Victorious), Sebastian Berwick, Marco Frigo (both Israel-Premier Tech), Niccolò Bonifazio, Laurens Huys (both Intermarché - Circus - Wanty) and François Bidard (Cofidis).
Behind, two more riders are chasing to try and join them: Martin Marcellusi (Green Project-Bardiani CSF-Faizanè) and stage 13 winner Einer Rubio (Movistar).
160km to go: We're approaching the first of the day's four climbs, Valico di Valcava. It's a real tough one, too, with a maximum gradient of 17%. Ineos Grenadiers DS Matteo Tosatto said yesterday that he expected a 'big casino' on it.
'I remember in the Tour of Lombardy, it's a super-hard climb. I think it's the first very, very steep climb in this Giro.'
160km to go: Rubio is now in the lead group, after his Movistar teammate Rojas dropped back to help him bridge up. There's no Marcellusi, who was distanced by Rubio, meaning the break is sixteen strong.
That could be a significant moment in the race, as Rubio is arguably the strongest climber in the group, and will be among the top candidates for the win should the break survive.
155km to go: The break is on the climb, and they're going at a steady pace. No need to rush up it as the peloton have let them have a gap of over six minutes.
It's very relaxed out there. Ballerini has a big smile on his face as he skirts his bidon over a fan with a megaphone on the roadside - he's from around here, so presumably it's someone he knows.
150km to go: Marcellusi did make it into the break after all despite being dropped by Rubio when they were chasing. But we're not sure for how long: he's struggling to stay in the group on the climb.
This is turning out to be a much calmer day than it might have been. The weather is milder than it has been for much of the Giro and the rain has held off, and the big gap that's already formed between the break and the peloton, and the lack of any GC threats in the break, means both groups can afford to take this difficult climb easily.
148km to go: There's lots of interest in the King of the Mountains points as the break nears the top. Healy and Rubio were very combative, even rubbing shoulders as they sprinted against each other. Healy came out on top to take the maximum points.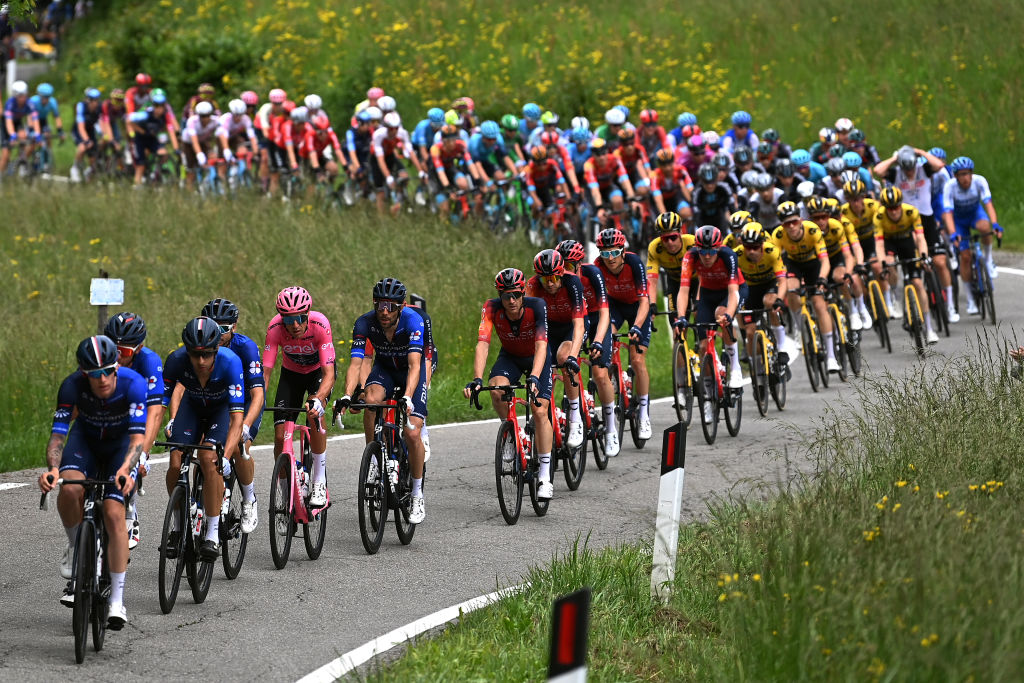 Here's Groupama-FDJ at the front of the peloton fulfilling their new duty of defending the pink jersey, after Ineos Grenadiers allowed Bruno Armirail to take it from Geraint Thomas yesterday. The climbing today is tough enough to mean this is the Frenchman's one and only day in pink, but he stands a chance of holding it going into the rest day if the pace remains as calm as it is currently.
120km to go: Still very quiet on the road. Neither group is in much of a rush, and the gap between them is 6-30.
Having already won a stage last weekend by such a whopping margin, Ben Healy will surely be among the favourites for the stage win from the break.
He said in a pre-stage interview that he has been struggling with a mild illness since then, but the way he attacked to get into the group today, and again for the King of the Mountain points, suggests nothing's holding him back today.
'This week's been a bit of a struggle. Our team [EF EducationEasyPost] has been hit with a bit of illness, and I'm sure I'm carrying something small. That's not to say that I don't have any legs, but I'm not quite at 100%, but I'm still gonna go out there and race 100%.'
108km to go: Ballerini jumped out of the break to reach the intermediate sprint first, and claim maximum points in the race for the maglia ciclamino. Everyone else was happy to roll over.
Here's our write-up of the big news about Cavendish's expected retirement announcement
105km to go: The riders are now on the Selvino, a climb that will be familiar to those who have experienced Il Lombardia in the past. It's still too far from the finish for attacks to be made, but will wear the riders out ahead of the next two climbs.
104km to go: A rare sight at this year's Giro: the sun is out! Ben Healy is even hot enough to spray a bidon over himself as he climbs the Selvino.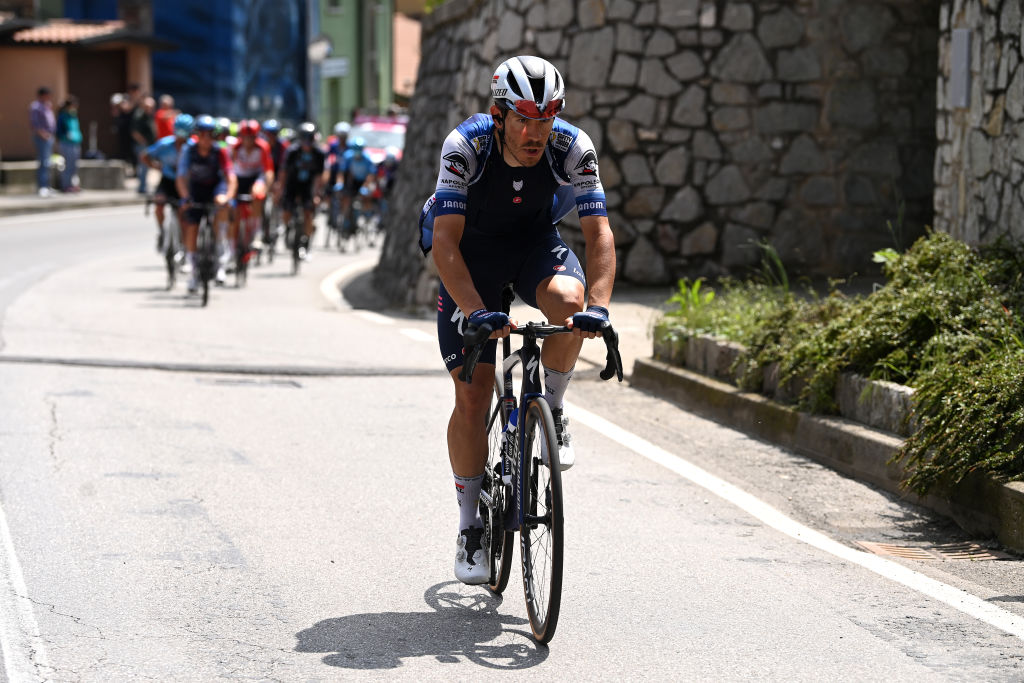 As well as Healy, Einer Rubio is another rider in the break looking for their second. By sneaking victory a couple of days ago while Thibaut Pinot and Alex Cepeda engaged in their own private duel, the Colombian showed he had brains as well as climbing legs, which could hold him in good stead again today.
As a former winner of Il Lombardia in 2019, Bauke Mollema must surely fancy his chances in this terrain, while Brandon McNulty is another rider who's climbing is a level above most of the rest in the break.
The likes of Vincenzo Albanese, Alberto Dainese, Davide Ballerini and Andrea Pasqualon would be favourites in a sprint, but the climbs are likely to be too hard for the stage to be decided that way.
Elsewhere in Europe, it's the final stages of both the women's Vuelta a Burgos and men's Four days of Dunkirk, while the Rund um Köln classic is taking place. We'll keep you up to date of the outcomes of all of those races.
96km to go: Healy is first to the top of Selvino, to gain more points in the KOM classification. Rubio was second again, but didn't put up as much of a fight this time.
96km to go: Despite the calm there's been a minor crash in the breakaway group, with Velasco, Frigo Berwick going down. McNulty also suffered a mechanical, and is chasing back to the group with them. Meanwhile Dainese was dropped on the climb and is about to be caught by the peloton.
89km to go: Velasco, Berwick and McNulty all look OK and have just descended their way back to the group.
87km to go: The break is now on the next climb, Miragolo San Salvatore. Rojas has upped the pace in service of his Movistar teammate, and Ballerini has been dropped from the group. This could be the climb where the race for the stage win kicks off.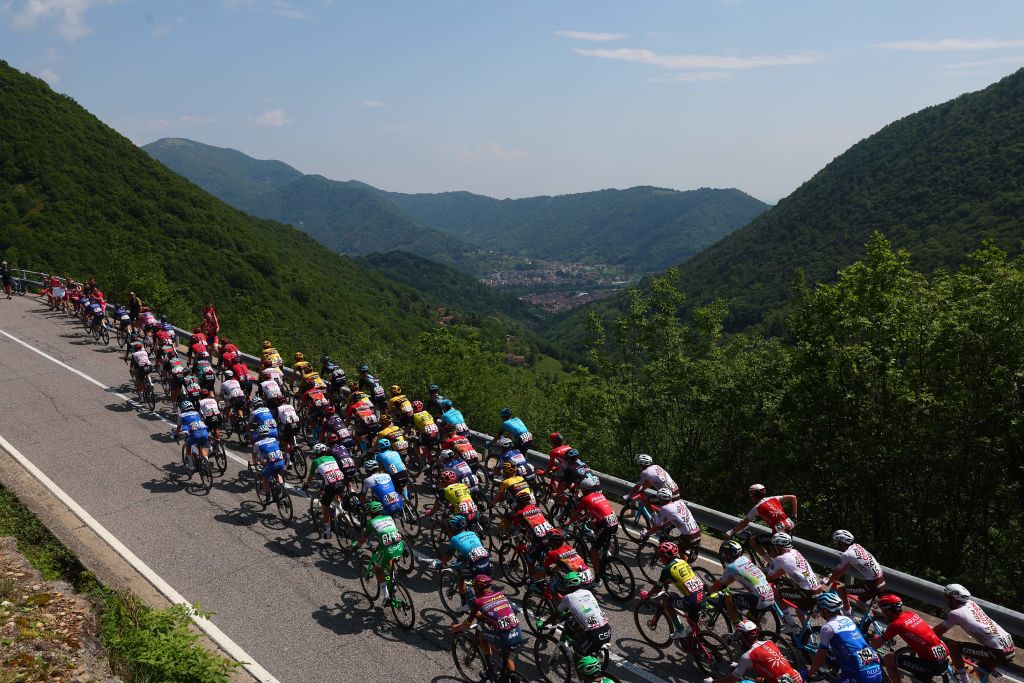 Much sunnier now, as the riders enjoy the landscape of Lombardy.
85km to go: A close shave for Ballerini as he swerves to avoid one of the cars in the convoy as he tries to work his way back into the peloton. That could have been dangerous.
83km to go: Rubio and Healy again sprint for the points at the top of the climb, and this time they're almost neck-and-neck. Rubio just about edges it.
All of these climbing points mean Rubio and Healy are now third and fourth in the King of the Mountains Classification, with 112 and 90 points respectively. They still trail leader Davide Bais, who has 144 points, and Thibaut Pinot, on 112.
70km to go: Attack from Healy! This is a surprise move given that the break are currently on a long flat stretch before the next and final climb, Roncola Alta. He seems to be trying to catch the rest of the break by surprise.
69km to go: Healy decided not to press on, however, and is back in the group.
66km to go: The riders are now on a long flat road before the start of the next and final climb, Roncola Alta, which begins 30km from the finish. There are sure to be attacks in the breakaway group as they battle for the GC group, and potentially some GC action in the peloton - although based on how this Giro has been raced so far, don't count on it.
VOLLERING WINS AGAIN TO SEAL OVERALL AT VUELTA A BURGOS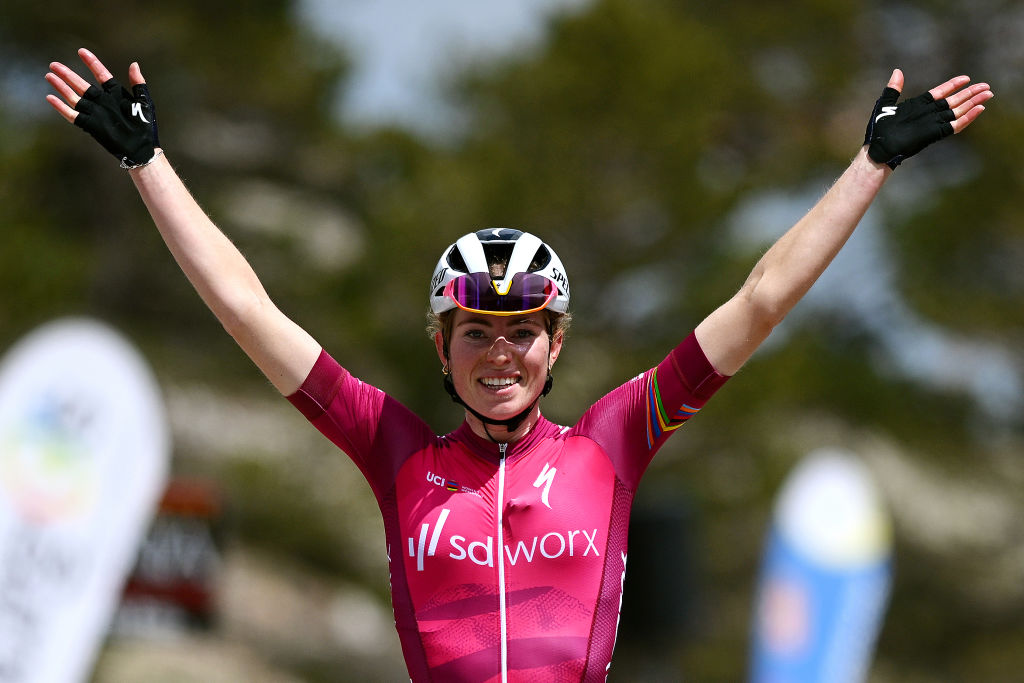 Some of the races happening elsewhere in Europe have just come to an end.
Surprise, surprise, Demi Vollering has won yet again to claim the stage and the overall at the women's Vuelta a Burgos. She soloed to victory on the final climb to take the stage, with Erica Magnaldi arriving in next followed by her UAE Team Emirates teammate Silvia Persico.
Shirin van Anrooij and Ashleigh Moolman were next over the line, meaning they seal second and third overall behind Vollering.
That is Vollering's twelfth win of the season, and continues a truly stunning run of dominance.
Despite her success, she hadn't actually taken an overall title in a stage race this year before now, having placed second at Vuelta Femenina. behind Annemiek van Vleuten and second behind her teammate Marlen Reusser at Itzulia.
And at Rund um Köln, Danny van Poppel has defeated Milan Menten and Jasper De Buyst in a small group sprint.
54km to go: The break is passing the finish line for the first time before taking on the final circuit. The pace was increased over an unclassified lump a few kilometres ago, seeing Gavazzi dropped, but the decisive moves are yet to be made. With a gap of over six minutes to the peloton, the winner of the stage is bound to come from this group.
48km to go: One rider who isn't willing to wait for the climb is Bonifazio, who'd just launched an attack from the break. It makes sense: the Italian won't be able to keep up with the climbers on the uphill, so may as well try and get himself a head-start before it to keep himself in contention for the stage win.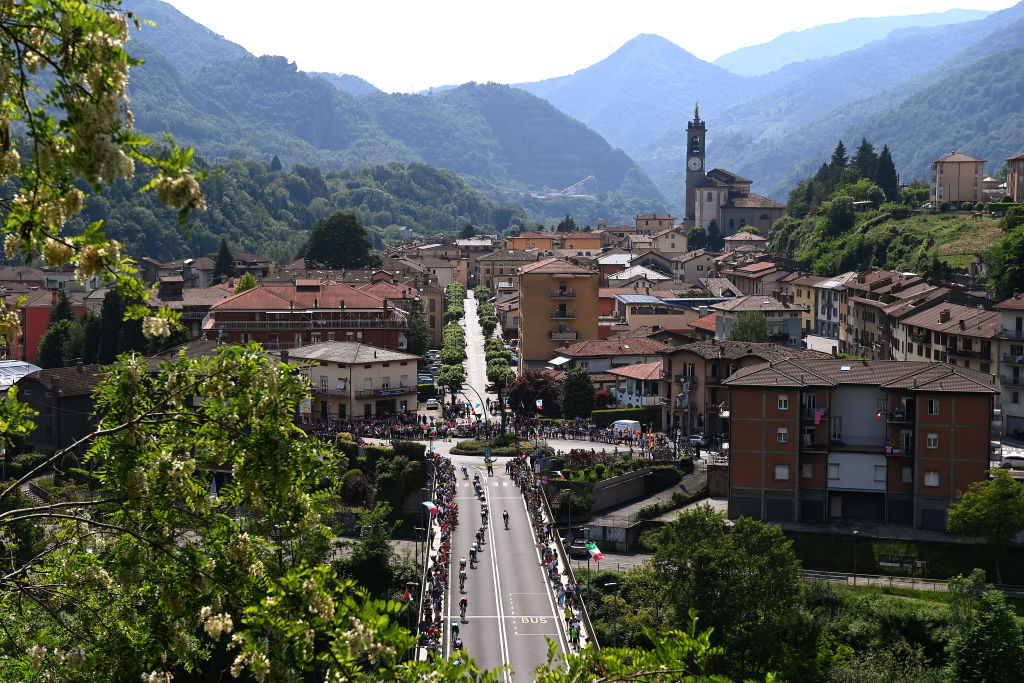 43km to go: Bonifazio's built a big lead ahead of the climb. It's up to 40 seconds ahead of a che group, who aren't panicking.
40km to go: Bonifazio is first to the intermediate sprint, but things are about to get a whole lot harder for him - he's about to start the climb.
39km to go: Bonifazio is on the climb. He has a healthy lead of over one minute, but this is a hard, long climb, and that gap could be about to be obliterated.
Meanwhile at the Four Days of Dunkirk, Tim Merlier has taken the final stage, while Romain Grégoire (Groupama-FDJ) has sealed overall victory.
37km to go: Rojas is setting the pace in the group in pursuit of Bonifazio. His lead is now down all the way back to 20 seconds.
37km to go: Attack from Frigo in the break. McNulty is pursuing behind.
37km to go: Things getting interesting in the peloton for the first time today. Jumbo-Visma have warmed to the front as they begin the climb. Could Primož Roglič be planning an attack?
37km to go: Perhaps not: the pace is down again, and UAE Team Emirates are now at the front instead
36km to go: McNulty has caught Frigo, and now Healy has attacked having initially stuck to the wheel of Rubio. It doesn't look like it'll be long till Healy will be with the duo.
35km to go: Healy is with them now. Frigo is struggling to stay with their pace, but is hanging on for now. Rubio is chasing behind.
Bonifazio was caught a while ago, by the way, and is now further down the mountain.
34.5km to go: Attack from McNulty. Healy is on his wheel immediately, but Frigo is struggling
34km to go: Now a counter-attack from Healy…and he's dropped him! Is this the race-winning move from the Irishman?
34km to go: Frigo is back with McNulty. They're going to have to go well together to catch Healy though, who has a reasonable gap already and a few more kilometres of climbing to extend it.
33km to go: Healy is 22 seconds ahead of McNulty and Frigo, who are themselves 30 seconds ahead of Rubio.
Meanwhile in the peloton, we're sorry to report that no attacks look forthcoming, as everyone is looking related and taking their time on the climb. It looks like it'll be another stalemate in the GC race.
32km to go: McNulty's pace is too much for Frigo, who is being distanced.
30km to go: Healy is going well, and crests the top first. But this doesn't look like it's going to be a repeat of his stage win last week when he rode away from everyone to win by several minutes. McNulty is bearing down on him and might catch him on the descent.
28km to go: This is tantalising for McNulty. He has Healy in sight, and is within ten seconds of him, but he can't quite make the catch.
26km to go: McNulty's made it! He's on Healy's wheel now. With no more climbs to come, this will be an intriguing battle for the stage win.
24km to go: Behind, Frigo hasn't given up hope yet. He's 35 seconds adrift from the leading duo, and going hard down the descent.
The peloton are also now descending, having reached the top of the climb. No attacks to report: all the GC action has been reserved for the final week.
18km to go: Frigo isn't making any more inroads, and remains over 30 seconds adrift. It looks like it's between Healy and McNulty for the stage.
Will either rider attack or wait for a sprint? When Healy was in a similar situation at the finish with Dorion Godon at De Brabantse Pijl in the spring, he lost comprehensively in the two-up sprint. He might therefore not be happy to sit and let this one go to a sprint as well.
14km to go: Frigo isn't out of it just yet: his defecit is down to 20 seconds now.
11km to go: Frigo has them in his sights now. Just 11 seconds behind. What a story it would be if the Italian gazumps them both.
10km to go: Frigo has made it! He, Healy and McNulty are together now at the front.
8km to go: Back in the peloton, Warren Bargil is, for some reason, attacking. Is he bored? Has he forgotten there's a breakaway up the road contesting for the stage win? Who knows.
7km to go: Attack from McNulty! Healy is trying to bring him back, with Frigo on his wheel.
6km to go: Healy shuts it down, and Frigo counter-attacks. Healy shuts that down too, and the three remain together.
5km to go: Healy accelerates through a chicane as they enter town for the stage finale, but doesn't get a gap.
4km to go: Frigo leads the pace on an urban cobbled stretch. No more attacks yet...
3.5km to go: Healy attacks on an uphill section! McNulty's on his wheel, Frigo's losing ground
3km to go: It's between Healy and McNulty now, as they finish that short climb. Frigo is well distanced.
2km to go: McNulty isn't taking any turns, forcing Healy to do all the work
1km to go: Healy still on front as they enter the final kilometre
500m to go: Frigo is back, and he's attacked them!
And McNulty takes the win!
Late drama there as Frigo, seemingly down and out again, caught them on the finishing straight and went straight over them. Healy responded to latch onto his wheel, but in doing so gave McNulty the perfect lead-out he needed to take the stage win.
Meanwhile in the peloton, the pace is back up as they arrive onto the unclassififed climb
Armirail in the pink jersey has been dropped
Roglic is on his wheel and is dragging another half a dozen riders or so with him
Now Thomas takes over. Almeida, Roglic, Leknessund, Caruso are also in this small group, but not Armirail. Nor, it seems, Kamna.
Dunbar and Barguil(!) are also in this small group of favourites.
The Thomas/Roglic/Almeida group are on the finishing straight, just a few seconds ahead of the chasing group
Those two groups are only separated by a few seconds at the line, so there won't be any significant changes in the GC
Now Bruno Armirail's group arrives, and he's lost a bit more time - about 20 seconds. That's enough to keep him in pink.
Thanks for joining us today. For a stage report and some winner's quotes, look here
Enjoy the rest day and come back for Tuesday's venture into the mountains, where the GC action will really start to kick off - we promise this time.
Thank you for reading 10 articles this month* Join now for unlimited access
Enjoy your first month for just £1 / $1 / €1
*Read 5 free articles per month without a subscription
Join now for unlimited access
Try first month for just £1 / $1 / €1