The second rest day has passed and we're back into the action at the Tour de France. Today, it's an individual time trial - the only one of this year's race - and the stage is set for a GC showdown between Jonas Vingegaard (Jumbo-Visma) and Tadej Pogačar (UAE Team Emirates).
10 seconds separate the duo ahead of the day, with the Dane in command of the yellow jersey. Can Pogačar finally topple him? Join me, Tom Davidson, for live updates as we find out.
Refresh
Passy > Combloux - ITT (22.4km)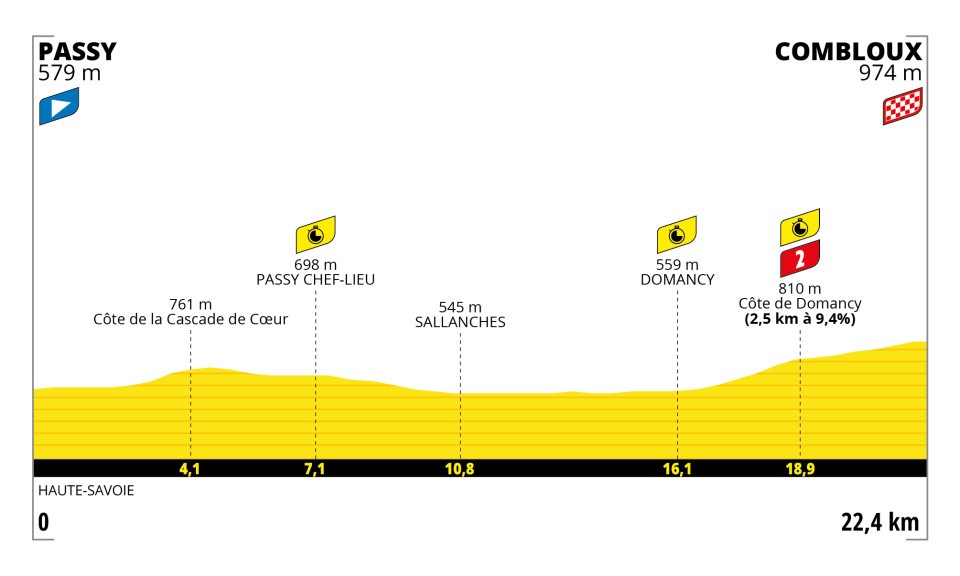 Ahead of today's stage start at 12:05 (BST), let's take a look at what's in store for the riders.
The French Alps play host to a tough, uphill time trial between the communes of Passy and Combloux. At only 22.4km in length, it's a short race against the clock, but the final kicker to the line (2.5km at 9.4%) will certainly slow the riders down.
There have been rumours of planned bike changes before the Côte de Domancy, with some expected to change their time trial steeds for road bikes, so keep an eye out for that.
Key start times
Here are some of the start times to look out for in today's ITT. The riders will go down the ramp in ascending order depending on where they are in the general classification, so the current lanterne rouge, Soudal Quick-Step's Michael Mørkøv, will be off first.
12:05 - Michael Mørkøv (Soudal Quick-Step)
13:10 - Fred Wright (Bahrain Victorious)
14:21 - Mathieu van der Poel (Alpecin-Deceuninck)
14:22 - Neilson Powless (EF Education-EasyPost)
15:00 - Julian Alaphilippe (Soudal Quick-Step)
15:19 - Wout van Aert (Jumbo-Visma)
15:36 - Thibaut Pinot (Groupama-FDJ)
15:38 - Tom Pidcock (Ineos Grenadiers)
15:46 - Simon Yates (Jayco AlUla)
15:50 - Sepp Kuss (Jumbo-Visma)
GC Top 5
15:52 - Jai Hindley (Bora-Hansgrohe)
15:54 - Adam Yates (UAE Team Emirates)
15:56 - Carlos Rodríguez (Ineos Grenadiers)
15:58 - Tadej Pogačar (UAE Team Emirates)
16:00 - Jonas Vingegaard (Jumbo-Visma)
All times are in BST. Check out our sister website Cyclingnews for a full list.
Here's some pre-race reading for you. My colleague Adam Becket, who is on the ground in Combloux today, has been asking the Tour de France peloton what they're expecting from the ITT.
"It's not going to be one for the specialists," Stefan Küng told him. "It's going to be more one for the GC contenders."
Read the full piece: The Tour de France's crucial stage 16 time trial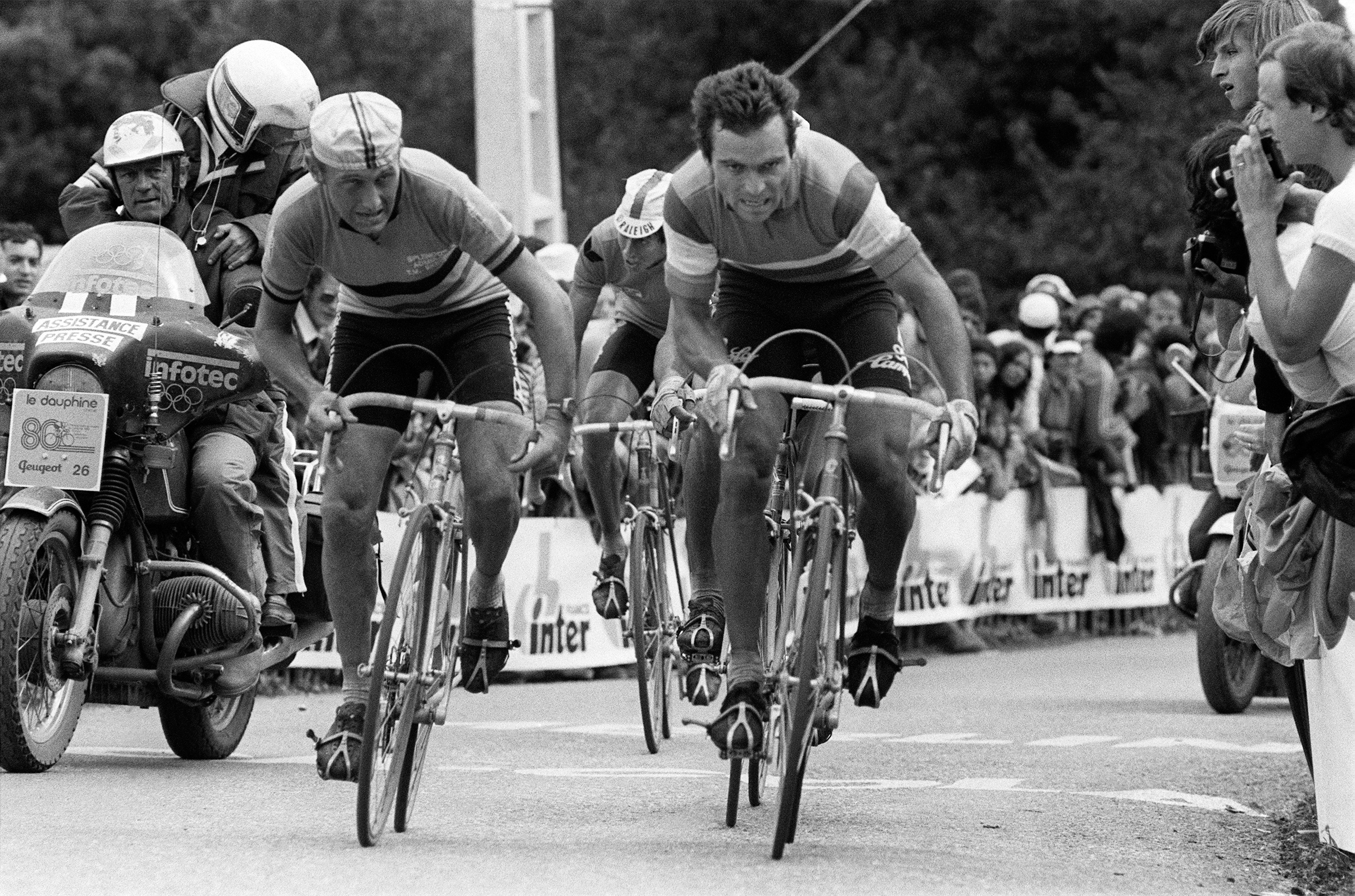 If the Côte de Domancy sounds familiar to you, it might be because it was the key climb in the 1980 World Championships, held in Sallanches and won by Frenchman Bernard Hinault. That day, the peloton tackled the climb 20 times, with only 15 riders making it to the finish.
The Côte has also featured twice before at the Tour. It made its debut in 2016 in the Sallanches-Megève time trial, and returned to host a Pierre Latour stage win in 2021.
Bike change for Tadej?
Pogacar trocou de bike no reconhecimento da crono ind de amanhã.#Tdf2023 #ciclismonaespn pic.twitter.com/v7aQwVBBRSJuly 17, 2023
See more
During his recon ride of the time trial course yesterday, Tadej Pogačar performed a bike change, switching to his road bike for the steep final climb.
It is likely that the Slovenian's time trial bike is considerably heavier than his lightweight Colnago V4RS. If he can knock off a few kilograms of weight there, then he has the potential to save a handful of watts and take back crucial seconds.
It is unknown if Jonas Vingegaard will also go for a bike change, though he has been spotted on a stripped-back, weight-cutting Cérvelo P5 TT bike. The chances are he'll ride it the whole way.
Ahead of today's stage, the Eritrean national road race champion, Awet Aman, rode the ITT course on a single-speed Qhubeka bike.
Aman took on the challenge to raise money for the Qhubeka charity, which donates bicycles to children across southern Africa. Today, on Mandela Day, the Tour is celebrating its partnership with Qhubeka.
#TDF2023 20y old Eritrean national road race champion 2023 is riding @LeTour ITT on a @Qhubeka bike on #MandelaDay Read more about Qhubeka and donatehttps://t.co/BtP58oc3do pic.twitter.com/m2vnOGMTQNJuly 18, 2023
See more
King of the mountains duel
It's not all about the yellow jersey battle today. There's going to be a fight for KOM points on the top of the category-two Côte de Domancy.
Our reporters on the ground have discovered that Neilson Powless (EF Education EasyPost) will be running a unique set-up today - a road bike with a disc wheel - in an attempt to regain the polka dot jersey. The American is riding a 54/40, with a 40mm deep front wheel and turned-in hoods.
Giulio Ciccone, the current king of the mountains, is expected to change bikes at the foot of the climb. He is currently tied with Powless on 58 points.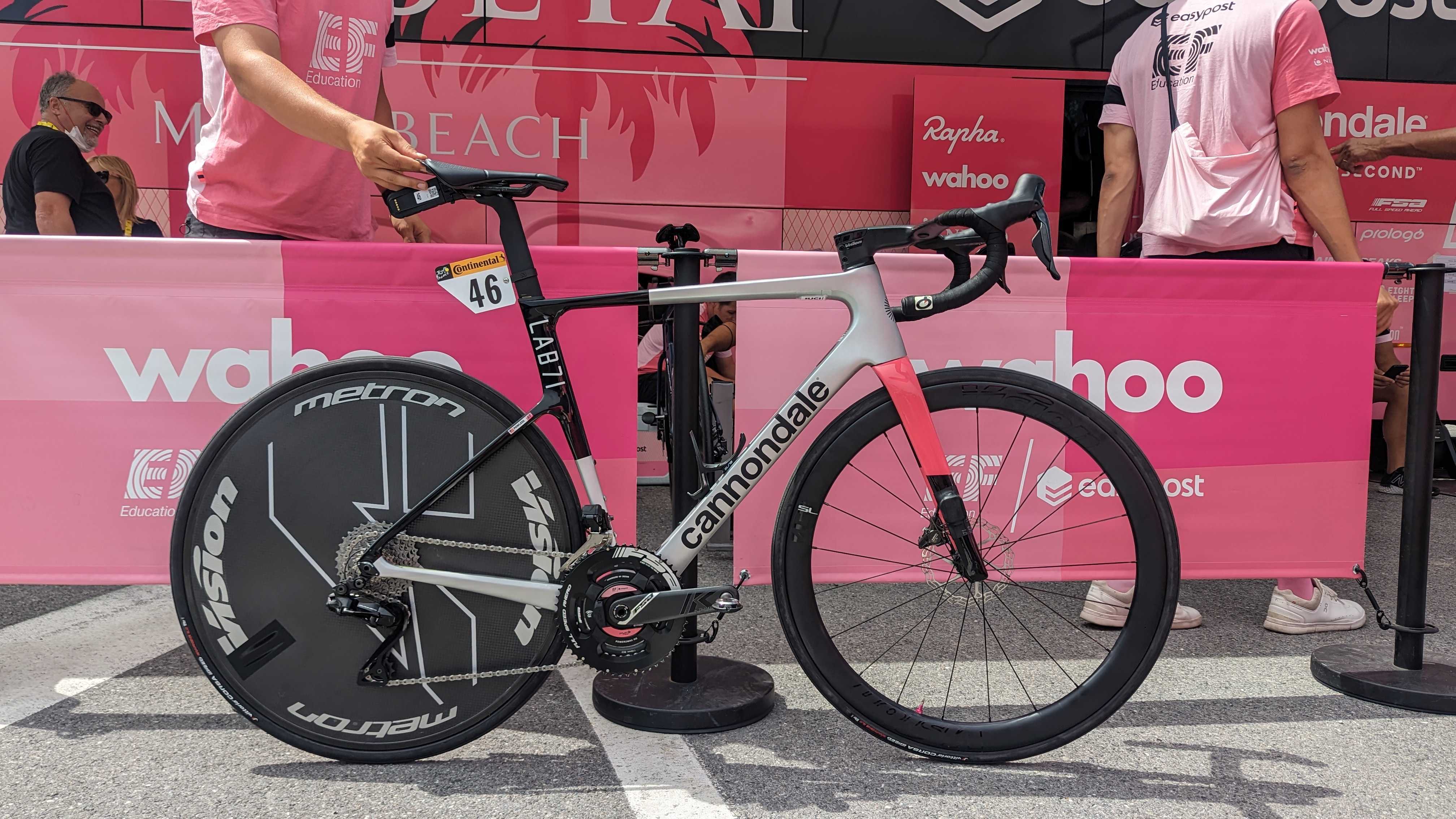 Stage 16 gets underway
Michael Mørkøv (Soudal Quick-Step) rolls down the start ramp and opens proceedings for today's stage.
Already, just a few kilometres into the course, Mørkøv is climbing. The first ascent is uncategorised, but with pitches at 10%, it is not to be sniffed at.
John Degenkolb hits the deck! Just 200 metres into his run, the dsm-firmenich rider swings onto a right hander and slides out. Oily roads perhaps?
Alexis Renard (Cofidis) has gone down, too. Same corner as Degenkolb's crash.
I'm now grimacing every time a rider comes into the first bend. Two riders have already fallen, and the stage only started 15 minutes ago.
Make that three crashes. Nils Eekhoff goes down as well. The first corner is cursed.
Mørkøv has 6km remaining of his effort and is now on the Côte de Domancy. He has stuck with his TT bike and is sat up comfortably in his saddle, spurred on by the fans that line the roadside.
13% gradients now for Mørkøv. It looks tough, and it's not abating.
With 4km to go, the road kicks up to 14%. The race organisers have put a line of yellow rope at the side of the road, which most fans are staying behind.
The tough climbing has stopped for Mørkøv, 3km from the line, and he's back in his aerotuck position. Expect other riders to do similar throughout the day.
Norwegian TT champ Soren Waerenskjold (Uno-X) performs the first bike change of the day, and ships a few seconds in doing so. He did so at 5.6km to go, at the bottom of the climb.
Mørkøv was the first off and he's the first across the line. 39-46 is the benchmark, with an average speed of 33.8km/h.
The main takeaway is that the climbing doesn't really stop for the last 6km, even if the categorised ascent is just 2.5km long.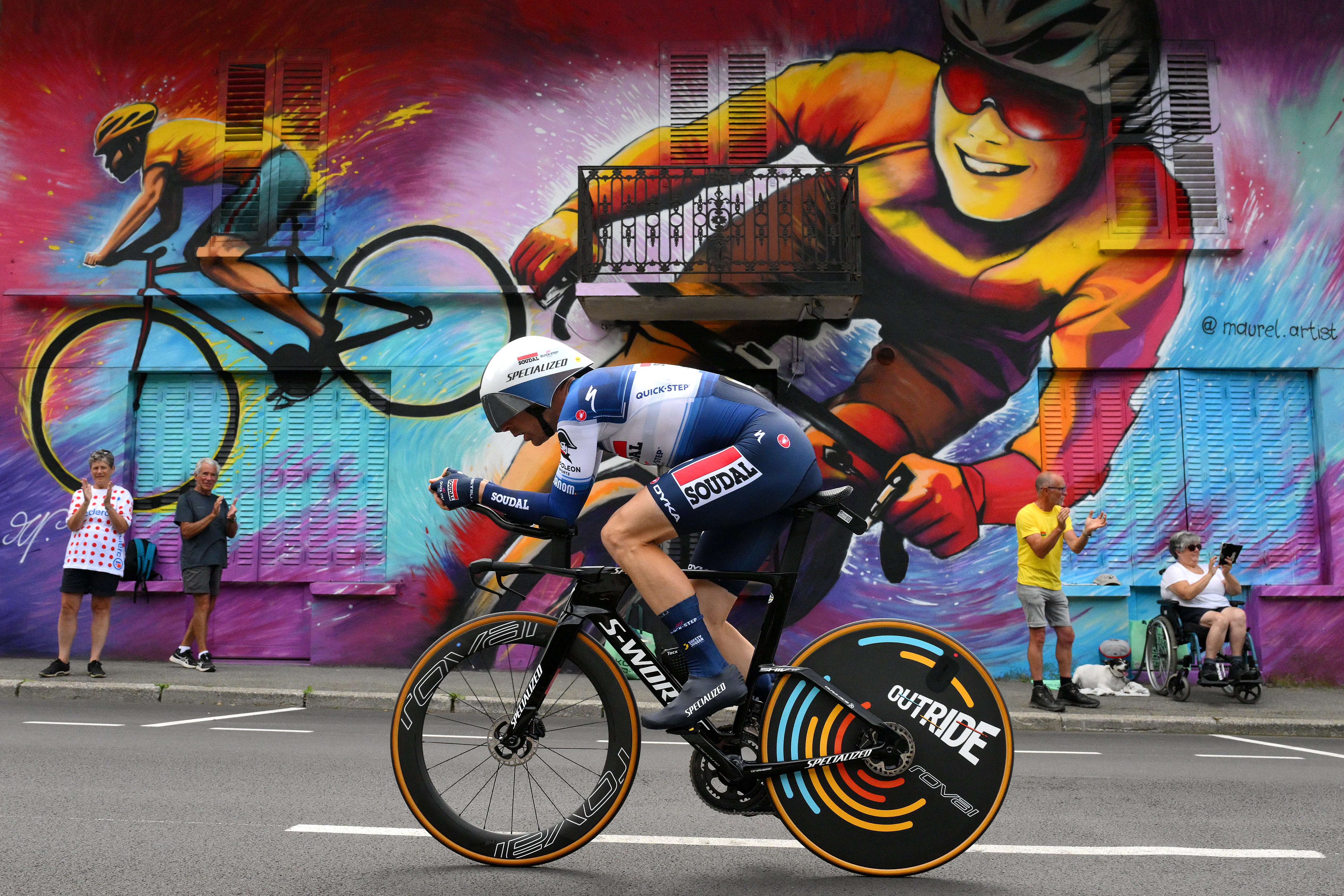 Hi all, Tom Thewlis here taking over a bit while Tom Davidson grabs some lunch!
Peter Sagan is out on the course at the moment and on the verge of catching Mikkel Bjerg (UAE Emirates)

Strong ride from the seven-time Tour de France green jersey winner.

He's in sixth place out on the road at the first intermediate time check, although that won't count for much whatsoever by the time the favourites get going later.

Either way, hats off to him.
Sagan has just passed Bjerg as he goes for a bike change.

That's got to be the slowest bike change in history. Perhaps UAE are using Bjerg as a guinea pig for a change for Pogacar later?


Looks like Bjerg has just passed Sagan again..... that didn't last long!

Bjerg changed his bike on a pretty steep section of the Côte de Domancy.... will be interesting to see if UAE choose the same point for a change for Pogacar IF he chooses to switch.
Right! Here goes Rémi Cavagna.

The Frenchman can put some serious power down, so could go well here.

The French national champ isn't the most accomplished on hillier terrain, but should still put in a solid ride.
Sean Kelly is saying on Eurosport right now that he doesn't see how a bike change can make that much difference today.

Are we seeing more mind games from UAE and Pogačar this afternoon?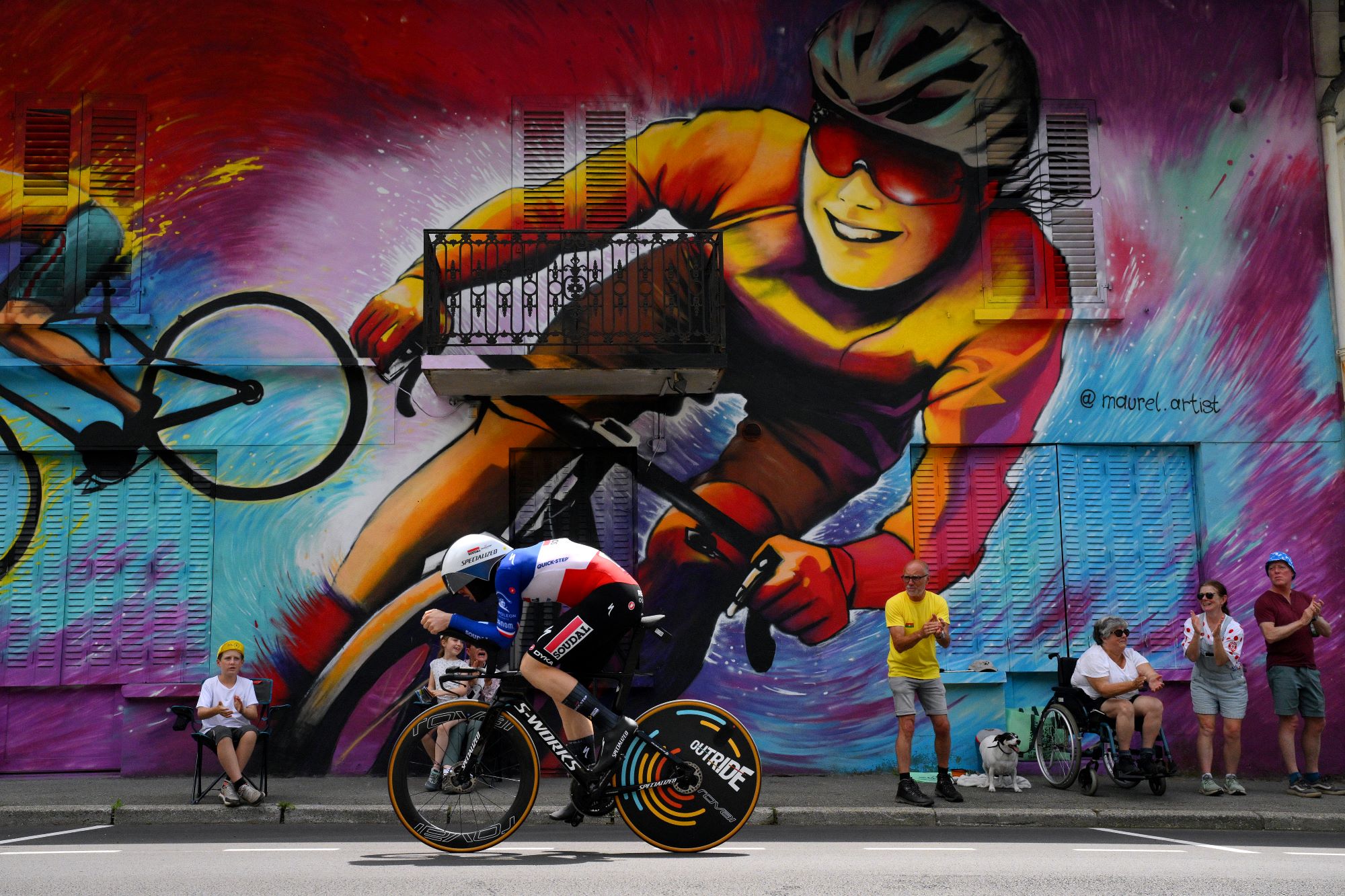 Here's Cavagna out on the road.

He's absolutely flying at the moment as expected.
Rain is forecast out on the course this afternoon and the black clouds are looking pretty ominous!
Cavagna is still flying.... he's about go go through the second check point out on the road.

He's just set the best time at the second check point and is about to start climbing the Côte de Domancy.
Cavagna is being roared on by the French supporters as he tackles the 11% gradients on this climb.

He's going really deep to get a good result here, not far now to the finish.
Mads Pedersen has just taken over the hot seat at the finish, beating Bahrain Victorious' Nikias Ardnt's time by 1-12.

Cavagna should almost certainly displace Pedersen straightaway though.

As expected there we have it!

Cavagna beats Pedersen and sets a new time of 35-42 and averages 37.6 kph.
We bid farewell to Tom Thewlis now, as I (Tom Davidson) am back from my lunch break. Three-bean Mexican soup, for those of you wondering.
The current podium, with around 80 riders still to come, is:
1. Rémi Cavagna (Soudal Quick-Step) - 35.42
2. Mads Pedersen (Trek Segafredo) - 36.07
3. Fred Wright (Bahrain Victorious) - 36.35
Speaking after his effort, Cavagna has said his time should be well beaten this afternoon. He reckons he's in for a "top 10, maybe top 15".
Kasper Asgreen (Soudal Quick-Step) comes close to his team-mate's time, but he's 35 seconds short of the hot seat.
A sprint finish? In a time trial?
Bryan Coquard and Benoît Cosnefroy had some fun when they crossed the line.
Oh quel sprint chaud sur Combloux entre Le Coq et @BenoitCosnefroy ! Quel final messieurs ! Merci ! 😁#TDF2023 pic.twitter.com/KM0lS08KIBJuly 18, 2023
See more
Victor Lafay (Cofidis) hits the floor, within touching distance of the finish line. Looks like his chain locked up as he got out the saddle.
Mathieu van der Poel (Alpecin-Deceuninck) and Neilson Powless (EF Education-EasyPost) are both out on the course.
Remember, Powless has set out to do the entire course on a modified road bike - complete with a disc wheel. He's after the KOM points.
We're well over the halfway mark, with just 56 riders still to start. The big guns will start setting off in an hour or so.
⏱ Tick, Tock...💛 Get ready!🤍 Soyez prêts !#TDF2023 | @TISSOT pic.twitter.com/VtDJWXqakAJuly 18, 2023
See more
Here goes Stefan Küng (Groupama-FDJ), everyone's favourite nearly man. The hilly course isn't suited to him, but he'll definitely give it a good nudge.
Cavagna's time (35-42) still reigns supreme in Combloux.
A strong TT pain face from Pierre Latour (TotalEnergies). He's provisionally in fourth place, 51 seconds off Cavagna.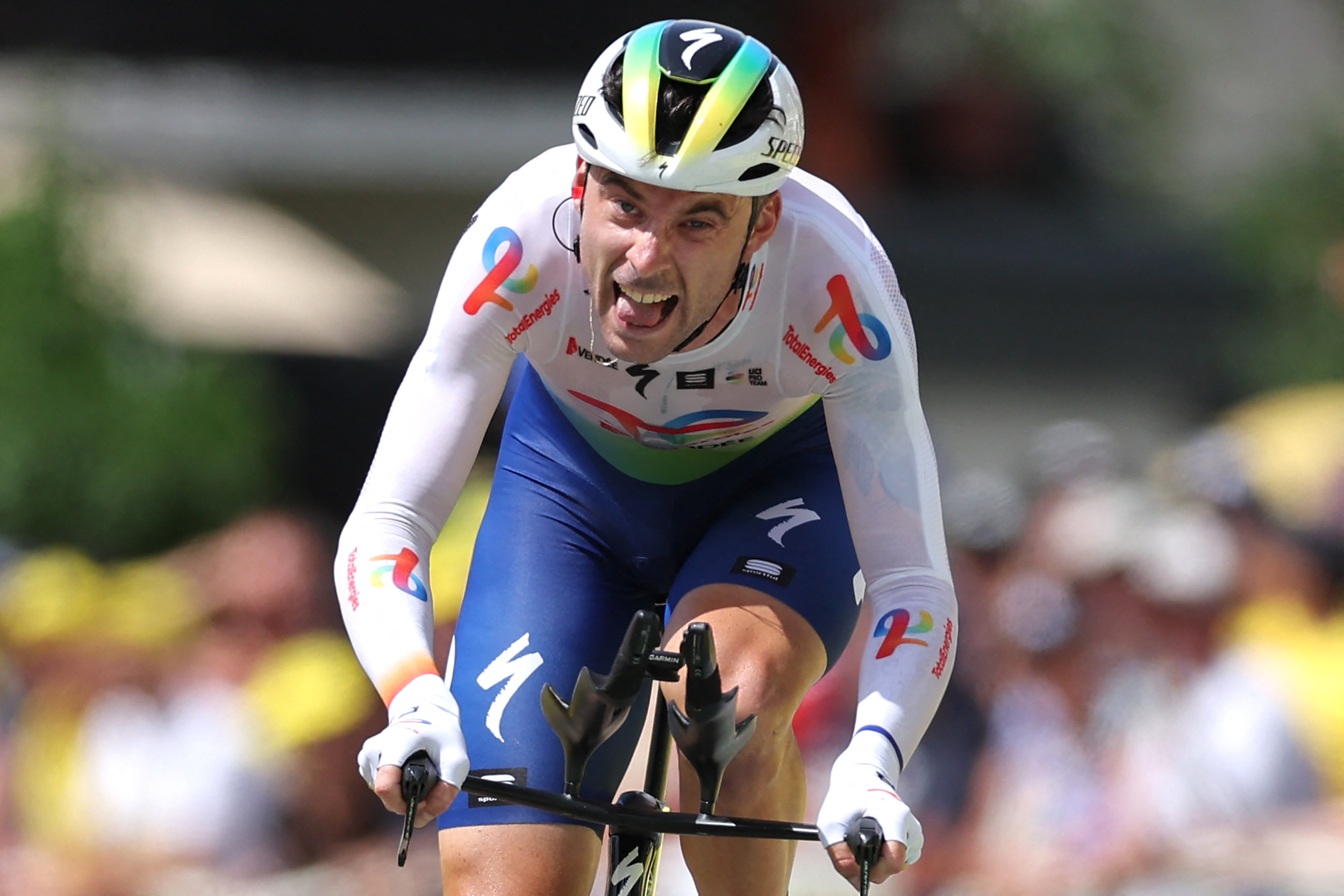 Küng sets a new best time to the first time check, around 7km into the course. He'll slow down on the climb, though (or will he?).
Powless has powered up the Côte de Domancy. He grinds to a near standstill at the top, but he's still got 4km to go.
A bike change for Küng, who looks to be bang on Cavagna's pace at the moment.
Tough final effort for Küng as he comes into the line here.

He faded towards the end there and finished fifth, quite a way off Cavagna's time.
You can see a few riders really beginning to struggle as they gradually reach the summit of the Côte de Domancy.
It looks pretty hot and humid out there, here's what Kasper Asgreen had to say at the finish.

"[It's] really brutal. The last part from the steep part to the finish line was endless, it's still 5-6% uphill after [the Côte de Domancy]. With the heat and the humidity, it's horrible."
Here goes Wout van Aert down the start ramp. Jumbo-Visma, interestingly, are still yet to win a stage in this year's Tour.
Let's take a moment to appreciate Giulio Ciccone's polka dot skinsuit. Very classy, Giulio.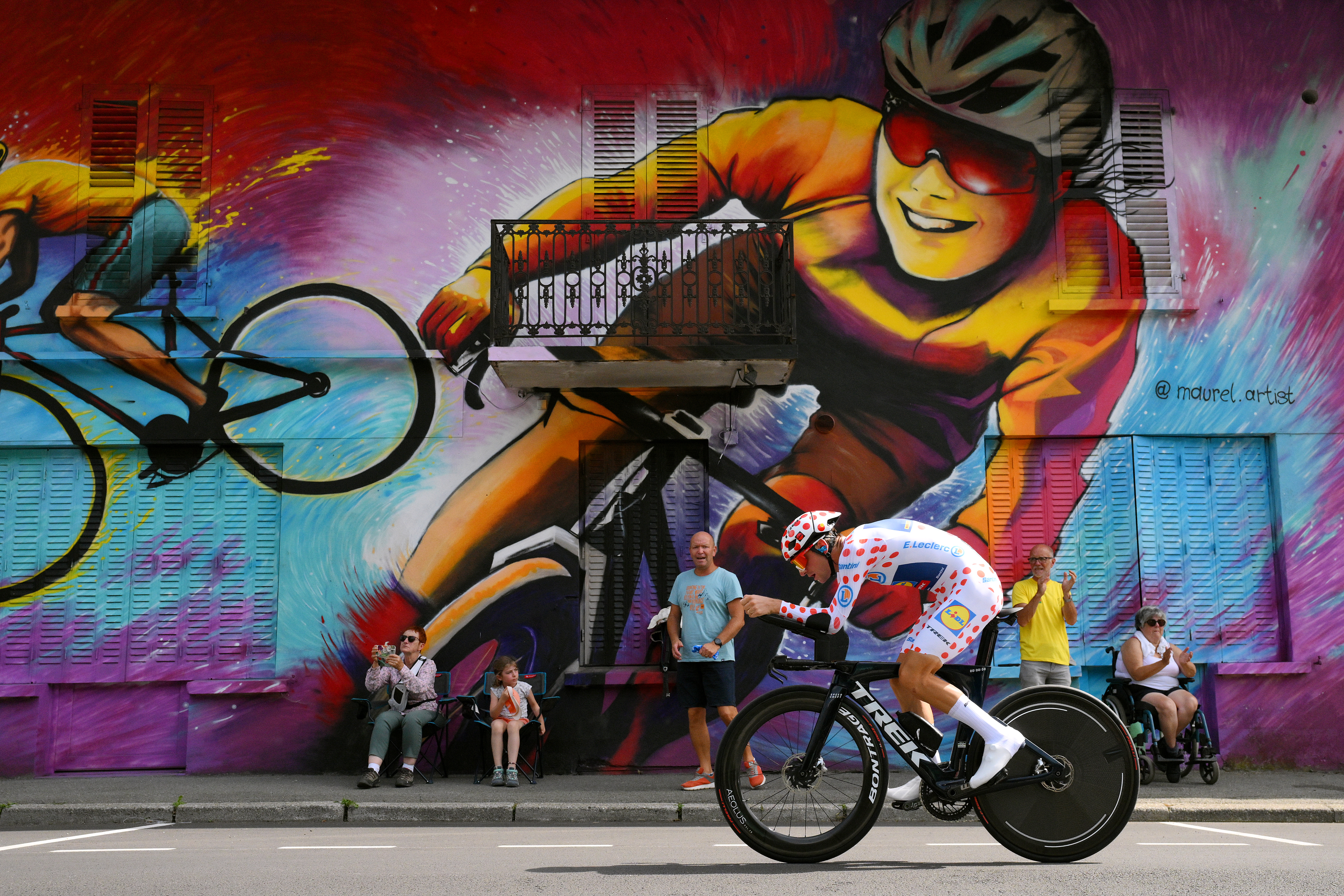 A strong time from Alexey Lutsenko. He comes home in fourth, 49 seconds off Cavagna, whose time is looking better and better with each rider that finishes.
Ciccone climbs the Côte de Domancy faster than Powless and, as things stand, will continue to wear the polka dot jersey on Wednesday.
Tom Pidcock is out on the road. Here are 21 things you probably didn't know about him.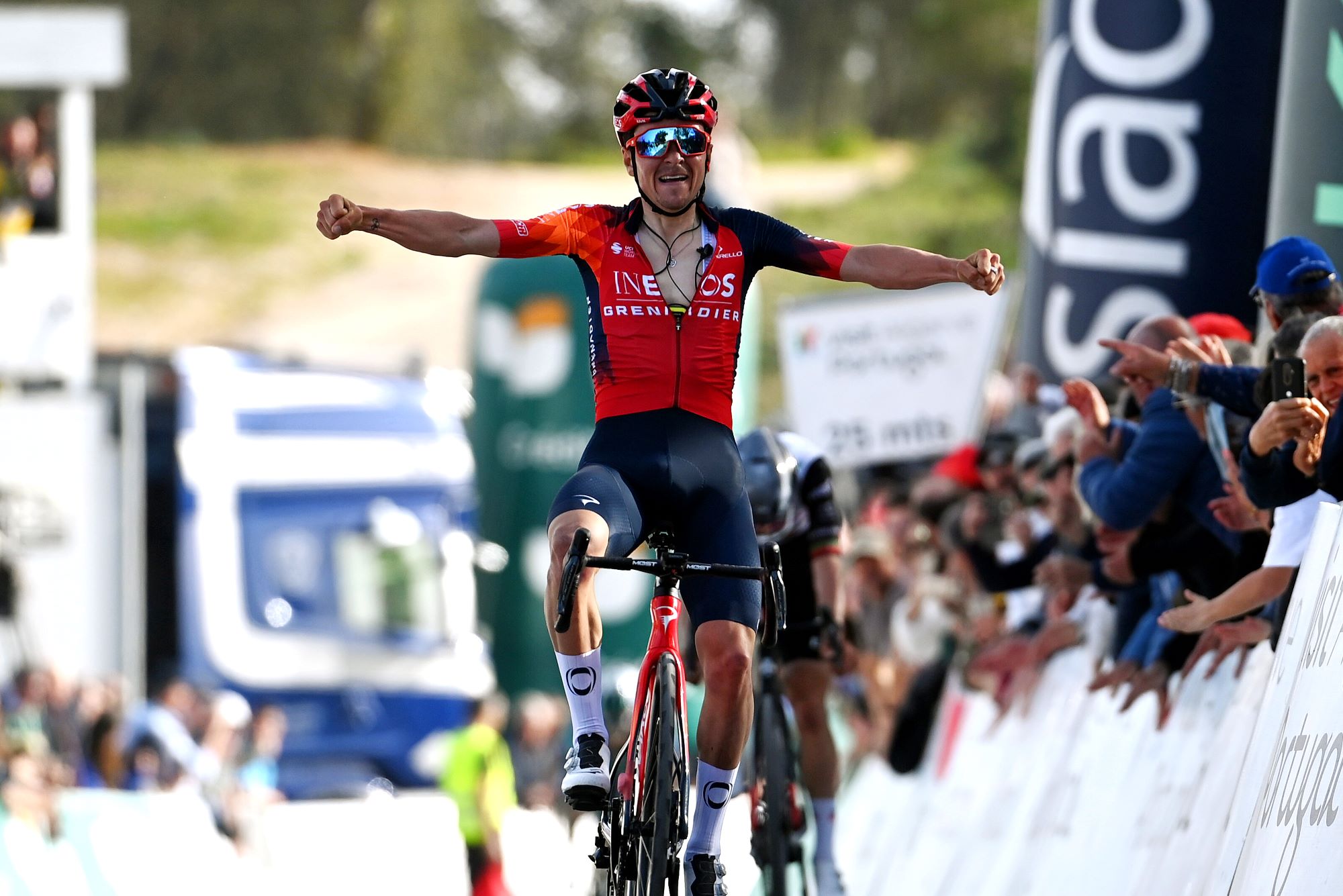 Wout van Aert is trending faster as this ride goes on. 7th at the first time check, 4th at the second. Let's see if he can hold the pace up the 2.5km Côte.
Van Aert is on course to beat Cavagna's time! The Belgian still has 3.7km to go, but he's crushing the double-figure gradients.
Here come the Top 5. Jai Hindley (Bora-Hansgrohe) is out on the course. Adam Yates, Carlos Rodríguez, Tadej Pogačar and Jonas Vingegaard will follow over the next ten minutes.
We have a new best time! Wout van Aert keeps his TT bike for the whole course and thunders into the hot seat with 35-27, knocking 15 seconds off Cavagna's time.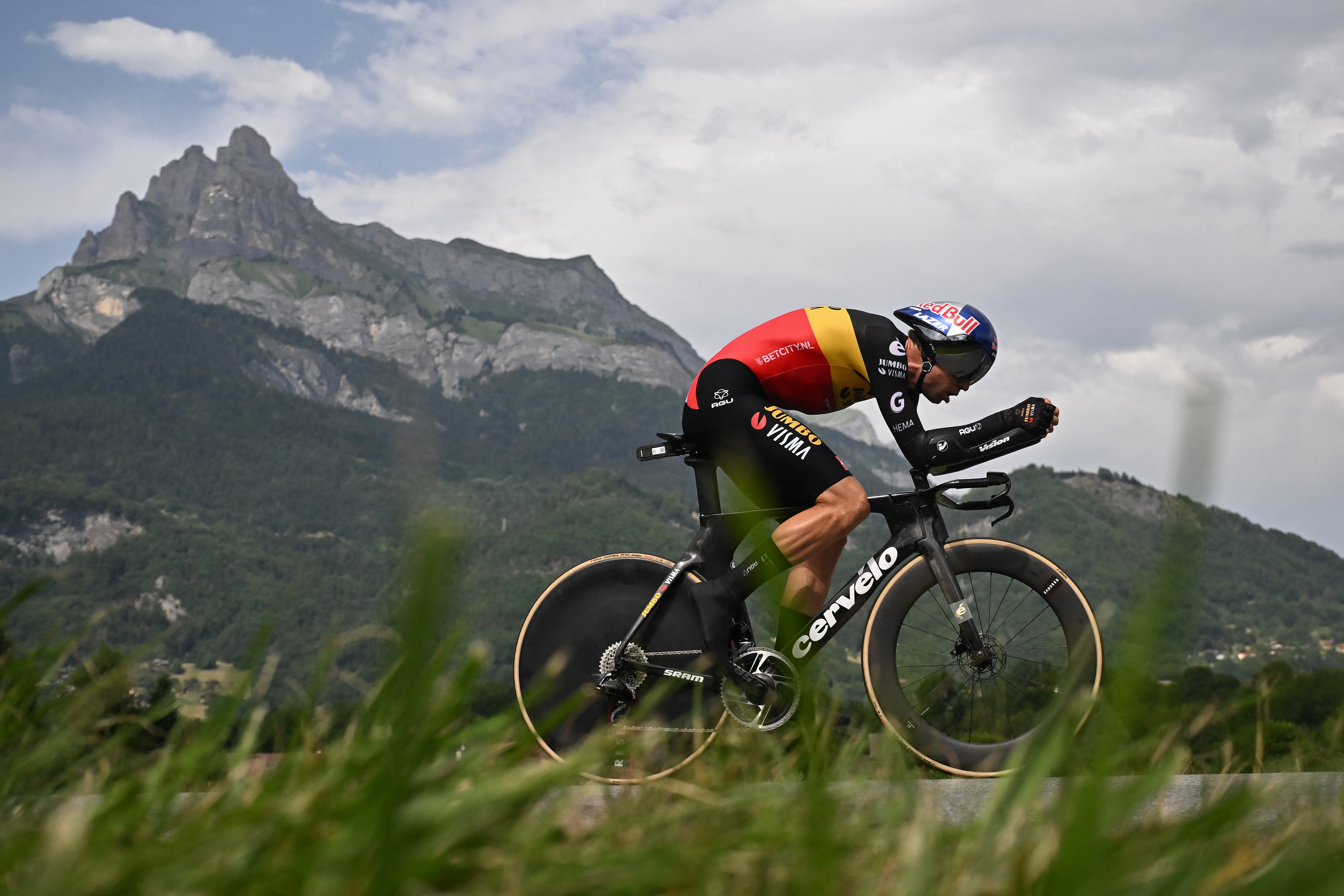 Ladies and gentlemen, Tadej Pogačar is on the course.
Two minutes have passed. It's Jonas Vingegaard time.
The battle for the yellow jersey is now playing out before us.
No surprise here, but both Vingegaard and Pogačar are on course to beat Wout van Aert's time. This duel is not going to disappoint.
Vingegaard is 16 seconds up on Pogačar at the first time check. There's still a lot of riding to go though, including the category-two climb.
Vingegaard has railed the descent of the first uncategorised climb, hitting speeds of around 80km/h. This is going to be a one-two for him and Pogačar at the finish line.
Chapeau to Simon Yates, too. The Brit smiles as he comes through the third time check, just three seconds down on Wout van Aert. He could edge a few seconds closer to a Top 5 at the end of the day.
30 SECONDS. Vingegaard is 30 seconds up on Pogačar. There's still 10km to go.
As expected, Pogačar goes for a bike change. He loses a handful of seconds in the process, but can he make it up with his climbing bike?
Simon Yates comes in seven seconds down on Van Aert's time. It's likely to be a top-five placing on the day for the Jayco AlUla rider.
50 SECONDS. Vingegaard's gap has extended to 50 seconds. If he holds this, he'll have a minute's advantage over Pogačar at the end of the day.
The third time check confirms it. Vingegaard is 1-05 up on Pogačar. This is not only the Dane's stage to lose, it's his Tour de France to lose, too.
2km to go for Pogačar now, but it's damage limitation time.
Vingegaard's advantage is now in excess of 1-20. Wow.
Pogačar finishes with a 34.14.
Jonas Vingegaard wins stage 16!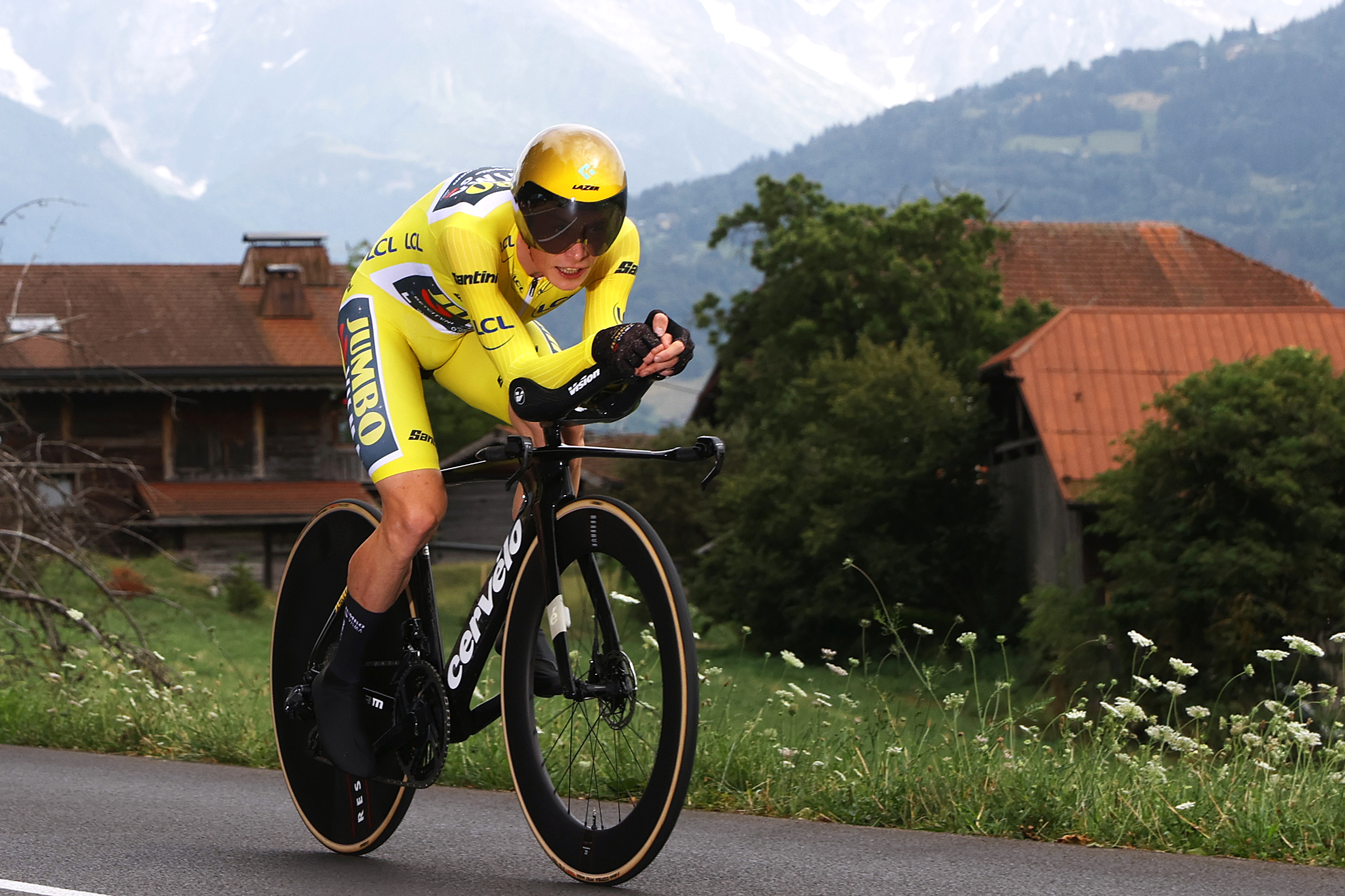 Just seconds after Pogačar crosses the line, Vingegaard follows suit. The Dane stretches out his GC advantage by a whopping 1-38, and is well on the way to his second Tour de France title.
Some ride by the reigning champion today, who was a level above the rest of the field.
Hold tight, I'll have a full race report up soon.
Thank you for reading 20 articles this month* Join now for unlimited access
Enjoy your first month for just £1 / $1 / €1
*Read 5 free articles per month without a subscription
Join now for unlimited access
Try first month for just £1 / $1 / €1