Marianne Vos: From Tour of Flanders to mountain bike victory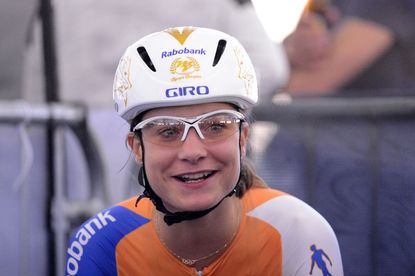 Is there any race that Marianne Vos can't win? A day after winning the Tour of Flanders on Easter Sunday the world champion swapped the roads of Belgium for the mountain bike trails near her hometown in the Netherlands.
Making it two wins in two days, Vos rode to victory in the UCI Mountain Bike race in Nieuwkuijk, beating Annefleur Kalvenhaar (Giant) and Anne Terpstra (Superior Brentjens) into second and third.
With a resumé already as full as it is diverse, including titles on the track and road, the Rabobank-Liv/Giant rider has now set her sites on mountain biking and a quest to become the champion of all cycling disciplines.
Vos is already a two-time, and the current, road race World champion and Olympic Road Race gold medalist, after beating British rider Lizzie Armistead to the line on the Mall last summer. She claimed her first professional mountain bike race win earlier this month in Cyprus, before adding to that on Easter Monday.
At the end of 2012 Vos, who competed in mountain biking as a junior, admitted she was keen to try something new and race her mountain bike this year. And although she was unable to participate in the MTB World Championships last year, she has still found time in her road schedule to compete. Vos even previously hinted she could try to race in the event at the Rio Olympics in 2016.
The win on the trails came just hours after Vos conquered a road race that had previously proved elusive to her. After coming second in the 2010 Tour of Flanders and third in 2007 and 2011, on Sunday the 25 year old out-sprinted three other breakaway riders for her first win in the race.
Ellen Van Dijk (Specialized-lululemon) and Emma Johansson (Orica-AIS) completed the podium while Elisa Longo Borghini (Hitec Products UCK) finished fourth, in the 127km event. Flanders which dates back 100 years finished this year in Oudenaarde, with the women's race taking place just before the men's on a shortened route. Victory at the Tour of Flanders makes it three wins out of four races for Vos on the road in 2013.
Thank you for reading 20 articles this month* Join now for unlimited access
Enjoy your first month for just £1 / $1 / €1
*Read 5 free articles per month without a subscription
Join now for unlimited access
Try first month for just £1 / $1 / €1