Meet the displaced Ukrainian racing against Olympic champions
The 20-year-old is living out her dream, but not without the trauma of her home conflict in mind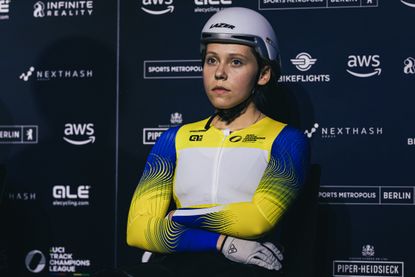 (Image credit: Alex Whitehead/SWpix.com)
Last autumn, Alla Biletska sat in the stands at the UCI Track Champions League and cheered on the riders as a fan.
The year had been tough for her. A promising junior track sprinter, the then teenager had been uprooted from her homeland of Ukraine, and was living in Lithuania, hundreds of miles from her family.
On a chair inside the velodrome, dazzled by the flashing lights, she dreamed of taking part in the series. One year on, and she's back, racing on a bill that includes current Olympic champions Katie Archibald, Kelsey Mitchell and Harrie Lavreysen.
Raised in a small village in southern Ukraine, Biletska is now one of hundreds of cyclists who have had to flee the country to carve out their careers abroad.
"I grew up doing athletics," she says. "But I didn't have any success so I turned to cycling. I never imagined myself in this sport at all. Now I can't see my future without it."
The 20-year-old speaks to Cycling Weekly via WhatsApp, sending messages in her mother tongue to be translated. The past 18 months, she explains, have been filled with disruption.
"When the full-scale invasion of my country began, I was at a meeting in Turkey. I woke up to a phone call from my brother in Kharkiv at five in the morning.
"I was in shock. I didn't know what to do or how to help my family. Then my team and I were allowed to go to Lithuania, where we were given housing and the opportunity to train."
In 2021, the year before Russia invaded Ukraine, Biletska's career was on a promising path. She claimed two medals at the Junior Track World Championships, taking silver in the match sprint and bronze in the Keirin, and picked up her first UCI points in Nations Cup rounds.
Today, she finds herself displaced, living at the UCI's World Cycling Centre in Aigle, Switzerland, a supported training facility for developing athletes.
The centre, she says, is "very cool", but it's a world away from her parents, who are still in occupied Ukraine.
"The struggle for their city is going on right now," Biletska explains. "It is very difficult to contact them.
"My dad was tortured by the Russian military. They kept him in a basement for three days and beat him with electric current."
The conflict is a constant worry for Biletska. As she races on the other side of the continent, her home remains in the forefront of her mind.
The 20-year-old's goal now goes beyond simple race results. "I strive to achieve success and leave behind history," she says.
She hopes people will see her racing, darting down the home straight in a blur of yellow and blue, and be inspired by her story.
"I want to develop cycling in my country," Biletska rounds off her messages. "My main goal is the Olympic Games."
Thank you for reading 20 articles this month* Join now for unlimited access
Enjoy your first month for just £1 / $1 / €1
*Read 5 free articles per month without a subscription
Join now for unlimited access
Try first month for just £1 / $1 / €1