'It was close' - Katie Archibald throws down gauntlet with victory in Track Champions League opener
Olympic ace takes series lead after first round in Mallorca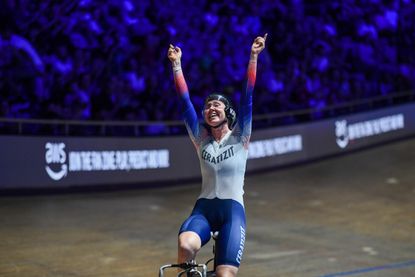 (Image credit: Simon Wilkinson\SWpix.com)
Katie Archibald fist pumped the air when she realised she had taken the lead of the women's endurance table on the opening night of the UCI Track Champions League.
The Brit finished second in the scratch race on Saturday evening, and later won the elimination race with an incisive move under Norway's Anita Stenberg.
"When you're in the leader's jersey you've got to do all the media and talk to these arseholes," she joked to Cycling Weekly in Palma, Mallorca after the race.
Over the competition's first two series, Archibald was one of the most dominant riders, winning the title in 2021's inaugural edition.
She left it late in the scratch race on Saturday night, peeling off the bunch with three laps to go, and ultimately failing to catch the race winner, Lily Williams (USA), and her fellow escapee, Kate Richardson (Great Britain).
"I just put everything into thinking about if I could get the gap soon, and it was just me going for it," Archibald explained. "I hit like four figures [in watts], which has never happened [for me] in a scratch.
"My mum, I'm sure, will give me the debrief."
The elimination race, on the other hand, will require less analysis in the family group chat. The two-time Olympic gold medallist stayed quiet throughout the event, nestled in the bunch, before holding off Stenberg in the final lap.
"I usually try and just ride at threshold," Archibald said afterwards. "I've seen Anita get one over on Jennifer Valente [Olympic omnium champion] at least twice, maybe three times.
"I'll need to watch it back. Obviously she surrendered that inside line. I don't know why I'm trying to get myself disqualified, I'm sure I had it. But it was close."
Ahead of the opening round, Archibald told the media that the series is "super important" for her in preparing for next summer's Olympics in Paris.
"Having the strength of this series, the exposure to the racing, the professionalism that is attached to it, is just vital to my career and to that bigger childhood dream of getting on an Olympic podium," she said.
After the racing in Palma, the Brit rode a lap of honour, albeit to an emptying Velòdrom Illes Balears, with her fellow league leaders: sprinters Harrie Lavreyesen (Netherlands) and Alessa-Catriona Pröpster (Germany), and endurance athlete Eiya Hashimoto (Japan).
Lavreyesen stamped his dominance on the men's sprint competition, winning both the Keirin and the match sprint resoundingly.
Archibald was the only British winner on the night. Other notable British results included a trio of second places, taken by Mark Stewart in the men's scratch, Will Tidball in the men's elimination - which was initially stopped after a heavy crash - and world champion Emma Finucane in the women's sprint.
Thank you for reading 20 articles this month* Join now for unlimited access
Enjoy your first month for just £1 / $1 / €1
*Read 5 free articles per month without a subscription
Join now for unlimited access
Try first month for just £1 / $1 / €1