Katie Archibald: Track Champions League 'super important' for Olympics preparation
Olympic Madison champion looking to hone racecraft this autumn, but says she still gets nervous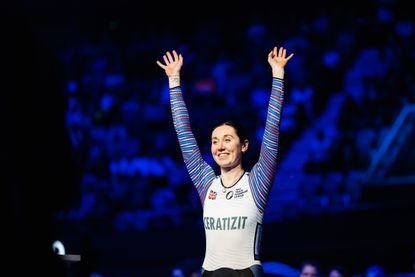 (Image credit: Alex Whitehead/SWpix.com)
Two-time Olympic gold medallist Katie Archibald has said the upcoming season of the UCI Track Champions League is "super important" in her preparation for next year's Paris Olympics.
The 29-year-old will join 17 other riders in the women's endurance events for the new season, which opens in Palma, Mallorca this Saturday.
Archibald won the inaugural Track Champions League title in 2021, and placed second last year behind the USA's Jennifer Valente, who will forgo this autumn's edition.
"The opening season was a bit of a dream for me, coming as it was off the back of the Olympic Games and World Championships," the Brit said in a press conference on Wednesday. "I just sort of carried that momentum through. I'm certainly in that dip before we hopefully head towards Paris, so it's more of a challenge for me this year.
"Hopefully I'm up to it," she added.
Next August, Archibald is expected to lead British hopes on the track at the Olympic Games, and could compete in all three of the team pursuit, Madison and Omnium.
Asked how important the Track Champions League is in her preparation for Paris, she said: "Super important. What's vital to me about this series is that this is a framework to exist as a professional track cyclist. And if you exist as a professional track cyclist, then you can chase your Olympic dream.
"Having the strength of this series, the exposure to the racing, the professionalism that is attached to it, is just vital to my career and to that bigger childhood dream of getting on an Olympic podium. This is one of the podiums that you chase along the way."
This summer, the 29-year-old was part of Great Britain's gold medal-winning team pursuit squad at the World Championships, held in her hometown of Glasgow. She spoke candidly at the time about her anxiety at the event, comparing her pre-race nerves to "waiting to be trotted out for slaughter".
"[The World Championships] came with a lot of pressure that I didn't necessarily enjoy, and I didn't necessarily thrive under," she said in Wednesday's press conference. "I struggle a bit with nerves. We all do, because I think it's important to us, these races, and I can't always shake that for something like the Track Champions League.
"I'll get nervous for just local track league," she smiled. "So I get just as nervous for this as well, but it's another good experience to expose yourself to."
Archibald is celebrating a 10-year milestone this week, a decade since her first Team GB selection at the 2013 European Championships.
The Brit said she ranks her 2021 Track Champions League title "very highly" among her achievements to date, which also count two Olympic gold medals, five world titles and a record 20 European titles.
"It's both scary and reassuring, I suppose, how much I have taken from my time as a team pursuiter, as a track cyclist, and as a member of the British Cycling programme," she said.
"In 2017, we had the first-ever women's Madison at a World Championships. In 2021, we had the first-ever women's Madison at an Olympic Games. And in 2021, we had the first-ever UCI Track Champions League.
"I feel incredibly aware and incredibly lucky for the fact that my career has overlapped with these 'firsts'."
Thank you for reading 20 articles this month* Join now for unlimited access
Enjoy your first month for just £1 / $1 / €1
*Read 5 free articles per month without a subscription
Join now for unlimited access
Try first month for just £1 / $1 / €1